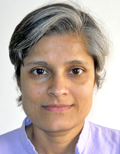 Mandira SARMA
PhD (IGIDR, Mumbai) Professor
Dr. Mandira Sarma joined CITD, SIS, JNU. She has a Ph.D. in Economics (2002) from the Indira Gandhi Institute of Development Research (IGIDR), Mumbai, and an M. Sc. in Statistics (1995) from Gauhati University, Guwahati. She works in the area of Financial Economics, particularly financial risk measures, and banking and financial system in India. She has published her research papers in reputed academic journals such as the Journal of Forecasting, Economics Letters and EPW. Her present area of research deals with the issue of Financial Inclusion. Her teaching interests are in Financial Economics and Econometrics.
Dr. Sarma was previously a Senior Fellow at the Indian Council for Research on International Economic Relations (ICRIER), a leading think tank based in Delhi. She has also worked at the European Research Institute EURANDOM, at the Eindhoven University, the Netherlands (2003-2005). Besides this, she has been a visiting scientist for a brief period at Indian Statistical Institute, Delhi.