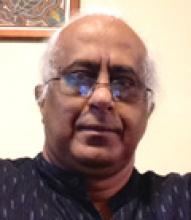 Centre/School/Special Centre:
School of Language, Literature and Culture Studies
Email:
manjali@jnu.ac.in , fmanjali@yahoo.com
Qualifications:
Ph. D.; Post-doctoral research
Areas of Interest/Specialization:
Semiotics of Conceptual Structures, Language and Cultural Studies, Poststructuralist Aprroaches to Language, Culture and the Political...; Methods in Research.
Experience:
University teaching since 1986 
Awards & Honours:
* Fellow-in-residence at Indian Institute of Advanced Study (IIAS), Shimla, for 18 months, from May 1998 to October 1999. Research project: "A Linguistic and Cognitive Theory of Narrative." 
* Visiting Fellow at Maison des Sciences de l'Homme, Paris, and Departement de philosophie, Universite de Marc Bloch, Strasbourg, France, for six months, from July to December, 2003. (Research project: Language and Subjectivity in Post-structuralist Theories.)  
International Collaboration/Consultancy:
With Department of Philosophy, University of Strasbourg, Strasbourg, and Department of Philosophy, University of Essex, Essex, UK.
Best Peer Reviewed Publications (upto 5):
* Franson Manjali and Marc Crépon (eds.) Phlosophy, Lanugage and the Political -- Poststructuralism in Perspective.  New Delhi: Aakar Books, 2017 
 . Labyrinths of Language - Philosophical and Cultural Investigations, New Delhi: Aakar Books, 2014.

* "Blanchot, Writing and the Politico-Religious," Journal for Cultural Research, vol. 16 no. 4: 344-360, October, 2012. 

* "The 'Social' and the 'Cognitive' in Language: A Reading of Saussure and Beyond," in: Indian Linguistics, 2012: 117-127. Also appeared (online) Texto! Vol. XVII, n°3 (2012).

* Between the Self and the Other: Language after Levinas, Journal of Indian Council of Philosophical Research, Vol. XVIII, No. 4, 2011 (79-100).
 
Recent Peer Reviewed Journals/Books (upto 3):
* Guest Edited a special issue of Journal for Cultural Research, vol. 16, no. 4, 2012, on Blanchot, Gandhi and the Politico-Religious Context of India.

* (translated) Philosophical Chronicles. Translation of the French book Chroniques Philosophiques by Jean-Luc Nancy. New York: Fordham University Press. 2008.

* Language, Discourse and Culture: Contemporary Philosophical Perspectives. New Delhi: Anthem Press, 2007.