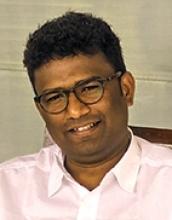 Ghodajkar Prachinkumar Rajeshrao
Centre/School/Special Centre:
Centre of Social Medicine and Community Health,
School of Social Sciences
Areas of Interest/Specialization:
Epidemiology, Health Systems Research, National Health Programs, Health Policy Research, AYUSH, Quality of Health services.
Experience:
Working as Assistant Professor since 2013.
Best Peer Reviewed Publications (upto 5):
Priya R, Ghodajkar P (2018): "The Structural Basis of Corruption in Healthcare in India", Healers Or Predeators? Healthcare Corruption in India. Ed. Samiran Nundy, Keshav Desiraju, Sanjay Nagral. New Delhi: Oxford University Press, 2018: 3-43. 
Priya R, Ghodajkar P (2018): Prescription for the doctor. The Indian Express, January 30, 2018.
Ghodajkar P (2017):  Reforms in Public Hospitals: The Indian Case, Eds (Madhurima Nundy) 'Health Service System in Transition: Challenges in India and China'. ICS Monograph, No.3, Pp- 49-66. The Institute of Chinese Studies, Delhi 
Ghodajkar P. (2013): Locating 'Quality' in Health Care and Universal Health Care Mosaic. Social Change, Vol. 43, Issue 2, pp- 191-212.
Recent Peer Reviewed Journals/Books (upto 3):
Ghodajkar P, Das S, Sarkar A, Gandhi M P, Gaitonde R, Priya R. Towards Re-Framing Operation Design for HFA 2.0: Factoring in Politics of Knowledge in Health Systems. Medico Friend Circle Bulletin, 2019, 380: 16-25.
Gaitonde R, Priya R, Sarkar A, Das S, Ghodajkar P, Gandhi M P. Some Thoughts on Health for All: The Rationale for Engaging with the Politics of Knowledge.  Medico Friend Circle Bulletin, 2019, 380: 9-15
Priya R, Gaitonde R, Gandhi M P, Sarkar A, Das S, Ghodajkar P. The Alma-Ata Declaration and its Elements for a PHC 2.0. Medico Friend Circle Bulletin, 2019, 380: 1-8