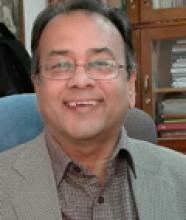 Centre/School/Special Centre:
School of Language, Literature and Culture Studies
Email:
pkpandey@mail.jnu.ac.in pkspandey@yahoo.com
Qualifications:
M. A. English
M. A. Linguistics
M. Litt. English
Ph. D. Linguistics 
Areas of Interest/Specialization:
Phonetics and Phonology, Morphology, Linguistic Theory, English Language Teaching, Writing systems 
Experience:
i. Professor, Centre for Linguistics, Jawaharlal Nehru University, New Delhi, 1 June 2001 to this day. [Chair, 16 Feb. 2006- 15 Feb. 2008]
ii. Professor, Department of Linguistics, The M. S. University of Baroda, Vadodara, Gujarat, 4 April 1999 to 31 May 2001.
iii. Reader, Department of Linguistics, The M. S. University of Baroda, Vadodara, Gujarat, 24 September 1996 to 3 April 1999. 
iv. Reader (Assoc. Professor), Department of English, Faculty of Education, Ibb, Sana'a University, Sana'a, Republic of Yemen, 7 December 1991 to 30 September 1995. 
v. Reader, Department of Linguistics, South Gujarat University, Surat, 14 July 1986 to 6 December 1991.
vi. Lecturer, Department of English, University of Jabalpur (later Rani Durgavati University), Jabalpur, M. P., 6 December 1978 to 12 July 1986.  
Awards & Honours:
Member, Association de Amis, Fondation Maison des Sciences de ?homme, Paris.
Rockefeller Foundation Bellagio Residency Fellowship, Bellagio, Italy, 16 June-15 July, 2003. 
Third World Linguists Award, XIV World Congress of Linguists, Berlin, 1987. 
International Collaboration/Consultancy:
INSA-DFG project "Focus in Hindi and in Indian English" in collaboration with Professor Caroline Fery, Instute of Linguistics, Johann Wilhelm Goethe University, Frankfurt-am Mein, July 2011-June 2012.  
Best Peer Reviewed Publications (upto 5):
"Akshara-to-Sound rules in Hindi". Writing Systems Research: Special Issue on the Writing Systems of South and South-East Asia. 201. Vol. 6, No. 1, 54-72. (http://dx.doi.o1Wl0.1080/17586801.2013.855622) 
"Indian English Pronunciation". In Levis, John and Reed, Marnie (eds.) Wiley Blackwell Handbook of English Pronunciation. New York: Wiley. Pp. 301-319. 
"Optionality, lexicality and sound change". Journal of Linguistics (CUP) 33: 91-130. 1997.
"Hindi schwa deletion". Lingua 82: 277-311. 1990. 
"Word accentuation in Hindi". Lingua 77:37-73. 1989. 
Recent Peer Reviewed Journals/Books (upto 3):
Sounds and their patterns in Indic languages: 2 volumes. 2014. Cambridge University Press India).
"The prosody of Focus and Givenness in Hindi and Indian English". (Féry, Caroline; Pandey, Pramod; Kentner, Gerrit) Studies in Language 40 (2): 302- 339. 2016. (John Benjamins Publishing Company).
"Indian English Prosody". In: Hashim, A, Leitner, G. and Wolf, H-G, Communicating with Asia. Cambridge: CUP. Pp. 56-68. 2015.