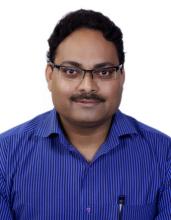 Centre/School/Special Centre:
School of Sanskrit and Indic Studies
Residence:
4A-603, AWHO Society, Gurjinder Vihar, Sector - Chi I, Greater Noida - 201310
Email:
satyamurti@mail.jnu.ac.in , satyamurti9@gmail.com,
Areas of Interest/Specialization:
Indian Philosophy, specially Indian Logic, Nyaya, Vedanta, Linguistics
Experience:
Lecturer (Ad-hoc), St. Stephens's College, Delhi, 2001-2002
Lecturer, Indira Kala Sangit Vishwavidyalaya, Khairagarh (C.G.), 2004-2006
Assistant Professor, Department of Sanskrit, University of Delhi, Delhi, 2006-2013
Reader, Department of Sanskrit, University of Delhi, 2013-2015
Associate Professor, SSIS, JNU, 2015 - 2018
Professor, SSIS, JNU, 2018- till date
Awards & Honours:
1. "St. Stephen's College Centenary Medal", 1999, Delhi. It is the highest award of St. Stephen's College, Delhi given for character combined with learning. 
2. First Prize (twice) and second prize (once) in "All India Young Sanskrit Poets' Competition" organised by Delhi Sanskrit Academy in 1997, 1998 and 1999 respectively.
3. "Parama Pavana Shankaracharya Svananda Ashram Hari Prize" for scoring highest in B.A. (Hons) Sanskrit, University of Delhi, 1998.
4. "C.D. Deshmukh Gold Medal" for securing highest marks in M.A. (Sanskrit), University of Delhi, 2000.
5. Utthan Natraj Samman - 2018 for rendiring services in education by Utthan Samiti
Best Peer Reviewed Publications (upto 5):
1. "Is Salvation A Nonexistence in The Nyaya School?",Annals of Bhandarkar Oriental Research Institute, Pune, 2004 ( Vol. LXXXIV, pp. 143-150) ISSN: 03781143
2. "Tulasidasa's Sanskrit Verses : Relevance and Philosophy",Kala Saurabh, I. K. S. University, Khairagarh (C.G.), 2006, (Vol. 11, pp. 228-236) ISSN :09762566
3. "Sanskrit Prosody, Linguistics And Music ",Journal of Oriental Institute, Baroda, 2009 (Vol. LIX, pp. 119-130) ISSN: 00305324
4. "Acarya Sankara Ki Vadavidhi", Darsanika Anugunja, Journal of Bihar Darshana Parishad, Patna, August, 2014 (Vol. 12, pp. 157-163) ISSN :09752749
5. "Sanskrit As A Binding Force for Global Peace and Harmony", World Peace Through Indian Wisdom, ed. by C. Upendra Rao, D. K. Printworlds, Delhi, 2016, ISBN: 978-81-7854-289-8 .
6."Challenges of Modern Life Style & Vedānta (with special reference to Chāndogyopaniṣadvākya)", Saṁskṛtavimarśaḥ, Rashtriya Sanskrit Sansthan, New Delhi , 2017 Vol. XII, pp.193-202 ,ISSN 09751769.
7. "Release Through Language : A Conundrum ", Journal of UA Foundation of Indology, Delhi , January, 2017, Vol. III, pp. 21-33, ISSN 2395-7867 .
8. " Research Methodology in the Śāstric Tradition of Sanskrit ", Sanskrit-Vāṅmayī, Journal of the dept. of Sanskrit, Lucknow University, Lucknow, Vol. VIII, 2018 pp. 226-230, ISSN 22315799.
9. " A Critique of Confutation (tarka) in The Ancient Nyāya ", Gurukul Patrika, Gurukul Kangri University, Haridwar, Joint Issue from April to June and from July to September, 2017, pp.183-193,  ISSN : 09768017.
10. " Language and Logic : Application of Symbolic Logic on Some Navya  Nyāya Expressions (Accepted) ",Journal of UA Foundation of Indology, Delhi , January, 2017, Vol. IV,  ISSN 2395-7867 .  
Recent Peer Reviewed Journals/Books (upto 3):
1. Bhasarvajña Ki Tarkika Bhumika, Chawkhamba Surbharti Series No.493, Chawkhamba Surbharti Prakashan, Varanasi.
2. Sankara's Vakyavrtti, Vrajajiwan Prachyabharti Granthamala 179, Chaukhamba Sanskrit Pratishthan, Delhi.
3.The Nyaya Conception of Reasoning, Vajrajiwan Prachyabharti Granthamala 173 Chaukhamba Sanskrit Pratishthan, Delhi.