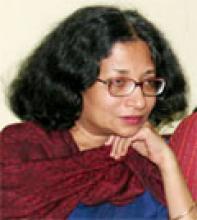 Centre/School/Special Centre:
Centre for the Study of Social Systems,
School of Social Sciences
Email:
susanvisvanathan@mail.jnu.ac.in susanvisvanathan@gmail.com
Qualifications:
M.A. (JNU) M.Phil & Ph.D. (DU) 
Areas of Interest/Specialization:
Theory, Sociology of Religion and Urbanism 
Experience:
28 Years teaching experience. Hindu College (1983-1997) Centre for the Study of Social Systems, Jawaharlal Nehru University, New Delhi (1997 onwards). 
Awards & Honours:
1. Visiting Professor, University Paris XIII, February 2011.
2. Guest Professor, Free University, Berlin, 15-16 February 2011.
3. Member, Board of Studies, Centre of Spanish Studies, Portuguese, Italian and Latin American Studies, 2009
4. Member, Board of Studies, Centre for French and Francophone Studies, 2004
5. Visiting Professor, Maison des Sciences de L'Hommes, Paris June 2004
6. Member, Board of Studies, Centre for Arts and Aesthetics, JNU 2000-2002
7. Member, Board of Studies, Centre for Linguistics, English Language and Culture Studies, JNU.2002-2004
8. Charles Wallace Fellow to Queens University, Belfast 1997
9. Hon. Fellow, Indian Institute of Advanced Study 1990-1995
10. Fellow, Nehru Memorial Museum and Library, Delhi 1989-92 
International Collaboration/Consultancy:
1. Honorary Consultant, World Council of Churches Geneva 1987-89 
2. Consultant, Free University, Berlin, 2011 
Best Peer Reviewed Publications (upto 5):
1. Bibliography on Comparative Religion in India, Social Compass, Louvain, 1986

2. Marriage, Birth and Death: Property Rights and Domestic Relationships of the Orthodox/Jacobite Syrian Christians of Kerala. EPW June d17, 1989

3. The Fishing Struggle in Kerala, in Seminar November 1994

4. Romain Rolland and Gandhi", Think India, Vol.10 (2) April-June 2007. Pp.35-5 

5. "A Cast of Characters," in Remembered Childhood: Essays in honour of Andre Beteille edited by Malvika Karlekar, Delhi Oxford University Press, 2010 
Recent Peer Reviewed Journals/Books (upto 3):
1. The Christian of Kerala, OUP, 1993

2. Friendship Interiority and Mysticism, Black Orient Swan, 2007

3. The Children of Nature: Life and Legacy of Ramana Maharshi, Roli, 2010.