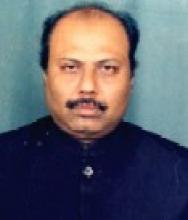 Centre/School/Special Centre:
Centre for West Asian Studies,
School of International Studies
Email:
akpasha@mail.jnu.ac.in , drakpasha@gmail.com
Qualifications:
MA (Pol. Sc.), MA (MES), M.Phil, Ph.D
Areas of Interest/Specialization:
Democratization, Civic participation and direct democracy in Political Systems of West Asia and North Africa (WANA); Arab-Israeli Peace and Conflict; India's government and politics; India?s foreign and economic policy towards WANA; globalization; Comparative regional integration and regionalism; linkages between Gulf Security and South Asian security; Great Powers in WANA Region; and International Politics
Experience:
Teaching since 1988 at JNU, over 12 years administrative experience including three years as Director at Cairo, Egypt on deputation to Ministry of External Affairs, Government of India; Chairman, Centre for West Asian and African Studies, SIS, JNU; Director, Gulf Studies Program [UGC Area Studies Program] four times since 1997. Taught for about two years at Centre of West Asian Studies, Aligarh Muslim University
International Collaboration/Consultancy:
Taught at St. Cloud State University, Minnesota, USA; Gulf Research Centre, Dubai, UAE. Taught at the Faculty of Economics and Political Science, Cairo University, Egypt and at American University Cairo [AUC], Egypt
Best Peer Reviewed Publications (upto 5):
1) Egypt's Quest for Peace: Determinants and Implications (New Delhi: National Publishers, 1994)

2) Kuwait: Strategies of Survival (New Delhi: Har Anand Publicatons,1995)

3) Contemporary Gulf: State Society, Economy and Foreign Policy (New Delhi: Detente Publications, 1999) Editor

4) India and West Asia: Continuity and Change (New Delhi: Gyan Sagar Publications,1999)

5) India, Iran and the GCC States: Political Strategy and Foreign Policy (New Delhi: Manas Publications, 2000) editor. 
Recent Peer Reviewed Journals/Books (upto 3):
1) Egypt in a Changing World (New Delhi: National Publishers, 2003)
2) Iraq: Sanctions and Wars (New Delhi: Sterling Publishers, 2003)
3) India and Turkey: Past and Emerging Relations (New Delhi: Academic Excellence, 2006)