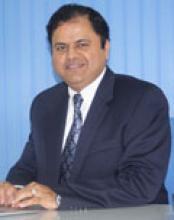 Centre/School/Special Centre
School of Biotechnology
Email
deepakgaur@mail.jnu.ac.in , deepakgaur189@gmail.com
Qualifications
Ph.D., Molecular & Cell Biology, 1996-2001. National Institute of Immunology, New Delhi, India
Masters in Biotechnology (M. Biotech.), 1994-1996. All India Institute of Medical Sciences, New Delhi, India
B.Sc. (Honors) Human Biology, 1991-1994. All India Institute of Medical Sciences, New Delhi, India
Areas of Interest/Specialization
Infectious Diseases & Vaccine Development
* Molecular & Cellular Biology of Malaria Parasites
* Molecular basis of Red Cell Invasion by Malaria Parasites
* Development of New Generation Vaccines against Malaria & Anthrax
* Molecular Epidemiology of Malaria & Field Studies
Experience
Professor & Group Leader (February 28, 2017 – present) Laboratory of Malaria & Vaccine Research, SBT, JNU
Associate Professor & Group Leader (Feb 28, 2014-Feb 27, 2017) Laboratory of Malaria & Vaccine Research, SBT, JNU
Principal Investigator & Ramalingaswami Fellow (2009 – 2014) Malaria Group, International Centre for Genetic Engineering and Biotechnology, (ICGEB), New Delhi, India
Research Fellow (Sept, 2006 - May, 2009) United States Federal Government Full-Time Equivalent (FTE) Position
Visiting Fellow (Oct, 2001 – Sept, 2006) Postdoctoral position
Awards & Honours
2017 Shanti Swarup Bhatnagar Prize (Medical Sciences) awarded by the Council of Scientific & Industrial Research (CSIR). http://ssbprize.gov.in/Content/Detail.aspx?AID=533
The award was covered by Rajya Sabha TV in their programs, Eureka & Science Monitor (November 03, 2017), which are available on YouTube:
Eureka: https://www.youtube.com/watch?v=5XjEXRCAUec&list=PLVOgwA_DiGzov6XmWSpFrQrb1sOBCv9HA
Science Monitor: https://www.youtube.com/watch?v=OpNpDewjDh4&app=desktop
2016 Visitors Award for Research constituted by the President of India. Awarded as part of the JNU Molecular Parasitology Group for Best Research by the Honorable President, Shri Pranab Mukherjee at Rashtrapati Bhawan; March 14, 2016.
2015 Elected Fellow, Guha Research Conference (GRC) at the annual meeting at Bodh Gaya, November 28 – December 02, 2015.
2015 PNAS Paper covered by Shri Pallava Bagla, NDTV. Story and Video available at: https://www.ndtv.com/india-news/indian-discovery-gives-boost-to-hopes-for-malaria-vaccine-731622
2014 DBT National Bioscience Award of the Department of Biotechnology, Government of India announced in October 2015.
2012 Rising Stars in Global Health Grant awarded by Grand Challenges Canada. Grant awarded to develop a novel blood stage malaria vaccine against P. vivax.
http://www.grandchallenges.ca/grantee-stars/0163-01/
http://www.dailymail.co.uk/indiahome/indianews/article-2240059/QUANTUM-LEAP-Keep-Khan-far-away-nutrition-drive.html
2011 National Academy of Vector Borne Diseases Best Scientist Award for Molecular Biology. Awarded at the XI Symposium on Vectors and Vector Borne Diseases, Jabalpur, Madhya Pradesh (October 15, 2011).
Elected Faculty of the SBRI-India Global Infectious Disease training program in 2010
Grand Challenges Explorations Grant (2009-2011) under the Round 3 topic to work on Developing novel receptor blocking blood stage malaria vaccines.
http://epaper.timesofindia.com/Repository/ml.asp?Ref=Q0FQLzIwMDkvMTAvMjQjQXIwMDQwMA
https://www.livemint.com/Politics/FvDwQvi3Ly3X4bCBgGpKII/Gates-Foundation-grants-for-TB-8216nose8217-malaria-v.html
2009 DBT Ramalingaswami Fellowship
NIH Performance Awards for 3 consecutive years (2006-2008) in recognition and appreciation of exceptional achievement.
NIH Fellows Award for Research Excellence for 3 consecutive years (2005-2007)
Visiting Fellowship from Fogarty International Center to conduct research at NIH for the period 2001-2006.
Junior Research Fellowship (JRF) & Senior Research Fellowship (SRF) of the Council of Scientific and Industrial Research (CSIR, Govt. of India) from 1996 to 2001.
Qualified the 1996 National Eligibility Test (NET) of the UGC-CSIR (Govt. of India) for lecturership and CSIR fellowships to pursue a PhD degree.
First Prize for the Best Paper Presentation at Biotechcellence, a National Symposium organized by the Association of Biotechnologists at the Center of Biotechnology, Anna University, Chennai, India in March, 1995.
Department of Biotechnology, Govt. of India sponsored Fellowship in 1994 to pursue the Master of Biotechnology program at the All India Institute of Medical Sciences (AIIMS), New Delhi.
International Collaboration/Consultancy
International Collaborations with the following Research groups:
- Dr Carole Long, National Institutes of Health
- Prof Gerd Pluschke, Swiss Trop Med Institute, Basel
- Dr Alfredo Mayor, IsGlobal Barcelona, Spain
- Dr Carlota Dobano, IsGlobal Barcelona, Spain
2015 Consultant, United States Agency for Internal Development (USAID): Invited and selected as a member of an expert panel of consultants to USAID to review their Malaria Vaccine Development Program (MVDP).
Special Invitee of the Program Advisory Committee of the UNESCO Regional Center for Biotechnology (RCB), Faridabad.
2014 Member of the Rhodes Scholarships Preliminary Interview Committee. Invited member of the science interview committee to screen candidates from the science stream for the final round of interviews for the Rhodes Scholarship (India).
Best Peer Reviewed Publications (upto 5)
Gupta ED, Anand G, Singh H, Chaddha K, Bharti PK, Singh N, Sharma YD, Gaur D* (2017) Naturally Acquired Human Antibodies Against Reticulocyte-Binding Domains of Plasmodium vivax Proteins, PvRBP2c and PvRBP1a, Exhibit Binding Inhibitory Activity. Journal of Infectious Diseases May 15; 215(10): 1558-68. (Impact Factor: 6.27)
Valmaseda A, Macete E, Nhabomba A, Guinovart C, Aide P, Bardají A, Bassat Q, Nhampossa T, Maculuve S, Casellas A, Quintó L, Sanz S, Jiménez A, Feng G, Langer C, Chitnis CE, Chauhan VS, Aguilar R, Aponte J, Dobaño C, Beeson J, Gaur D, Menéndez C, Alonso PL, Mayor AG (2017) Identifying immune correlates of protection against Plasmodium falciparum through a novel approach to account for heterogeneity in malaria exposure. Clinical Infectious Diseases Feb 1; 66(4):586-593. (Impact Factor: 8.88)
Reddy KS, Amlabu E, Pandey AK, Mitra P, Chauhan VS, Gaur D* (2015) A multi-protein complex between the GPI-anchored CyRPA with PfRH5 and PfRipr is crucial for Plasmodium falciparum erythrocyte invasion. Proceedings of the National Academy of Sciences USA Jan 27; 112(4): 1179-84. (Impact Factor: 9.66)
[This paper has been highlighted in Nature Reviews Microbiology: Du Toit A. (2015) Parasite biology: an anchor for Plasmodium invasion. Nat Rev Microbiol. Mar; 13(3):128-9.]
2015 PNAS Paper covered by Shri Pallava Bagla, NDTV. Story and Video available at: https://www.ndtv.com/india-news/indian-discovery-gives-boost-to-hopes-for-malaria-vaccine-731622
Anand G, Reddy KS, Pandey AK, Mian SY, Singh H, Mittal SA, Amlabu E, Bassat Q, Mayor A, Chauhan VS, Gaur D* (2016) A novel Plasmodium falciparum rhoptry associated adhesin mediates erythrocyte invasion through the sialic-acid dependent pathway. Nature Scientific Reports Jul 7; 6:29185. (Impact Factor: 4.26)
Reddy KS, Pandey AK , Singh H, Sahar T, Emmanuel A, Chitnis CE, Chauhan VS, Gaur D* (2014) A bacterially expressed full-length recombinant Plasmodium falciparum RH5 protein binds erythrocytes and elicits potent strain-transcending parasite neutralizing antibodies. Infection & Immunity Jan; 82(1):152-64. (Impact Factor: 3.73)
Recent Peer Reviewed Journals/Books (upto 3)
* WILEY-IUBMB MALARIA BOOK: "Advances in Malaria Research"
Editors: Deepak Gaur, Chetan Chitnis & Virander S. Chauhan ISBN: 978-1-118-49379-3 (2017)
https://www.wiley.com/en-us/Advances+in+Malaria+Research-p-9781118493793
https://onlinelibrary.wiley.com/doi/book/10.1002/9781118493816
This book has the following 3 chapters jointly written by the three editors:
(1) VS Chauhan. C. Chitnis, D. Gaur: Introduction & Overview of Malaria.
(2) D. Gaur, C. Chitnis, VS Chauhan: Molecular basis of erythrocyte invasion by Plasmodium merozoites.
(3) C. Chitnis, D. Gaur, VS Chauhan: Development of Vaccines against Malaria.
* Gaur D, Chitnis CE (2011) Molecular Interactions and Signaling Mechanisms during Erythrocyte Invasion by Malaria Parasites. Current Opinion in Microbiology Aug; 14(4):422-8. (Invited Review)
* Gaur D, Mayer DC, Miller LH. (2004) Parasite ligand-host receptor interactions during invasion of erythrocytes by Plasmodium merozoites. International Journal of Parasitology 34 (13-14): 1413-29. (Invited Review)
Patents (if any)
"NOVEL BLOOD STAGE MALARIA VACCINE"
Inventors: Deepak Gaur, Virander Singh Chauhan, Chetan Chitnis Provisional patent application (filed January 20, 2012) Complete specification & India Patent Application (filed January 21, 2013).