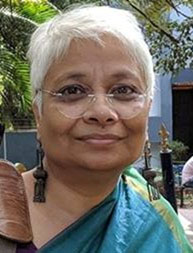 Centre/School/Special Centre:
Centre of Spanish,Portuguese, Italian & Latin American Studies,
School of Language, Literature and Culture Studies
Email:
indrani@mail.jnu.ac.in , indrani.manshobhat@gmail.com
Areas of Interest/Specialization:
HISPANIC NARRATIVES (Texts, Films, Art & History), L. AMERICAN (POST) COLONIALITy, LATINAMERICAN & SPANISH CULTURAL STUDIES (Gender Studies, Visual Culture, Popular Culture in general), COMPARATIVE LITERATURE & PEDAGOGY OF LITERATURE
Awards & Honours:
A session proposal entitled "Nomadisms across non-Oedipal Spatiality in Contemporary Narratives of Becoming" accepted at the North-Eastern Modern Language Association 50th Anniversary Conference on "Transnational Spaces: Intersections of Cultures, Languages, and Peoples" to be held between 21st-24th March, 2019 at Washington D.C., USA.
Advisory Board of Postcolonial Interventions: An Interdisciplinary Journal of Postcolonial Studies. 2015 – ongoing.
Keynote speech at a Conference on "Marquez and Literatures from India" EFLU, Hyderabad, 25th March, 2015. "Mapping an-Other Pedagogy of Garcia Marquez in the Indian Curricular Contexts."
Member of Jury for the award of "Premio Temas de Ensayo" for Art and Literature for the journal of the Ministry of Culture, Government of Cuba, Temas in September 2013.
International Collaboration/Consultancy:
Co-cordinator (with Miguel Zugasti) of an International Worksop in collaboration with University of Navarra, Spain on "Popular Culture from Yesterday and Today: Confluences India-Spain-Latin America." On 7th and 8th April, 2015.
Best Peer Reviewed Publications (upto 5):
"The Kalaripayattu and the Capoeira as Masculine Performances: From Bodies of Resistance to Neoliberal Tourism Bodies." Vol 7, No. 13 (Between) 2017. 1-20. (ISSN 2039-6597).

"Cartography of Mass-Citizenry in Global Netscapes in Cristina Peri Rossi's Short Stories "Los desarraigados" ["The Uprooted"] and "La grieta" ["The Crevice"]." in The Postcolonialist's June 2014 themed issue, "Sites of Home." In 9.9.2016:
http://postcolonialist.com/academic-dispatches/cartography-mass-city-zenry-global-netscapes-cristina-peri-rossis-short-stories-los-desaarraigados-uprooted-la-grieta/#.V9JUiH4g6Zg.gmail

"Another Orient through Medieval Spain's Trade, Travel and Translation." Journal of Contemporary Thought: Global South Cultural Dialogue Project. 2013 (Winter). 23-35. ISSN 0971-4731. 17.
Recent Peer Reviewed Journals/Books (upto 3):
[Co-edited with Java Singh] Gendered Ways of Transnational Un-Belonging from a Comparative Literature Perspective. London: Cambridge Scholars Publishing, Forthcoming.
[Co-edited with Saugata Bhaduri] Transcultural Negotiations of Gender: Studies in (Be)longing. New Delhi, Heidelberg, Dordrecht, New York, London: Springer, 2015. ISBN: 978-81-322-2436-5.