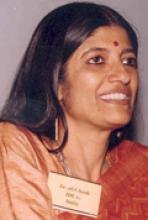 Centre/School/Special Centre:
Centre for Economic Studies and Planning,
School of Social Sciences
Email:
jayati@mail.jnu.ac.in , jayatijnu@gmail.com
Qualifications:
Ph.D (Economics): University of Cambridge, U.K., 1983
MPhil (Economics): University of Cambridge, U.K., 1979
Master's (Economics): JNU, 1977
Areas of Interest/Specialization:
Development economics, International economics, Employment, Gender, Finance, Indian economy
Experience:
Current Appointment: 
Teaching at JNU since 1986

Past Appointments (including part-time): 
Consultant, ILO, 1983-84,
Adrian Research Fellow, Darwin College Cambridge, 1984-95
Consultant, Planning Commission, Government of India, 1985-86
Visiting Professor, Tufts University, Medford MA, USA, 1995
Chairperson, Commission of Farmers' Welfare, Government of Andhra Pradesh, 2004
Member, National Knowledge Commission, 2005-09
Ragnar Nurkse Visiting Professor, University of Tallinn, Estonia,2010
(Honorary) Executive Secretary, International Development Economics Associates, 2002 to present 
Trustee, Economic Research Foundation, 2001 to present 
Awards & Honours:
Conference President, Indian Society for Labour Economics, 2013
Satyendranath Sen Award, Asiatic Society, Kolkata, 2012
ILO Decent Work Research Prize, Geneva 2010
NordSud Prize for Research in Social Sciences, Fondazione Pescarabruzzo, Italy, 2010
Ava Maiti Memorial Prize, Asiatic Society, Kolkata 2006
UNDP Award for Excellence in Analysis, (for West Bengal Human Development Report), New York 2006
International Collaboration/Consultancy:
ILO, UNDP, UNCTAD, UN-ESCAP, UNRISD, UNICEF, UNIFEM, UN-DESA, ADB, Commonwealth Secretariat, Mahbub ul Haq Human Development Centre, UN Women, IDPAD
Best Peer Reviewed Publications (upto 5):
1. "The costs of coupling: The global crisis and the Indian economy", in Cambridge Journal of Economics Symposium on the Financial Crisis July 2009, 33: 725–739 (with C. P. Chandrasekhar).

2. "Global crisis and beyond: Sustainable growth trajectories for the developing world", International Labour Review, July 2010.

3. "The unnatural coupling: Food and global finance", Journal of Agrarian Change, Symposium on the Global Food Crisis, January 2010

4. "The social and economic impact of financial liberalisation: A primer for developing countries", UN-DESA Working Paper, New York, and in Jose Antonio Ocampo and K.S. Jomo (eds) Policy Matters, Opus Books and Zed Books

5. "Women, capital and labour accumulation in Asia", Monthly Review, January 2012, Vol 63 Issue 8, pp 1-15
Recent Peer Reviewed Journals/Books (upto 3):
1. India and the international economy, edited volume , Oxford University Press New Delhi in collaboration with ICSSR, forthcoming.

2. Industrialization of China and India: The impacts on the world economy, Routledge (Taylor and Francis) 2013 (volume co-edited with Nobuharu Yokokawa and Robert E. Rowthorn

3. After Crisis: Crisis, recovery and adjustment in East Asia, (volume co-edited with C. P. Chandrasekhar) Tulika Publishers, New Delhi, 2009.