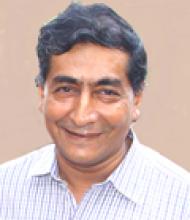 Centre/School/Special Centre:
Centre for Comparative Politics & Political Theory,
School of International Studies
Email:
kmchenoy@mail.jnu.ac.in , kamalchenoy@gmail.com
Areas of Interest/Specialization:
Indian Politics; Comparative Politics 
Awards & Honours:
Member of the Indian Council of Social Science Research for two terms 
International Collaboration/Consultancy:
Review done on South South Cooperation for UNDP, New Delhi, 2007. 
Best Peer Reviewed Publications (upto 5):
1. Contending Nationalisms: Kashmir and the Prospects for Peace, Harvard International Review, 28 (3) - Fall 2006, Available on http://www.harvardir.org/articles/1574/

2. "India's Foreign Policy Shifts and the Calculus of Power", Economic and Political Weekly, Sept 1-7, 2007, Vol. XLII, No. 35, pp3547-3554. 
Recent Peer Reviewed Journals/Books (upto 3):
Maoist and Other Armed Conflicts, New Delhi: 2010, Penguin