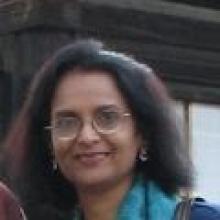 Centre/School/Special Centre:
Centre for Historical Studies,
School of Social Sciences
Email:
radhika@mail.jnu.ac.in , singha.radhika@gmail.com
Qualifications:
Ph.D, Cambridge, 1990
M.Phil CHS/SSS JNU, 1987 
Areas of Interest/Specialization:
Modern and Contemporary Indian History
Crime, law and policing in colonial India; identity protocols, practices and technologies; trans-national history; borders and border-crossing; India in World War one. 
Experience:
1983- 2000, Lecturer, and Senior Lecturer, Miranda House, Delhi University; Associate Professor, Aligarh Muslim University, 2000-2001, 1.1.2002,Associate Professor JNU,1.1.2004 Professor JNU. 
Awards & Honours:
* Fellow, Program in Agrarian Studies, Yale University, 5 September-6 May, 2006
* L. M Singhvi Fellowship, Centre for South Asian Studies, Cambridge, 13 May-13 August, 2008
* Fellowship, Lichtenberg Kolleg, University of Goettingen, Germany, 1 Aug-30 April 2011
* Senior Research Fellowship, Nehru Memorial Museum and Library, Delhi 2015-2016
* Fellow,,Institute of Advanced Studies, Nantes, France ( 1 May 2016-30 June 2016) 
International Collaboration/Consultancy:
Journal advisory
* Member, Advisory Board, Crime, history and societies, CESDIP, Paris
* Member, Advisory Board, Modern Asian Studies Cambridge University, UK.
* Member, Advisory Board, History of the Present, University of Illinois Press.
Academic Director ( with Prof Leo Lucassen, Leiden and Prof. Adam .McKeown, Columbia ) of a four-day student summer-workshop titled World Wide Asia: Asian Flows, Global Impacts, IIAS and Leiden University, 27 Aug-1 Sept 2012. 
Best Peer Reviewed Publications (upto 5):
Book
A Despotism of Law: Crime and Justice in Early Colonial India, Oxford University Press, Delhi, 1998. Paperback, 2000.

Articles
* "Settle, mobilise, verify: identification practices in colonial India", Studies in History, August 2000, Vol. 16, No. 2, pp.151-198. * "Colonial law and infrastructural power: reconstructing community, locating the female subject", Studies in History, Feb 2003, Vol.19, No.1, 87-126.
* "Finding labour from India for the war in Iraq: The Jail Porter and Labor Corps, 1916-1920", Comparative Studies in Society and History, 2007, 49, 2, 412-445.
* Passport, ticket, and India -rubber stamp: 'the problem of the pauper pilgrim' in colonial India ca. 1882-1925', in Harald Fischer-Tine and Ashwini Tambe (ed.) The Limits of British Colonial Control in South Asia, Spaces of Disorder in the Indian Ocean region, Routledge, 2008.
* Singha R. (2018) India's Silver Bullets: War Loans and War Propaganda, 1917–18. In: Abbenhuis M., Atkinson N., Baird K., Romano G. (eds) The Myriad Legacies of 1917. Palgrave Macmillan, 2018, https://doi.org/10.1007/978-3-319-73685-3_
Recent Peer Reviewed Journals/Books (upto 3):
1. "Punished by Surveillance: Policing 'dangerousness' in colonial India, 1872–1918", Modern Asian Studies Vol. 49, Issue 2, March 2015, pp.241-269.DOI: https://doi.org/10.1017/S0026749X13000462
2. "The Short Career of the Indian Labour Corps in France, 1917–1919", International Labor and Working-Class History, 87, March 2015, pp 27-62. doi:10.1017/S014754791500006X.
3. "The 'Rare Infliction': the Abolition of Flogging in the Indian Army, circa 1835-1920", Law and History Review, August, 2016, Vol 34, No.3, pp. 783-818 • DOI: https://doi.org/10.1017/S073824801600016X