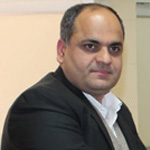 Mr. Sanjeev kumar
Director
Communication & Information Services
Email : sanjeev@mail.jnu.ac.in / director_cis@mail.jnu.ac.in
Phone : 011-26704116 / 26704006 / 26704080
About Director
He is postgraduate in Computer Science from BITS, Pilani, Rajasthan and MBA from TMU, Pune. He holds major technical certificates like CCNA(Cisco Certified Network Associate), ISO 27001 Lead Auditor, ITIL-Service Management, DCL(Diploma in Cyber Law), CEH (Certified Ethical Hacker), LPT(Licensed Penetration Tester), BCCP (Business Continuity Certified Planner Certification), PMP(Project Management Professionals), CIISA(Certified Internal Information Security Auditor), CISM(Certified Information Security Manager), STS(Symantec Technologies Specialist), ASC(Authorized Symantec Consultant) etc.
His technical experience is in the area of Infrastructure Technology Management (IT Infrastructure Manager), System Integration (SI), Security Operations Centre (SOC), Network Operations Centre (NOC), Managed Security Services (MSS) and Application Software Development (System Analyst), IT/IS Consulting & Professional Services Delivery , ICT Training and ICT Program Management.
Previously, he worked as Additional Director with ERNET, Principal Consultant, APJ-TSO and Professional & Consulting Services with Symantec Software Solutions Pvt. Ltd, IT Consultant with Infosys Technologies Ltd. , Manager (IT) with Union Bank of India, and SA, NIC.
He has implemented a variety of critical ICT Infrastructure, eGovernance and ICT projects in Government, Banking Financial Services and Insurance (BFSI), Manufacturing, Education and Telecommunication sector.