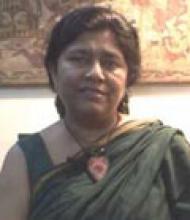 Centre/School/Special Centre:
Centre for Historical Studies,
School of Social Sciences
Residence:
011-26741219, 09868227123
Email:
smahajan@mail.jnu.ac.in smahajanjnu@gmail.com
Areas of Interest/Specialization:
Modern Indian History, Contemporary Indian History, with a focus on the themes of colonialism, nationalism and communalism; decolonization in a comparative framework; and history and social theory. In JNU I have taught courses/part of courses on Histories and Theories of Nationalism, Indian Politics in the late colonial period, Histories of Partition and Colonialism as a world system. 
Experience:
24 years teaching and three years as a research assistant and associate for an oral history project prior to teaching.
Awards & Honours:
Fellow, Indian Institute of Advanced Study, Shimla, 1993-1996 
International Collaboration/Consultancy:
2011, Maison des Sciences de l'Homme, Paris, Visiting Professor, Director d'Etudes, as part of international collaboration agreement with JNIAS, JNU.
2011, ICCR Chairs in History at Ryokoku University, Japan and University of Technology, Sydney (offers presently under consideration)
2007, Rockefeller Foundation, Bellagio Center, fellow in Residency programme 
2001, Maison des Sciences de l'Homme , Paris, Visiting Scholar under Social Sciences Exchange Programme with ICSSR. 
Best Peer Reviewed Publications (upto 5):
Composite Culture in a Multi-Cultural Society (Co-edited with Bipan Chandra), Pearson India and National Book Trust, New Delhi, 2006. I have co-edited this book and written the Introduction.
Rites of Passage, A Civil Servant Remembers: H.M. Patel, (ed.), Rupa & Co., New Delhi, 2005. As the editor of this book, I have written a scholarly Introduction, reconstructed the book from manuscripts left incomplete because of Patel's death and added selections from classified documents as substantive appendices.
Independence and Partition: The Erosion of Colonial Power in India, Sage Publications, New Delhi, 2000. The Sage Series in Modern Indian History was inaugurated with this volume. The Hindi edition was published as Swatantrata aur Vibhajan by Granthshilpi Prakashan, New Delhi, 2005.
India's Struggle for Independence, Viking, 1988, Penguin India, 1989 (with Bipan Chandra et. al.). Hindi, Bengali, Telegu, Malayalam and Marathi editions of this book have also been published.
"Gandhi's Swaraj or Hindu Raj? Making of Post- Independence Polity" in V. Damodaran and Maya Unnithan- Kumar editors, Postcolonial India: History, Politics and Culture, Manohar, New Delhi, 2000, pp.55-72. Reprinted in Partition and Post colonial South Asia: A Reader, edited by Tai Yong Tan and Gyanesh Kudaisya, Routledge, 2007. 
Recent Peer Reviewed Journals/Books (upto 3):
Towards Freedom, Documents on the Movement for Independence in India, 1947, edited by Sucheta Mahajan, Indian Council of Historical Research, Oxford University Press, Delhi, 2011/2012, in press.
RSS, School Texts and the Murder of Mahatma Gandhi- The Hindu Communal Project (with Aditya and Mridula Mukherjee) Sage Publications, 2008.
Education for Social Change: MVF and Child Labour, National Book Trust, New Delhi, 2008.