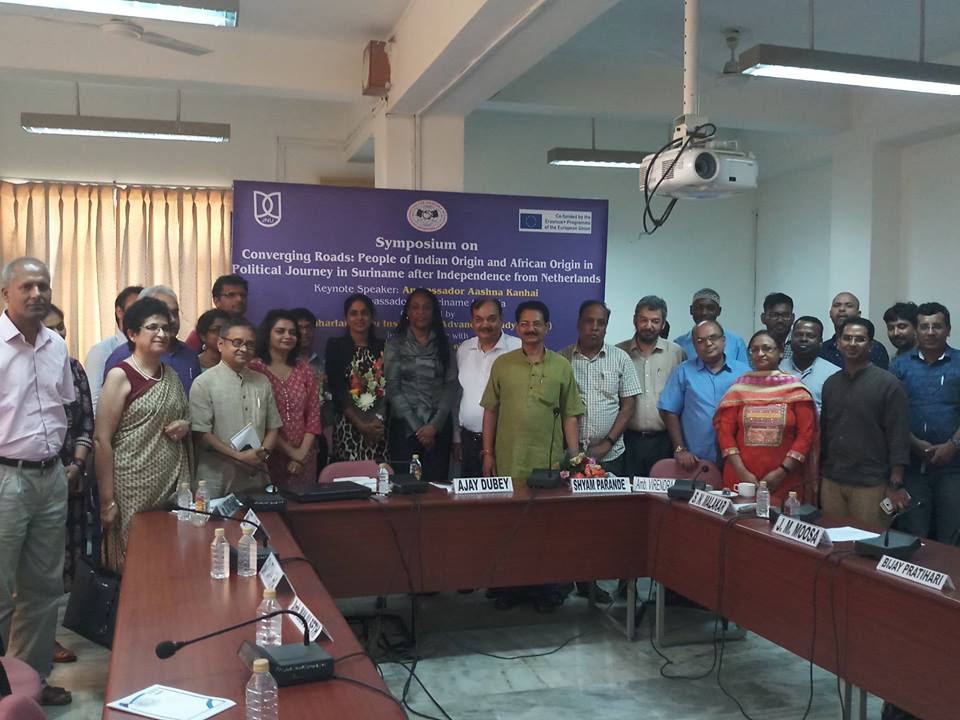 Seminars & Workshops
Symposium on "Converging Roads: People of Indian Origin and African Origin in Political Journey in Suriname after Independence from Netherlands."
Keynote speaker Amb Aashna Kanhai, Amb of Suriname to India
Organised by
JNIAS In Collaboration with
Centre for African studies, Erasmus+ programme of European Union
and
Organisation for Diaspora Initiatives
Date: 28th August 2018
****************************************************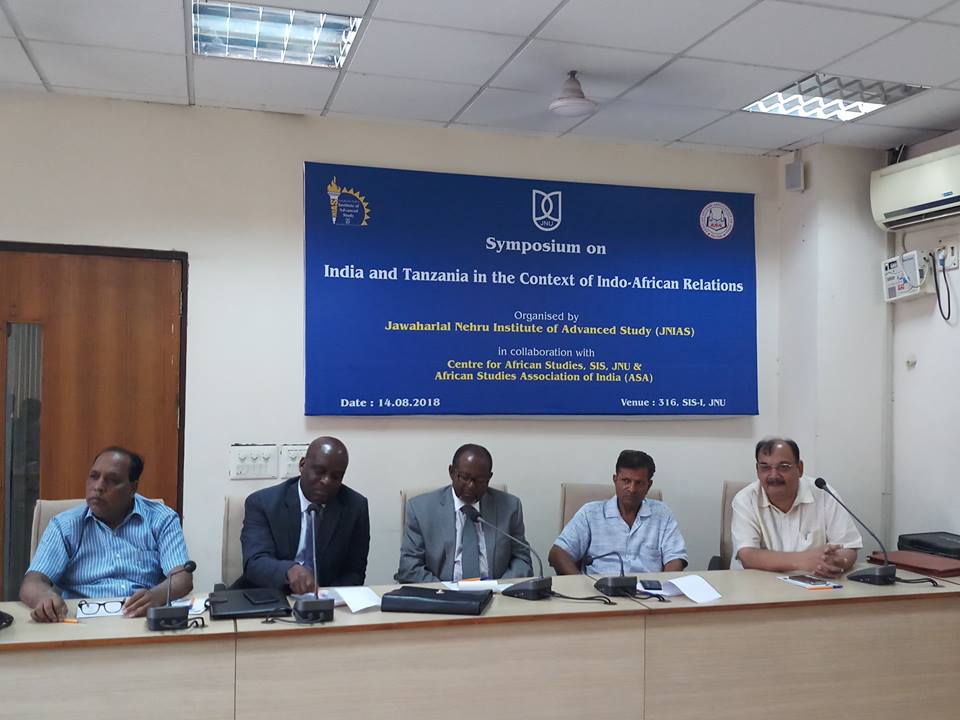 Symposium on India and Tanzania in the context of Indo-African Relations
Organised by JNIAS In Collaboration with
Centre for African Studies, JNU and African Studies Association of India( Asa India)
Date: 14th august 2018 at CAS-JNU, New Delhi
****************************************************
"Application of advanced Electron Microscopy on grapheme, batteries, fuel cells, etc"
a public talk organized by
Special Centre for Nanoscience in association with GIAN and JNIAS at JNIAS Conference Hall
Date: 19.03.2018.
****************************************************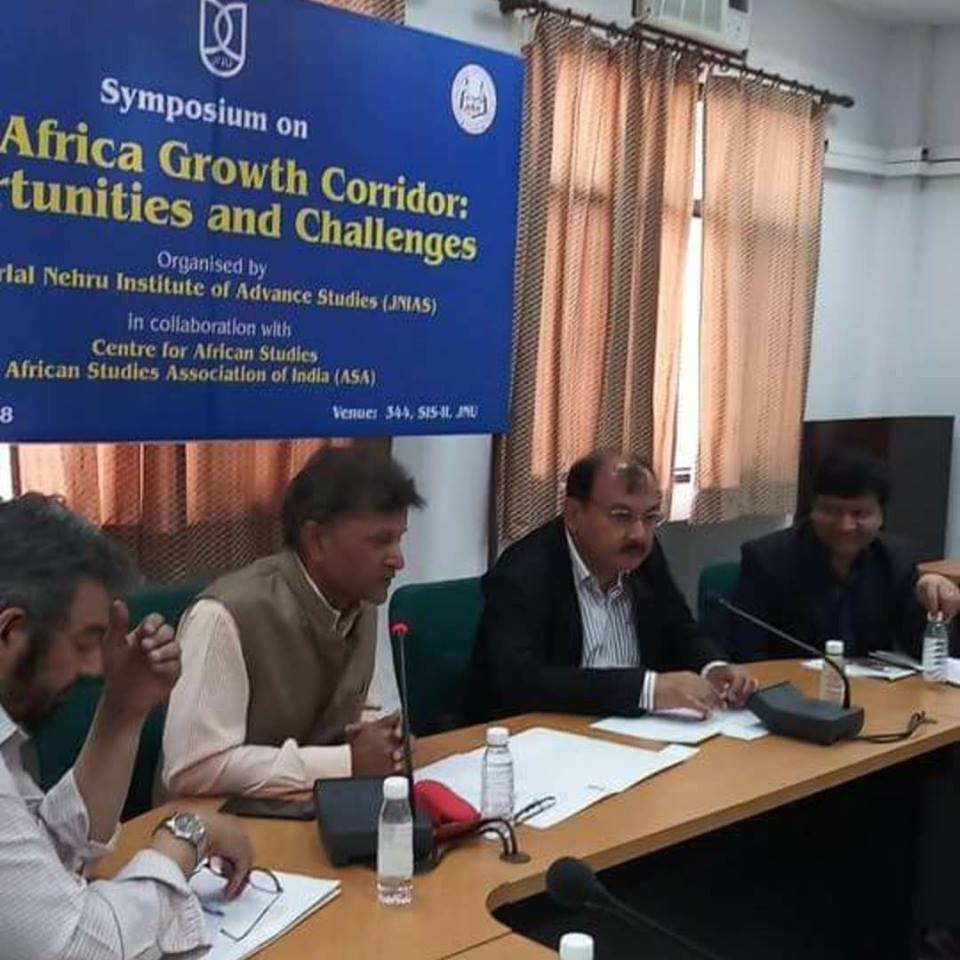 Symposium on
"Asia Africa Growth Corridor : Opportunities and Challenges"
organized by
JNIAS in collaboration with Centre for African Studies & African Studies Association of India (ASA)
Date: 15.03.2018.
**************************************************** Reports of previous seminars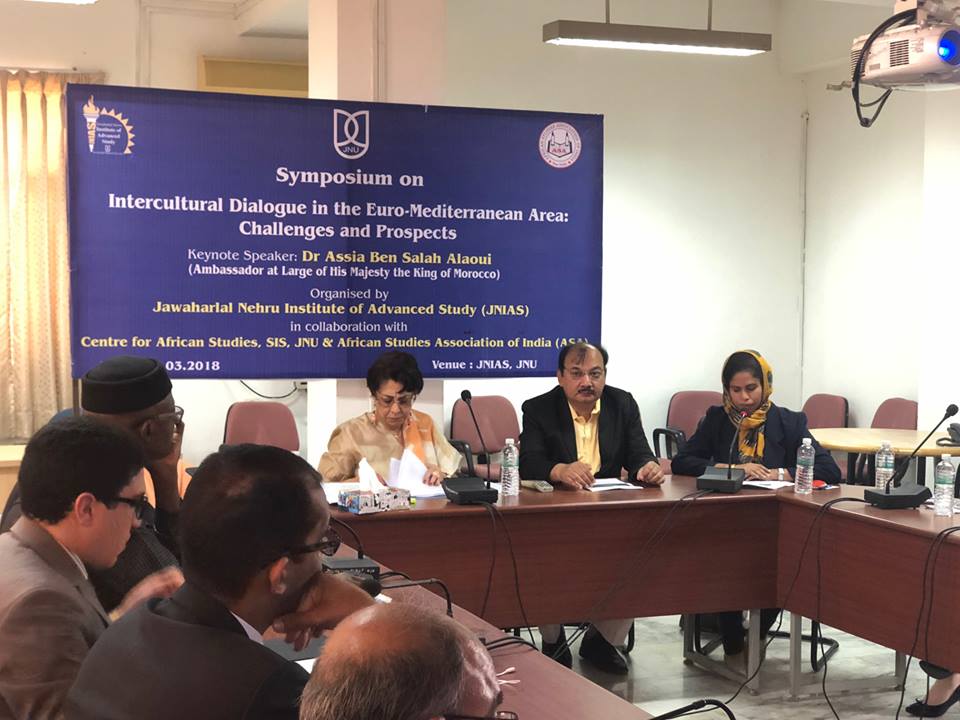 Symposium on
Intercultural Dialogue in the Euro-Mediterranean Area: Challenges and Prospects
Keynote Speaker: Dr Assia Ben Salah Alaoui
(Ambassador at Large of His Majesty the King of Morocco)
Organised by
Jawaharlal Nehru Institute of Advanced Study (JNIAS)
in collaboration with
Centre for African Studies, SIS, JNU & African Studies Association of India (ASA)
Date : 01.03.2018
****************************************************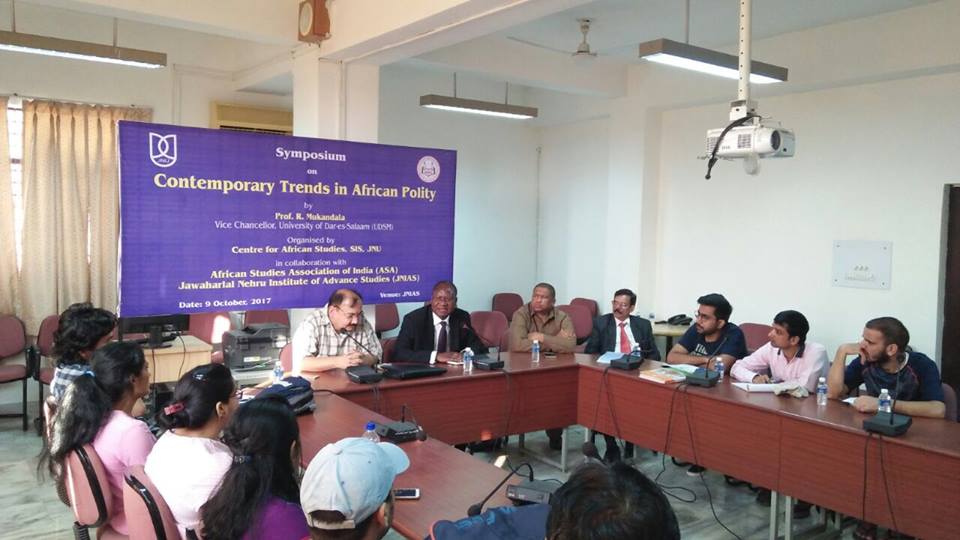 JNIAS
in collaboration with the Centre for African Studies, JNU and African Studies Association of India (ASA)
organied a Symposium on
Contemporary Trends in African Polity
by
Prof RS Mukandala
Vice Chancellor , Dar-es-Salam University, Tanzania
on 09.10.2017
****************************************************
JNIAS
organied a Symposium on
Japanese Investment and Technology Transfer in Africa: Problems, Prospects & Issue
on 06.10.2017
****************************************************
Jawaharlal Nehru Institute of Advanced Study
in association with the Australian High Commission

organised a talk on

The Authority of the Imagination – can writers write about anything?
by
the renowned Australian writer
Frank Moorhouse
on 23rd November 2016
Frank Moorhouse is an acclaimed Australian writer with a growing international reputation and has written over 21 books. Frank worked as an editor of small-town newspapers and as an administrator and in the 1970s became a full-time writer. He has written fiction, nonfiction, screenplays and essays and edited many collections of writing. He has won major Australian National prizes for the short story, the novel, the essay, and for script writing.Forty Seventeen was given a laudatory full-page review by Angela Carter in the New York Times and was named Book of the Year by the Age and 'moral winner' of the Booker Prize by the London magazine Blitz. Grand Days, the first novel in The Edith Trilogy, won the SA Premier's Award for Fiction. Dark Palace won the Miles Franklin Literary Award and was shortlisted for the NSW Premier's Literary Award, the Victorian Premier's Literary Award and the Age Book of the Year Award. Frank has undertaken numerous fellowships and his work has been translated into several languages. He was made a member of the Order of Australia for services to literature in 1985 and was awarded an honorary doctorate from Griffith University in 1997.
His work has been published in the UK, France and US and also translated into German, Spanish, Chinese, Japanese, Serbian, and Swedish. His novels have been likened to those of Henry James and praised for their humour and intellectual insight.
****************************************************
Jawaharlal Nehru Institute of Advanced Study

a talk in the Fellows' Seminar 2016

Water, Inequalities, Rights
by
Bandana Purkayastha
University of Connecticut
on 8th November 2016

Abstract: Across the globe, headline news continue to report water scarcity, droughts, and water-related health concerns, including deaths. The United Nations has declared access to clean water and sanitation as a human rightin 2010; the Millenium Development Goals aimed to halve the number of people without access to safe drinking water and sanitation by 2015;large corporations have fought for the right to privatise water; scholars have discussed the growing gap between those who have access to adequate clean water and those who do not, labelling the growing gap as 'water divide' (Ciampi 2013).How do these political-economic-social and material shifts play out in people's lives? There are very few scholarly accounts of the uses, understandings, and practices relating to water among middle class households. Yet, the experiences of this 'middle" can reveal the changing terrain of privilege and marginalization, and people's aspirations compared to the realities of their substantive or actual right to water. I will share some of my findings from my current project examining these questions of privilege and marginalization, resistances and acquiescence to emerging water divides.
Bandana Purkayastha is Professor of Sociology & Asian American Studies at the University of Connecticut (UCONN). She has served as the President, Sociologists for Women in Society (2013-2014), andis the American Sociological Association's representative to the International Sociological Association (2014-2018.)
Examples of her most recent articles and books include: Human Trafficking Amidst Interlocking Oppressions: A focus on Pakistan (2015); Voices of Internally Displaced Persons in Kenya: A Human Rights Perspective (2015); The Human Rights Enterprise: The State, Resistance, and Human Rights. (2015); and Human Rights in Our Own Backyard: Injustice and Resistance in the US.
http://sociology.uconn.edu/purkayastha/
*****************************************
Jawaharlal Nehru Institute of Advanced Study
a talk in the Fellows' Seminar 2016

"That deadly beast Oblivion": Written memory, political authority and forgetting as a strategy of resistance in Shakespeare's Henry VI, Part 1
by
Isabel Karremann
University of Würzburg, Germany
on 1st November 2016

Abstract: This paper explores the anxieties surrounding historical memory in early modern England through two main sources, Edward Hall's chronicle of the Wars of the Roses, and Shakespeares's play Henry VI, Part 2, which dramatizes a section of that history. In both texts, the role of written records – be they historiographical texts or legal documents – is interrogated as a source of political power, while their views differ on the role of forgetting: whereas Hall regards it as a dangerous, destabilizing force – "that deadly beast Oblivion" – Shakespeare's play stresses forgetting as a strategy of resistance to the power of the written word.
Isabel Karremann is Professor of English Literature at Würzburg University, Germany. She is author of The Drama of Memory in Shakespeare's History Plays (Cambridge University Press, 2015), which was shortlisted for the Shakespeare Globe Book Award 2016. She has co-edited the collections Forgetting Faith? Negotiating Confessional Conflict in Early Modern Europe (de Gruyter, 2012) and Shakespeare in Cold War Europe: Conflict, Commemoration, Celebration (Palgrave, 2015), and is currently working on a project on conflict and conciliation in the Thirty Years' War.
*****************************************
Jawaharlal Nehru Institute of Advanced Study

a talk in the Fellows' Seminar 2016

Music, Consciousness and Anthropology
by
Felix Padel
on 25th October 2016

Abstract: In ancient Greece, the nine muses were conceived as inspiration for music, poetry, and much more. Music is far more than 'just entertainment'. It can play a momentous role in connecting with a wider, deeper consciousness, both about Life itself, as well as with other cultures. When we follow news about what is happening in a particular country, or indigenous cultures for example, music offers a way to connect much more deeply with the people there, and their distinctive values and traditions – to become more politically conscious, as well as reconnecting feeling with thinking. In this talk, illustrated with musical examples from around the world, I offer a way into the language of music, and the secrets of how it can inspire writing, speaking and activism.

Felix Padel is an anthropologist/sociologist trained at Oxford and Delhi universities, author of several books on India's tribal and environmental situation. He is also a musician, trained in London in violin by outstanding teachers Sheila Nelson & Emmanuel Hurwitz; taught Dhrupad by Ritwick Sanyal, Madhu Bhatt-Tilang and Wasifuddin Dagar (presently), and has also learnt Greek, Jugoslav, Kurdish and other kinds of music.
*****************************************
Jawaharlal Nehru Institute of Advanced Study

a talk in the Fellows' Seminar 2016

Literacy and the Disabling of the Blind: the (in)Visible Impact of "the Technologizing of the Word""
by
Tara Prakash Tripathi
Arizona State University
on 18th October 2016

Abstract: This paper will examine the influence of the cultural shift from orality to literacy on people with blindness. Ever since orality lost its privileged position to literacy, the academic world has preferred written text over spoken words. Plato, who seems to be questioning the legitimacy of written text in Phaedrus, could himself become so influential because his "Dialogues" were transcribed into writing. Much before the invention of Gutenberg's printing press, which all but annihilated oral culture in the Western world, Plato had managed to vanquish orality by undermining Homer, a prominent bastion of orality. Outlining the dangerous impacts of a poet like Homer," Plato suggests banishing of poets from the ideal state conceived by him in The Republic.

The shift of prominence from orality to literacy, this paper argues, proved disastrous for the people with blindness and visual impairment. Before writing became prominent in Greece, Homer, a blind person, was considered the fountainhead head of knowledge. From construction of a ship to treatment of an injured horse, all could be found in Homer's epics. In the world dominated by literacy, on the other hand, a blind person became synonymous with ignorance. Higher learning being possible only through visual means, blind people had to live without the knowledge that could help them find gainful employment. With their status marginalized, the survival of blind individuals became dependent on charity and goodwill of the society. Several examples of the blind playing a very public and influential role exist in various cultures, before the occularcentric bias of the literate age made the blind dependent, insignificant, inefficient, marginalized and invisible from the public life. In other words, it was occularcentric worldview heralded by the emergence of literacy that made the blind disabled.

Dr. Tara Prakash Tripathi teaches Technical Writing and communication related courses in College of Letters and Sciences at Arizona State University. He has avid interest in studying the communication technologies, both digital and analog, as an agent of social change. His research interests include digital technology, social media, popular culture, globalization, disability studies and secondary orality.

After completing his MA and M. Phil from Jawharlal Nehru university, Dr. Tripathi completed his PhD in Texts and Technology program, University of Central Florida. He is currently a research fellow at Jawharlal Nehru Institute of Advanced Study and is working on a monograph on deconstructing disability in the digital age.
*****************************************
Jawaharlal Nehru Institute of Advanced Study

a talk in the Fellows' Seminar 2016

Daya Krishna: A Very Short Introduction
by
Daniel Raveh
Tel Aviv University
on 27th September, 2016

Abstract: Daya Krishna (1924–2007) is one of the most creative and original philosophers of the second half of the 20th century. His thought and philosophical energy dominated academic Indian philosophy, and determined the nature of the engagement of Indian philosophy with Western philosophy during that period. He left behind an enormous corpus of published work on a wide range of philosophical topics, as well as a great deal of incomplete, nearly-complete, and complete but-as-yet-unpublished work.

The aim of project is to formulate, for the first time, "the philosophy of Daya Krishna". Not much, and certainly not enough, has been written on his philosophical corpus, from The Nature of Philosophy (his first publication, 1955) to Towards a Theory of Structural and Transcendental Illusions (composed in the late 1990s but published only in 2012). But the idea behind the project is not just to comprehend Daya Krishna's oeuvre as a whole, but also to engage in a dialogue with him, i.e. to take forward the questions and philosophical problems which fueled his "conceptual explorations", as he himself used to refer to his work.
This short talk is an introduction to Daya Krishna's philosophical work and unique questioning approach. It also introduces contemporary Indian philosophy as a distinct genre of philosophy, which corresponds with classical Indian sources on one hand, and Western materials, classical and modern, on the other. It is if you wish, "fusion philosophy", or even better, "philosophy without borders".

Daniel Raveh is a professor of philosophy at Tel Aviv University. He is the author of two books: Exploring the Yogasutra: Philosophy and Translation (Continuum 2012) and Sutras, Stories and Yoga Philosophy: Narrative and Transfiguration (Routledge 2016), and co-editor of Contrary Thinking: Selected Essays of Daya Krishna (OUP 2011). At present he is a fellow at JNIAS, JNU.
*****************************************
Jawaharlal Nehru Institute of Advanced Study

a talk in the Fellows' Seminar 2016

In Praise of Failure: from the Gnostics to Cioran
by
Costica Bradatan
Texas Tech University / University of Queensland
on 20th September, 2016

Abstract: Because of our culture's obsession with success, we miss something important about what it means to be human, and deny ourselves access to a deeper, more meaningful layer of our humanity. A sense of what we are in the grand scheme of things, an openness towards the unknown and the mysterious, humility and reverence towards that which transcends and overwhelms us, the wisdom that comes from knowledge of one's limits, the sense of personal redefining and self-fashioning that results from an encounter with a major obstacle – these are some of the rewards that a proper grasp of failure could bring about. In my contribution I will sketch a phenomenology of failure, with a focus on a few prominent moments in the history of thinking about failure such as Gnosticism and Existentialism (especially EM Cioran).
This paper is part of a larger ongoing book project titled In Praise of Failure (under contract with Harvard University Press) .
*****************************************
Jawaharlal Nehru Institute of Advanced Study

Fellows' Seminar

Drinking coffee in Anatolia and Istanbul: Evidence from the early modern period
by
Suraiya Faroqhi
Istanbul Bilgi University
on 6th September, 2016

Abstract: This presentation follows the transnational trajectory of hCG (human chorionic gonadotropin), a hormone produced from human biological raw material and, in its pharmaceutical form, consumed by patients using reproductive technologies. Based on oral history, archival material, grey literature, and newspaper reports, it illustrates how hCG has moved in different forms between India and Europe over the last decades. The presentation pursues two lines of inquiry: (1) it focuses on processes of production of pharmaceuticals that have rendered the wide-spread practice of reproductive medicine possible and (2) it pays attention to the global dimension of these processes where spaces get entangled in unexpected ways through the travels of biological substances.
*****************************************
Jawaharlal Nehru Institute of Advanced Study

Fellows' Seminar

The travels of a hormone: hCG and its historical trajectory between India and Europe
by
Sandra Barnreuther
University of Zurich
on August 30, 2016

Abstract: It is well known that in the second half of the sixteenth century, coffee-drinking spread quite rapidly throughout the Ottoman Empire. We still do not understand very well why this drink, hitherto confined to Yemen and Ethiopia, became a favorite beverage in Ottoman towns within a very few decades.
From a few relevant commands of the Ottoman sultan that have found their way into the Registers of Important Affairs (Mühimme Defterleri) compiled during the early years of Sultan Selim II (r. 1566-74), we understand that the Hijaz was a hub of trade from where coffee was widely distributed already in 1567-69.Presumably once coffee was traded beyond Yemen, Ethiopia and the Hijaz, the principal destinations were the larger cities of the Arab world, namely Cairo, Aleppo and Damascus, and more or less at the same time, the capital city of Istanbul and its suburbs. Provincials in large and small towns also got interested.
In many places where coffee-drinking entered the record, official attention was aroused because new and unprecedented establishments catered for the needs of coffee consumers: coffee-roasting establishments could become sources of state revenue and were therefore recorded in the provincial tax register, and more significantly, some people used coffee drinking as an occasion for social interaction, perhaps of a novel kind as well; for it seems that especially younger men flocked to coffee-shops because here they could talk, without worrying about the rules of conduct. It was exactly this relaxation of constraints that made established authorities suspicious; for in the Ottoman Empire as incidentally in early modern France, the authorities were quick to assume that the new establishments were hotbeds of seditious talk.
As coffeehouse sociability thus appears to be separate from family, workplace and mosque/church, scholars during the last twenty years or so have studied these locales and their clientele as early forms of a 'civil society', a phenomenon that also has much interested historians in the French or English context of the 1600s and 1700s. After all, scholars concerned with 'civil society' assume that coming together outside of familial, religious or workshop contexts is a preliminary for democratization and the all-important transition from being a monarch's obedient subject to the quality of a politically alert citizen. Admittedly these issues are relevant mainly to the late eighteenth century and especially, the 1800s and beginning 1900s; but in larger Ottoman cities, the beginning of coffeehouse sociability existed by the mid-seventeenth century.
While the picture will never be complete, whatever we can find out about the consumption of coffee and the rituals surrounding it will help us visualize the subjects of the sultan as 'real people', whose activities were not limited to the adage "work and pray, live on hay" as the American workers' song put it; nor did their existences consist merely of "working, earning, paying taxes, and dying" as a German ditty has expressed it. No matter what the powers-that-be might enjoin, Ottoman subjects of the 1500s and 1600s sought and found access to at least some of the pleasures of life.
Suraiya Faroqhi
Educated at the universities of Hamburg, Istanbul and Bloomington/Indiana, Suraiya Faroqhi has taught English (1971-72) and history at Middle East Technical University, Ankara (1972-87) and served as a professor of Ottoman Studies at the Ludwig Maximilians Universität in Munich, Federal Republic of Germany (1988-2007). After retirement from LMU she now works as a professor at the Department of History, Istanbul Bilgi University in Istanbul.

From July to November 2016 she holds a position as the Shaheed Bhagat Singh visiting professor at Jawaharlal Nehru University in Delhi and is a fellow in the Jawaharlal Nehru Institute of Advanced Studies.
*****************************************
Jawaharlal Nehru Institute of Advanced Study

Fellows' Seminar

An Anthropology of Anthropological Objectification: Tribal People as Nature's Defenders, Links binding Mining and Arms Companies, and the Hidden Logic of Resource Wars
by
Felix Padel
on August 10, 2016

Abstract: To simplify a complex history, anthropology has played a vital role in opening many minds to other cultures, and in recent decades has shown the diversity and sophistication of tribal societies. But its shadow side has been to play a role as 'handmaiden to colonial power', by objectifying these cultures and categorising them as 'primitive' - a social evolutionist stereotype that still exerts huge influence. In some ways it still retains this role in India, unconscious of its place in the overall power structures imposed over tribal people, through the Anthropological Survey of India for instance. It still tends to objectify Adivasis, analysing them in dehumanising jargon, far from the language of spoken exchange, and as discrete entities, instead of tackling the power structures imposed over them through a web of relationships with schoolteachers, traders, administrators, police and mining companies (among many others) that calls out for holistic analysis. Is it romanticising tribal people to see them as 'Nature's Defenders', when they stand up against mining companies to defend their land and mountains? If we seek an anthropology that analyses 'up' rather than 'down' shouldn't we be analysing the connections between mining companies and the arms companies that use the highest priced alloys of metals in rapidly developing arms technology and markets? This paper will argue that the war with Maoists in Adivasi lands in central India is a classic resource war, though this is masked by both sides' portrayal of it as primarily an ideological conflict. In many ways it can be seen as the worst war there has ever been in India, since it attacks the fabric of Adivasi village life, dividing communities in civil war, though leadership on both sides is non-tribal, and both sides are funded indirectly by investment in mining. Is the hidden logic of the War on Terror also that a resource conflict over oil and other vital resources is being masked as something else? Can 'reverse anthropology' play a role of deconstructing modern power structures and conflicts to reveal us to ourselves, offering alternatives in hopeless-seeming situations?

Felix Padel is a London born social scientist, author of three books: 'Sacrificing People: Invasions of a Tribal Landscape' (2010, an expanded version of 'The Sacrifice of Human Being: British Rule & the Konds of Orissa', 1995); 'Out of This Earth: East India Adivasis and the Aluminium Cartel' (with Samarendra Das, 2010); and 'Ecology, Economy: Quest for a Socially Informed Connection' (with Ajay Dandekar and Jeemol Unni, 2013). He did his M.Phil in sociology at the Delhi School of Economics, and his doctorate in social anthropology at Oxford University. During the last few years, among other positions, he has been Senior Visiting Fellow at the Institute of Rural Managament in Anand (IRMA), Gujarat, where he taught a course in ecology and economics that formed the basis for his third book; and Professor, School of Rural Management, at the Indian Institute of Health Management Research (IIHMR), Jaipur (2012-14).
*****************************************
Jawaharlal Nehru Institute of Advanced Study

Fellows' Seminar

Pathways to Discovery and Development of New Drugs- A Multidirectional Multidisciplinary Paradigm
by
Babu L Tekwani
University of Mississippi
GIAN JNIAS Fellow
on August 3, 2016
*****************************************
Jawaharlal Nehru Institute of Advanced Study

GIAN Fellows Lecture

From African cinema to African cinemas: Film creation in Francophone Africa 1950-2014
by
Sada Niang
University of Victoria
on May 16, 2016
*****************************************
Jawaharlal Nehru Institute of Advanced Study

Fellows' Seminar

Maulana Azad's Concept of New India: Focus on Social and Poltical Views
by
Zebuniso Malakhova
Academy of Sciences, Dushambe, Tajikistan
on May 9, 2016
*****************************************
Jawaharlal Nehru Institute of Advanced Study

Fellows' Seminar

State-building as a Counterinsurgency Approach in India and the United States
by
Ayesha Ray
King's College, Pennsylvania
on May 2, 2016

India and the United States have a long history of engaging in counterinsurgency operations. While their respective approaches to counterinsurgency contains many labels, it is broadly described as state building. Yet, the context, method, and form of state-building, presents dramatic differences. In this chapter, I examine the context in which state-building emerged as the preferred choice for counterinsurgency in both countries, the political environment in which it was conceived, categorized, implemented, and the reasons for its partial effectiveness. Among other issues, I explore the political and military component of state-building, the underlying tension in strategy, a conflict in means vs. ends, and the challenge of forging political settlements when faced with disparate insurgent groups.
*****************************************

Jawaharlal Nehru Institute of Advanced Study

Fellows' Seminar

Outside the Eurocentric Cave: Globalisations and the Pasts and Futures We May Want!
by
Ari Sitas
University of Capetown
JNIAS Fellow and Bhagat SIngh Chair, CHS, SSS
on April 25th 2016

*****************************************
Jawaharlal Nehru Institute of Advanced Study

Fellows' Seminar

The Drug Prohibition Regime Moving Toward a Human Rights Oriented Policy?
by
Renaud Colson
University of Nantes, France
on April 18th 2016

Abstract: Just as the moral rhetoric of alcohol prohibition is gaining momentum in Indian politics, the support for longstanding prohibition of narcotics is eroding in other parts of the world. The impetus for drug policy changes originates from several loci: grassroots movements growing ever more transnational, NGO networks, private foundations and academic research centres among others. Reflecting these evolutions and following a resolution sponsored by Mexico and co-sponsored by 95 states, the next UN General Assembly Special Session on Drugs (UNGASS) due to be held in 2019 was eventually brought forward to April 2016. It is unclear, though, to what extent this announces a shift in the global drug prohibition regime.
Any bold attempt to reform policies dealing with drug use, drug abuse and drug trafficking must take into account the rigorous drug control treaties designed by the international community. These conventions aim to limit the supply of, and demand for, controlled substances for non-scientific or medical purposes through the criminalization of illegal production, distribution, and consumption of psychoactive drugs. This legal framework allows, and to some extent justifies, harsh policies which result in massive violations of human rights. The presentation will outline international drug control law, set out some of its shortcomings and negative impacts from a human rights perspective, and contemplate possible paths for reform..
*****************************************

Jawaharlal Nehru Institute of Advanced Study

Fellows' Seminar

Shaped by the empires: Policing in Thailand, the Philippines and India
by
Dr. Janjira Sombatpoonsiri
Faculty of Political Science, Thammasat University, Thailand
on April 11th 2016

Abstract: In the Weberian sense, modern police forces were founded to serve as strong arm of the modern state which monopolises the use of physical force in an attempt to overcome 'the state of nature.' In many democratic societies, this conception that connects the police with state violence has undergone a transformation through the introduction of reformist concepts such as community policing, democratic policing, and problem-solving policing. The dominant policing discourse has more or less shifted from 'law and order maintenance' to 'protection of citizens.' Or has it? In this talk, I will demonstrate that at least in Thailand, the Philippines, and India, the implementation of these 'new' policing values through police reforms has been difficult fundamentally because police forces in these three countries were founded, formed, and trained by the empires, namely the British Raj and the United States. The initial aim was mainly to suppress a potential challenge to the empires' status quo. This police characteristic, nevertheless, continues to serve political interest of the ruling elites despite independence in the Philippines and India, and the decline of American influence in Thailand. I argue that this colonial legacy usually shows its face when the police are assigned to handle organised protests that defy the power that be. To improve the policing of protests is, therefore, to change to the colonial mandate of the police.
*****************************************

Jawaharlal Nehru Institute of Advanced Study

invites you to the Fellows' Seminar

The Witness of Poetry
by
Suvir Kaul
University of Pennsylvania
on April 4th 2016

Abstract: Poems from a zone of prolonged conflict are sure guides to the intense feelings that play a significant role in defining its politics. Precisely because poems draw upon and innovate within the collective resources of culture and language, they can offer more "materialist" accounts of political life than those produced by analysts who chose to sideline the affective dimensions of individual subjectivity or collective consciousness. This talk will call attention to two poems written by contemporary Kashmiri poets and will read them to suggest that poetics and trauma studies can fruitfully be brought into dialogue, and that such critical analyses can sharpen our understanding of the relationship between cultural activities and political life.

About the Speaker: Suvir Kaul is A. M. Rosenthal Professor of English at the University of Pennsylvania. At Penn he has served as the Director the South Asia Center (2005-07) and as Chair of the English Department (2007-10). Presently he is a Visiting Fellow at the Jawaharlal Nehru Institute of Advanced Study, Jawaharlal Nehru University.

He is the author of Of Gardens and Graves: Essays on Kashmir; Poems in Translation (New Delhi: Three Essays Collective, 2015); Eighteenth-Century British Literature and Postcolonial Studies (Edinburgh: Edinburgh University Press, 2009); Poems of Nation, Anthems of Empire: English Verse in the Long Eighteenth Century (Charlottesville: The University Press of Virginia, 2000; Delhi: Oxford University Press, 2001) which won the Walker Cowen Prize awarded biennially to a scholarly manuscript in "Eighteenth Century Studies in history, literature, philosophy, or the arts" and of Thomas Gray and Literary Authority: Ideology and Poetics in Eighteenth-Century England (New Delhi: Oxford University Press, 1992; Stanford: Stanford University Press, 1992). He has edited The Partitions of Memory: the afterlife of the division of India (New Delhi: Permanent Black, 2001; London: C. Hurst, 2001; Bloomington: Indiana University Press, 2002), 301 pp, and co-edited (with Ania Loomba, Antoinette Burton, Matti Bunzl and Jed Esty), Postcolonial Studies and Beyond (Durham, Duke University Press, 2005; New Delhi: Permanent Black, 2005). He teaches and writes on eighteenth-century British literature and culture, South Asian writing in English, and critical theory, including postcolonial studies..
*****************************************
Jawaharlal Nehru Institute of Advanced Study

Fellows' Seminar

"Governance without Government" : Global regulation by non-State Actors
by
Milan Meetarbhan
Former Permanent Representative of Mauritius to the UN
on March 28th 2016

An increasing number of global rules, norms and standards in a broad range of sectors is being made by transnational networks and other non-State actors. This paper examines the emerging landscape of global regulation, its potential impact on the future of international law and the resulting challenges for developing countries.
*****************************************
Jawaharlal Nehru Institute of Advanced Study

Fellows' Seminar

The Poetics of Wolves: Human Rights, Animal Rights, Mapping Metaphors in World Literature
by
Peter Arnds
Trinity College Dublin
on March 21st 2016

The biopolitical tactic of reducing humans to the level of animals is a global phenomenon, the language of racism teeming with animal metaphors, especially animals considered unclean and parasitic - wolves, dogs, rats, pigs, and lice. In the Middle Ages, at the interstices of myth and history, the human wolf was the outlaw who had become morally unclean by committing a crime and was consequently abandoned by the community to be killed by anyone with impunity. On medieval churches the so-calledJudensau was a sculpture depicting a sow suckling a Rabbi. The Nazis then associated Jews with rats and lice spreading diseases. More recently, Iraqi prisoners were systematically "shot like dogs" and migrants illegally crossing the Mexico-U.S. border have been associated with coyotes. What is striking is that racism and biopolitical violence around the globe seem, in particular, to resort to canine metaphors.
In lycanthropy, the transformation of a human into a wolf, myth and the politics of persecution come together. I have shown this in my most recent monograph entitled Lycanthropy in German Literature (Palgrave Macmillan 2015) where I argue that as a symbol of both power and parasitism, of sovereignty and abjection, the human wolf of the Germanic Middle Ages – Old Norse vargr (a term meaning both 'outlaw' and 'wolf') expelled by the community for a crime and a figure steeped in myth and history – is iconic to the representation of biopolitics in the German cultural imagination from the early modern age to the post-war literary scene. In this book I have traced the ways in which the metaphor of the wolf transforms over time and epitomizes different and shifting cultural anxieties, from religious and superstitious, psychological, to racial ones. The wolf in German culture signals society's fear of human vice (such as idleness, vagrancy, crime), but it is also a metaphor for sovereign power, specifically resistance to foreign invasion and social pressures on conformity. This diachronic mapping highlights some of the key moments of lycanthropy in German literature and reveals how the wolf metaphor itself becomes degraded over time, culminating in its reduction from the medieval outlaw as wolf to vermin of a lower order (lice, rats) in the context of genocide.
The Monday seminar will both summarize these findings and expand this analysis into world literature.
*****************************************

Jawaharlal Nehru Institute of Advanced Study

Fellows' Seminar

Political-economic determinants of public programme (mis)targeting: Evidence from India's old-age pension reform
by
Katharina Michaelowa
University of Zurich
on March 14th 2016

Public programme targeting represents a strong challenge, notably in the context of many developing countries where local capture is high, transparency is low,and social and political connectedness appear to be highly correlated to the benefits received. India's reform of its old-age pension system in the late 2000s provides the opportunity to examine the effect of the introduction of a large scale transparency improvement regarding the criteria of eligibility.

Using two rounds of the India Human Development Survey along with political and institutional data at constituency- and state-level for corresponding periods, we compare the influence of political-economic factors on targeting before and after the reform. We find that indeed the role of political-economic factors generally decreased in the second period, although it still remains relevant. Similarly mistargeting was only partially reduced and remains an important problem, notably since the indicator used to identify beneficiaries does itself only show a modest correlation with actual old-age poverty.

This study is part of a joint project with Sourabh Paul and Sitakanta Pande from IIT Delhi and Viola Asri (University of Zurich),
*****************************************
Jawaharlal Nehru Institute of Advanced Study

Fellows' Seminar

Translation and Beyond.
The Poetry of Rabindranath Tagore in Polish Culture (a case study)
by
Renata Czekalska
Jagiellonian University, Krakow, Poland
on March 7th 2016

In the talk I present select distinctive results of Polish fascination with the poetry of Rabindranath Tagore, placing this phenomenon in the sphere of universalization, within the syntagma of Polish culture. Using a method which combines the concepts of Antonina Kloskowska (syntagma of a national culture), Michal Glowinski (styles of receptions), and Roman Ingarden (concretization of a work of art), I attempt to follow the process undergone by Tagore's poetry in Polish culture, from literary translations to musical transcriptions.
Renata Czekalska, Ph.D. – Associate Professor at the Institute of the Middle and Far East, Jagiellonian University, Krakow, Poland. She specializes in South Asian culture, the modern history of South Asia, and intercultural communication. Her recent publications include a hermeneutic analysis of the main thematic structures in the poetry of Ashok Vajpeyi, and a monograph dedicated to the enriching phenomenon of mutual transfer of intrinsic values in symbolic cultures. She has also published several book-length translations of Hindi and Polish poetry.
****************************************
Jawaharlal Nehru Institute of Advanced Study

Fellows' Seminars 2016

Travelling to Work

Prof Shirin M. Rai
University of Warwick
22nd February, 2016
This paper focuses on a key aspect of work and everyday life - travelling to work. The time, effort, organisation, risk and anxiety that accompanies travel is often overlooked in analyses of work. Of course, the issues for those who live far from work and those who live close to work are different; a complex and nuanced analysis is needed if we are to understand the place of travel in work. Based on a small sample study in New Delhi, I suggest that we to think through how, together with unpaid social reproductive work, travelling to work is also unpaid labour that subsidises the urban economy in neoliberal cities.

**********************************
Jawaharlal Nehru Institute of Advanced Study

Fellows' Seminars 2016

Constructing Gender in West Bengal: expectations and outcome

Lina M Fruzzetti,
Brown University
Department of Anthropology

15th February, 2016

Many young Bengali girls do not accept arranged marriages today; the choice for a marriage partner should rest with them. It is not a matter of whether or not their parents can afford the dowry demanded or "the expected gift" (as it is referred to today); marriageable girls require additional information about the prospective groom prior to the marriage discussions.

The consensus amongst these girls is the right to make decision that affects them because their future is theirs alone. Such convictions come with the proviso that no adult impinge on their decision. The talk addresses changes in a muffasil Bengali town and the bearing of these inter-caste and inter-religious unions on the families.
**********************************
Jawaharlal Nehru Institute of Advanced Study

Fellows' Seminars 2016

Constructing Gender in West Bengal: expectations and outcome

Lina M Fruzzetti,
Brown University
Department of Anthropology

15th February, 2016

Many young Bengali girls do not accept arranged marriages today; the choice for a marriage partner should rest with them. It is not a matter of whether or not their parents can afford the dowry demanded or "the expected gift" (as it is referred to today); marriageable girls require additional information about the prospective groom prior to the marriage discussions.

The consensus amongst these girls is the right to make decision that affects them because their future is theirs alone. Such convictions come with the proviso that no adult impinge on their decision. The talk addresses changes in a muffasil Bengali town and the bearing of these inter-caste and inter-religious unions on the families.

**************************************************************

A talk on

The Romance of Revolution: literature, gender and anticolonial militancy in colonial India
Ania Loomba
on 8th February, 2016

Abstract: This talk is drawn from my forthcoming book which explores how progressive and communist women shaped a new political subject in India, contesting and appropriating Gandhian, liberal-feminist, and European left-wing models of womanhood. In this paper I discuss the gendered mores of the revolutionary nationalists in Bengal, juxtaposing the lives and writings of women such as Kalpana Dutt, Pritilata Waddedar, Bina Das, and Kamla Das with representations of them in influential novels of the time.
**********************************
A talk on

Mapping Sexuality and Political Economy in India: Methods and Means

Svati Shah
University of Massachusetts, Amherst

on 1st February 2016
Abstract : In this talk, I will review my research program on sex work and LGBTQ politics in India, with a focus on earlier ethnographic work on sex work and migration in Mumbai, and new work on LGBTQ subjectivities and Indian social and political movements. The question of what constitutes "sexuality" is at the heart of this project, and is concomitant with critiques of prevailing neo/liberal theoretical frames of gender and sexuality. The problem of bringing social categories that are legible as forms of "sexuality" raising methodological questions when we attempt to account for political economic questions in this milieu, questions that I review in relation to ethnographic and theoretical interventions that this research engages.
**********************************
Conflict and Resistance in Multicultural India and Australia
Convention Centre, JNU
17th to 20th January 2016

Talk on "Foreignness and World Literature Today"
by Prof. Pawel Markowski
University of Illinois, Chicago, USA

**********************************
JNIAS AND CES/SLLCS
Humanities Now: A Reading Group

The framing of the humanities as a disciplinary rubric, as a way of investigating social and political processes, or as aesthetic enterprise has elicited a fair amount of contestation in present times. The perceived dilution of emphasis on the humanities in policy planning or the sense of 'crisis' within the humanities in global academia has spawned defenses, historical justifications, and even innovations to respond to the question: why study the humanities at all?

JNIAS in collaboration with the Centre for English Studies is launching a reading group in order to carefully investigate this question and position ourselves in relation to larger national and global impulses provoking interrogations of the humanities. The humanities has historically provided robust templates for the imagining of an aesthetic and political education – we feel it is necessary at this (slightly confused) juncture to clarify and evaluate the role of the humanities in contemporary contexts, particularly higher education.
Structure
A total of eight sessions will be conducted, spread across the semester, each of which will address itself to a particular dimension of the theme. We will start by addressing definitional distinctions as to what constitutes the humanities, move towards a comparative analysis of the methodological dimensions of knowledge production and research within the humanities, reflect on the role of aesthetic education in the contemporary, and end with a discussion on the role of pedagogy in shaping disciplinary frames. The format of the sessions will be more in the spirit of a workshop: there will be a set of background readings, select speakers/volunteers will introduce the particular issues through short presentations, and significant time will be devoted to discussion and deliberation among all the participants. We will invite student scholars as well as faculty, independent scholars and artist-professionals to introduce themes in various sessions.
Schedule
Each session is scheduled on a Saturday. Sessions will begin at 1.30 pm at JNIAS. The sessions have been classified under three broad groupings – the readings under each (not an exhaustive list, will be constantly updated) will be allotted for specific sessions based on interests of group members, themes explored by invited speakers, and the trajectories of discussion.
Definitions.
Session 1. August 22
Session 2. September 5
Session 3: September 19
The Humanities and the Future of the Universitiy [video]: Lawrence S. Bacow, Homi K. Bhabha, Stefan Collini, Drew G. Faust, Lynn A. Hunt, Sheldon I. Pollock, Arvind Raghunathan, Diana Sorensen
https://www.youtube.com/watch?v=0q5kcFl27ic,
The Character of the Humanities, Stefan Collini
Crisis in the Humanities, Marjorie Perloff
Extracts from Blow up the Humanities, Toby Miller
Extracts from The Value of the Humanities, Helen Small
Extracts from Uses of Literature, Rita Felski.
Reclaiming the Aesthetic, George Levine.
University and the Undercommons, Fred Moten and Stefano Harney
The Future of the Profession, Jacques Derrida
Introduction, An Aesthetic Education in the Era of Globalization, Gayatri Chakravorty Spivak
Aesthetic Education and the Demise of Experience, Thomas Docherty
Chapter 10 and 11, Philology: The Forgotten Origins of the Modern Humanities, James Turner.
Humanities to Digital Humanities, Anne Burdick, Johanna Drucker et al.
Method, Theory, Language
Session 4: October 3
Session 5: October 17
Session 6: October 31
Blurred Genres: The Refiguration of Social Thought, Clifford Geertz
Part I: General Metaphysics, The Metaphysics of Text, Sukanta Chaudhuri
Extracts from Recontextualizing Disciplines, Sasheej Hegde
Chapter 3, For the University, Thomas Docherty
The Politics of Aesthetics, Jacques Ranciere
The Ideology of the Text, Frederic Jameson
Extracts from Aesthetics and Politics, Walter Benjamin, Theodor Adorno et al
What is New Formalism, Marjorie Levinson
The Question of Narrative in Contemporary Historical Theory, Hayden White
Part I: The Hermeneutics of Suspicion and the 'Problem' of the Aesthetic, The Radical Aesthetic, Isobel Armstrong
Aesthetics and Ideology: What Happened to Poetics?, Peter Brooks
Pedagogy
Session 7: November 14
Session 8: November 28
Education as Trutiya Ratna, Sharmila Rege
Teaching as Provocation, Upendra Baxi
Extracts from The Cracked Mirror, Gopal Guru and Sundar Sarukkai
Chapter 2 and 3, Pedagogy of the Oppressed, Paolo Freire
Does Critical Pedagogy have a future? Henry A. Giroux Interviewed by Manuela Guilherme
Extracts from Teaching to Transgress, bell hooks
Extracts from An Ignorant Schoolmaster, Jacques Ranciere
Chapters 4 and 5, Not for Profit: Why Democracy Needs the Humanities, Martha Nussbaum
Chapter 6 and 7, Anarchism and Education, Judith Suissa
Feminism and the Politics of the Commons, Silvia Federici
Risking Feminism, Shilpa Phadke
...and more to be added.

to receive the readings write to: sayanc1@gmail.com
To join, participate, and contribute, please join the facebook group: https://www.facebook.com/groups/818631754905514/
**************************************************************************

Seminars & Workshops 2014-2015
• Humanities Now: A Reading Group Session-I organized by Jawaharlal Nehru Institute of Advanced Study (JNIAS) in collaboration with the Centre for English Studies(CES), JNU, 22nd August 2015 at JNIAS.

• Conference "Framing a Region: New Perspectives on North East India" jointly organized by Jawaharlal Nehru Institute of Advanced Study (JNIAS) & The North East India Studies, JNU, 25- Programme, at JNIAS 27 March 2015

• Sjef Barbiers, "The marriage between traditional dialectology and generative syntax in the era of digital research infrastructure: Some results from a large scale Dutch dialect syntax project" at JNIAS on 19.3.2015

• Masaya Shishikura, "Music, Travel and Translation towards Trans-border Humanity: A Case of Micronesian Songs that have Travelled to the Ogasawara Island, Japan" at JNIAS, JNU on 19.3.2015

• Qaisra Shahraz , "In Conversation with Qaisra Shahraz" at JNIAS, JNU on 17.2.2015
• Conflict Areas in South Caucasus : the case of Nagorno-Karabakh - Lecture by Dr. Nona Shahnazarian, at the Center for Russian and Central Asian Studies, SIS, JNU, 23 April 2014.

• Ethnic Conflicts in North and South Caucasus - Lecture by Dr. Nona Shahnazarian, at the Gorky Sadan ( Russian Center), Kolkatta, 18 April 2014.

• Gender Stereotypes in Neo-Traditional Society: A Women-Warrior - Lecture by Dr. Nona Shahnazarian, at the Women's Studies Research Center, Calcutta University, 16 April 2014.