Major Achievements
Research, publication and extension (outreach) activities have been the core strengths of the Group. During the last 20 years, the Group has completed 22 research / evaluation projects funded by various national and international agencies. It has brought out 21 books besides dozens of articles and book reviews. More recently, the National Assessment & Accreditation Council (NAAC) Report 2013 documents the major achievements of GAE for the period of last five years. During this period, GAE faculty members have participated in 142 national seminars and 38 international conferences. They organized 09 national seminars and 03 international conferences. In the last 5 years, they have published 04 books and 35 research papers in various national and international journals.
Achievements – Outreach and Extension Activities
GAE's major thrust has been on linking theory and practice and on bringing the University closer to the community. The faculty members of the Group have served as members of importantpolicy making bodies of the government and the civil society such as the National Literacy Mission Authority of India, Planning Commission, University Grants Commission of India, Indian Adult Education Association, National Council of Educational Research and Training, National University of Educational Planning, Staff Selection Commission of India and some select NGOs.
GAE's appropriate researches and good practices have found remarkable results in its outreach activities organized in the Kusumpur Pahadi (urban slum of New Delhi region near JNU). Through its outreach programmes, the GAE has helped hundreds of women living in Kusumpur Pahadi slum by conducting adult literacy classes, providing vocational training, self-help-group formation, spread of legal and health literacy, provision of non-formal education programmes to hundreds of out-of-school children and school drop-outs, and social and psychological counseling to youth and battered women.
The GAE also runs the University Well-being and Counseling Programme for its students. It has two regular counselors for the job, and some student & teacher volunteers. It provides face-to-face personal counseling to individual students of the university who are in distress and need emotional and psychological help. Under this umbrella, the Group organizes group workshop, series lectures and discussion groups on issues related to healthy campus, gender violence, political violence, and academic performance. During the last year (2013-14) the Group organized three group workshops, and about six lectures/talks under its lecture series programme.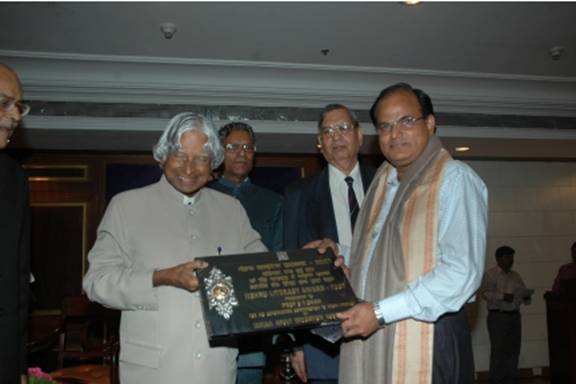 Above: Prof. S.Y. Shah being presented the Nehru National Literacy Award for the year 2007 by the former President of Republic of India, Dr. A.P.J. Kalam
Academic Achievements
One of the major and significant achievements of the Group in recent years has been the development of an online professional course titled 'Participatory Adult Learning, Documentation and Information Networking' (PALDIN) in collaboration with the UNESCO Institute for Lifelong Learning (Hamburg) and with financial support from the UGC of India. This course consists of two self-learning packages of 35 modules covering various aspects of Adult Education. The coursework has been adopted by Indira Gandhi National Open University (IGNOU) and serves as an online distant education programme for developing countries like Bangladesh and Nepal with translations of these materials into local languages. The GAE developed PALDIN module is free and is made available by UNESCO on its website (www.unesco.org/education/aladin/paldin).
In a global survey of adult learning resource materials undertaken by the Institute of Adult Education in Slovenia, PALDIN has been rated as one of the two best innovative programmes. The GAE has also collaborated with the IGNOU in developing two other Certificate and Diploma Programmes in Adult and Lifelong Learning.
The GAE is involved in a flagship international collaborative study project currently (India and UK institution partners). The project is titled, 'Rural Hybrid Energy Enterprises – Bridging the Rural Urban Divide' (RHESS-BURD). It is a collaborative project of three years (August 2013 to July 2016) involving some 15 institutional partners both in the UK and India. Although primarily a science-technology project related to sustainable rural energy technologies, the Group is involved in identifying basic needs related to energy, planning, monitoring and evaluation, training and education and development of sustainable energy based rural enterprises.
The Group regularly organizes special talks and lectures every year by inviting nationally and internationally known scholars from different fields. Some of the important international scholars (visitors) to our department in the last few years are: Dr. Dave Baker (Reader in Adult Numeracy and Post-16 Mathematics, Faculty of Policy and Society, Department of Continuing and Professional Education, Institute of Education, London University, London, Prof. Soren Ehlers (Danish School of Education, Aarhus University, Denmark), Prof. Chris Atkin (School of Education, Nottingham University, UK), Prof. Andy Green (Institute of Education, London University, London), Prof. Alan Rogers (Uppingham Seminars, UK), Dr. Lisa Krolak (UNESCO Institute for Lifelong Learning), Prof. Wily Kriz (Professor of Human Resource Management and Simulation and Gaming at Voralberg University / FHV University of Applied Sciences, Dornbin, Austria), Prof. Gregor Lang-Wojtasik (University of Education, Weingarten, Germany), and more recently Prof. & Lord Bhikhu Parekh (Professor of Political Philosophy, Gandhian Thought, University of Westminster, London, UK).
One of the most recent talk organized by GAE, was a special lecture delivered by the world famous political scientist, Prof. (Lord) Bhikhu Parekh of Westminster University, here on January 08, 2014 on the topic, 'Public Sphere and Morality in India'.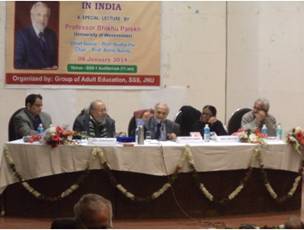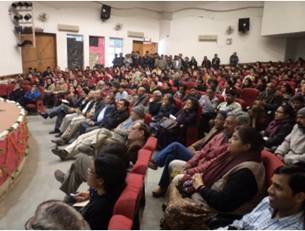 Prof (Lord) Bhikhu Parekh's Special Lecture on 08 January 2014