Department, Courses and Students
The extensive courses and the avant-garde facilities in JNU are designed to cater to the world-class academic training and creating a free space for critical thinking, dialogue, shared growth and achieving full potential of students as responsible individuals. JNU offers various disciplines in Science, Humanities and Languages. JNU aesthetically comprises of 13 schools that have 55 centres, 7 special centres, the state of the art labs including language labs that are well-equipped with the latest technology, state of the art library, seminar halls and highly advanced auditoriums. Stemming from the roots of historical ideals and modern civilization, JNU is a true amalgamation of critical thinking, interdisciplinary dialogue, and exemplary research institution that makes it incredibly successful in producing top class personalities in a diverse array of fields, be it bureaucrats, scientists, professionals or public figures.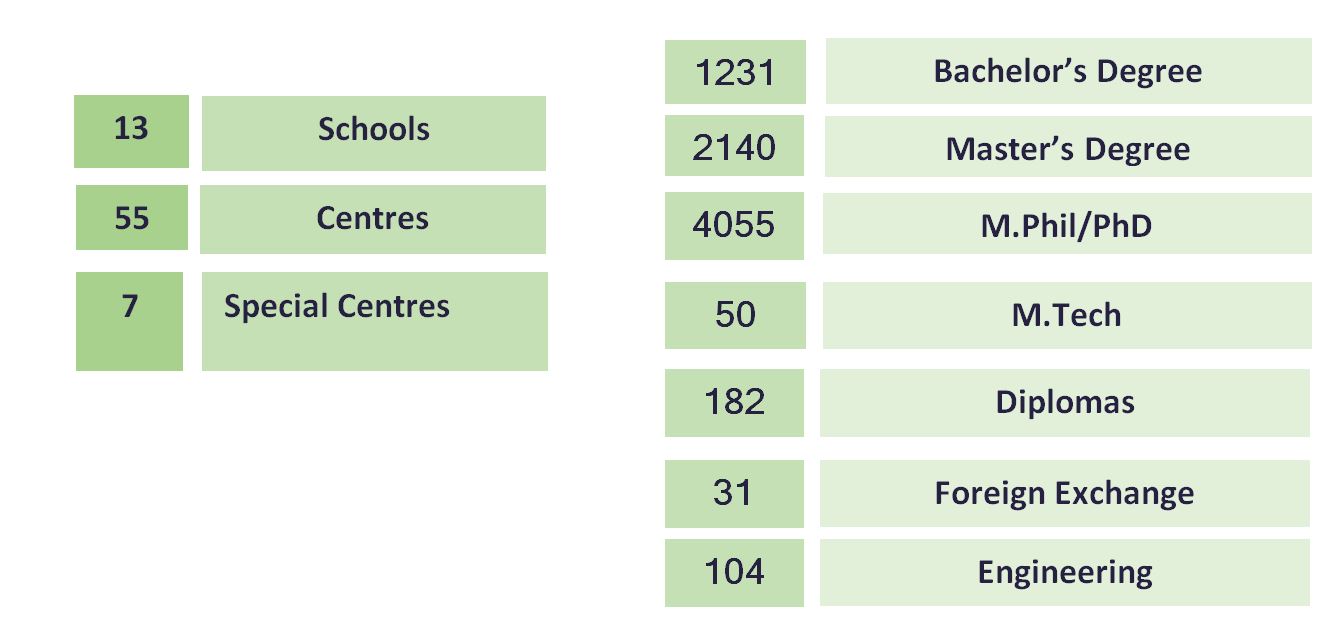 Courses Offered
As one of the top hubs for research, the coursework in JNU gives the students an in-depth and well-rounded knowledge, both theoretical and empirical. It helps studnets to develop a multifaceted personality, interdisciplinary in nature and mould them to follow an all-inclusive approach in a wide range of situations. The disciplines and the number of students pursuing various courses in Science, Humanities, and Languages are presented below. Click here for more details...
Students
JNU campus is a microcosm of the Indian nation, drawing students from every nook & corner of the country and beyond. There are more than 8000 students enrolled in different courses in JNU, out of which more than 50% are in M.Phil./Ph.D. programmes, more than 25% are in Masters programmes, about 15 % are in the Bachelors programmes, and the rest are in Diploma in foreign languages, and Certification Courses in Yoga, Vedic Culture , Sanskrit, Sanskrit Computational Linguistics. Recently, JNU has also started an integrated B.Tech.-M.S. programme.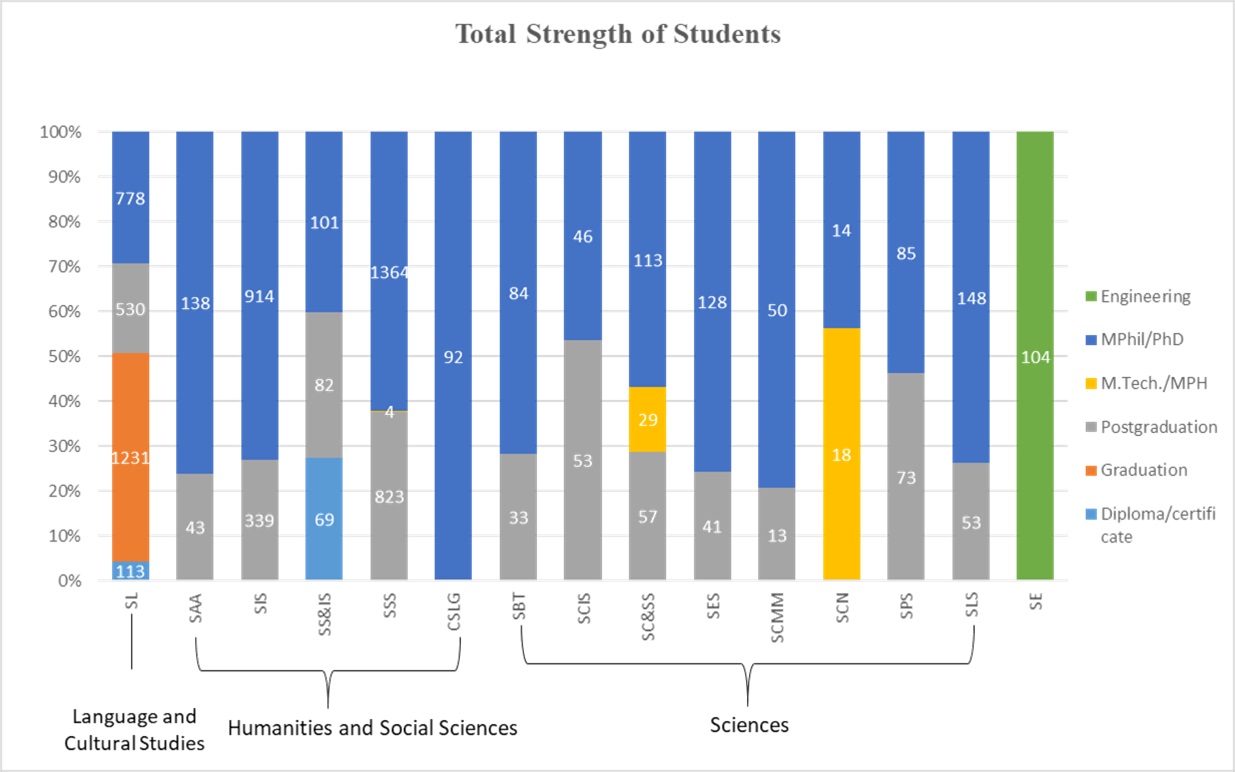 DIVYANG Students
There are about 200 DIVYANG students in the campus, out of which more than 25% are female students. JNU runs the HEPSN (Higher Education for Persons with Special Needs) UGC scheme to create awareness among the functionaries of Higher Education about specific educational needs of individuals with disabilities. Some of the facilities available to DIVYANG students are Helen Keller Unit (Specialized with audio-visual assistive technologies), JNUPDA-Assistance with Jobs and Fellowships, Specialized Counselling services, etc.