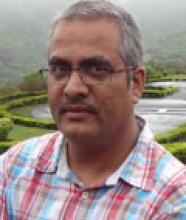 Centre/School/Special Centre
School of Biotechnology
Email
rajeshmishra@mail.jnu.ac.in
Qualifications
B.Sc. (Botany, Chemistry & Zoology) University of Allahabad, India (1992)
M.Sc. (Biochemistry), G.B. Pant University of Agriculture & Technology, Pantnagar, India (1995)
Ph.D. (Biotechnology), Jawaharlal Nehru University, New Delhi, India (2002)
Areas of Interest/Specialization
Protein Science/Protein Folding, Aggregation and Amyloid Fibril Formation
Experience
2015-Present: Associate Professor, School of Biotechnology, Jawaharlal Nehru University, New Delhi, India.
2009-2015: Assistant Professor, Centre of Biotechnology, University of Allahabad, India.
2011-2013: Visiting Researcher, Linköping University, Sweden.
2006-2009: Research Associate, Dortmund University of Technology, Germany.
2005-2006: Postdoctoral Fellow, Linköping University, Sweden.
2002-2004: Postdoctoral Research Associate, The University of Tennessee, Knoxville, TN, USA
Awards & Honours
* DAAD long term fellowship under "Sandwich Ph.D. Programme" (1999 to 2001), University of Potsdam, Germany.
* Qualified CSIR–UGC test for Junior Research Fellowship and eligibility of university lecturership (1996).
* Qualified GATE (Graduate Aptitude Test in Engineering) 1995.
* G.B. Pant University Graduate Teaching Assistantship (1994-1995)
Best Peer Reviewed Publications
* Rajesh Mishra, Robert Seckler and Rajiv Bhat. Efficient refolding of aggregation prone Citrate Synthase by polyol osmolytes: How well are protein folding and stability aspects coupled? Journal of Biological Chemistry (2005). 280, 15553-15560.
* Neil A. Whittemore*, Rajesh Mishra*, Indu Kheterpal, Angela D. Williams, Ronald Wetzel and Engin H. Serpersu. Hydrogen-deuterium exchange mapping of Abeta 1-40 amyloid fibril secondary structure using nuclear magnetic resonance spectroscopy. Biochemistry (2005). 44, 4434-4441. (*equal contributing authors)
* Rajesh Mishra, Karin Sörgjerd, Amanda Nordigården, Sofie Nyström, Yen-Chi Yu and Per Hammarström. Lysozyme amyloidogenesis is accelerated by specific nicking and fragmentation but decelerated by intact protein binding and conversion. Journal of Molecular Biology (2007). 366, 1029-1044.
* Rajesh Mishra, Bruno Bulic, Daniel Sellin, Suman Jha, Herbert Waldmann, and Roland Winter. Small molecule inhibitors of islet amyloid polypeptide fibril formation. Angewandte Chemie international edition (2008). 47, 4679-4682.
* Rajesh Mishra and Roland Winter. Cold- and pressure-induced dissociation of protein aggregates and amyloid fibrils. Angewandte Chemie international edition (2008). 47, 6518-6521.
Recent Peer Reviewed Journals/Books
Rajesh Mishra, Matthias Elgland, Afshan Begum, Timmy Fyrner, Peter Konradsson, Sofie Nyström, and Per Hammerström. Impact of N-glycosylation site variants during human PrP aggregation and fibril nucleation. BBA Proteins and Proteomics (2019). 1867, 909-921.

Aziz Ahmad , Rajesh Mishra . Different unfolding pathways of homologous alpha amylases from Bacillus licheniformis (BLA) and Bacillus amyloliquefaciens (BAA) in GdmCl and urea. Int J Biol Macromol (2020) 159:667-674.

Rahamtullah, Rajesh Mishra .Nicking and fragmentation are responsible for α-lactalbumin amyloid fibril formation at acidic pH and elevated temperature.Protein Science (2021) doi: 10.1002/pro.4144.