Periyar Hostel is a boys hostel named after the river Periyar of Kerala. It was constructed in the early 1970's and is amongst the oldest hostels in JNU. It is situated in Dakshinapuram in close proximity of the Godavari and Kaveri Hostels. Its residents have a definite advantage over many other hostels due to its appropriate location. It is at a walking distance (within 500 -700m) from almost all the major facilities in the campus such as the Academic Complex, the Administrative Complex, the University Library, University Shopping Centre, University Health Centre, Students Activity Centre (having indoor badminton court) and the University Stadium. The State Bank of India equipped with three ATMs is situated right next to it, as also the Neelgiri shopping complex which houses several useful small shops such as the cycle repair shop, the cobbler shop, the fruit juice shop, the laundry and the Neelgiri Dhabha.
The hostel has two wings – east and west, each having four floors (i.e. Ground, 1st, 2nd and 3rd), with disabled friendly structures including the toilets. A lift is also expected to be installed shortly in the west wing of the hostel to enable the disabled students to access their rooms with ease. The hostel has sufficient water supplies for its residents, with an underground sump for water storage. It provides mess facility to its residents throughout the year, and has several facilities such as the Badminton Court, a mini Gym, Table Tennis Room, Reading Room, Common Room and Visitor's Room, to offer to its residents. The hostel also has power back facility for its dining hall and the staircases in each wing. A number of Banyan and Neem trees within its premises provide it a green ambience.
The residents of Periyar Hostel come from diverse social, economic, cultural, regional, religious and educational backgrounds which make the hostel a very vibrant place for debates, discussions, cultural and academic activities, enriching the residents in terms of their personality skills. Not surprising, alumni of Periyar Hostel have been successful in making a mark for themselves in various spheres of life. During the hostel night celebrations every year, the hostel organises a meeting of Periyar Hostel Alumni in addition to cultural and sports activities. The hostel has strong democratic traditions, and each year its residents elect a Hostel President, six Hostel Committee Members and six Mess Secretaries through very keenly fought elections but in a very cordial and environment friendly (no paper usage in campaigning) manner.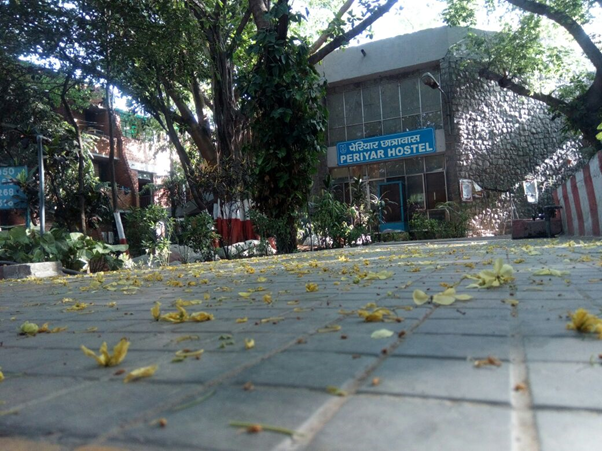 Employees:
The Wardens
| | | |
| --- | --- | --- |
| S.No. | Name of Hostel Administration | Designation |
| 1. | Dr. Birendra Nath Prasad | Sr. Warden |
| 2. | Dr. Tapan Kumar Bihari | Mess Warden |
| 3. | Dr. Buddha Singh | Sanit. & Maint. |
| 4. | Dr. Gajendra Pratap Singh | Recreation & Health |
The Office Staff
| | | | |
| --- | --- | --- | --- |
| S. No. | Name of Office Staff | Designation | |
| 1. | Om Prakash Sain | Office Incharge | |
| 2. | Geeta Gupta | Caretaker | |
| 3. | Vacant | Cashier | |
The Mess Staff
S.No.

Name of staff (Shri/Smt./Ms.)

Designation

1

Bharat S. Rawat

Mess Supervisor (Contractual)

2

Pawan Kumar Patel

Mess Supervisor (Contractual)

3

Ram Kala

Cook

4

Jitendra Kumar

Cook

5

Gautam Rao

Cook

6

Vijay Saw

Cook

7

Pratap Chand

Cook (Contractual)

8

Jai Prakash

Mess Helper

9

O.P. Tiwari

Mess Helper

10

Rajendra Singh

Mess Helper

11

B.P. Yadav

Mess Helper

12

Meena Kumari

Mess Helper

13

Vijay Pal

Mess Helper

14

Vijay Singh

Mess Helper (Contractual)

15

Jagaram

Mess Helper (Contractual)

16

Chetu

Mess Helper (Contractual)

17

Rakesh

Mess Helper (Contractual)

18

Vinod

Mess Helper (Contractual)

19

Pritam

Mess Helper (Contractual)

20

Manju

Mess Helper (Contractual)

21

Dharnidhar

Mess Helper (Contractual)

22

Ramroop Yadav

Mess Helper (Contractual)

23

Suresh Kumar

Mess Helper (Contractual)

24

Harnarayan

Mess Helper (Contractual)

25

Ramchandra

Mess Helper (Contractual)

26

Ramji Patel

Mess Helper (Contractual)
The Sanitation Staff
| | | |
| --- | --- | --- |
| 1 | Prem Pal | Sanitary Guide (Contractual) |
| 2 | Raja Ram | Safaikarmchari |
| 3 | Ajay Kumar | Sanitation Staff (Contractual) |
| 4 | Arjun | Sanitation Staff (Contractual) |
| 5 | Vikas | Sanitation Staff (Contractual) |
| 6 | Nitin | Sanitation Staff (Contractual) |
| 7 | Jairam | Sanitation Staff (Contractual) |
| 8 | Mahabir | Sanitation Staff (Contractual) |