Garima Dalal
Linguistic Empowerment Cell
School of Language, Literature and Culture Studies
Room No : 104
Off. Phone : 26704132
Email : garimadalal@mail.jnu.ac.in ; garima.jnu@gmail.com
Sandesha Rayapa Garbiyal
Linguistic Empowerment Cell
School of Language, Literature and Culture Studies
Room No : 104
Off. Phone : 26704132
Email : sandesharayapa@mail.jnu.ac.in ; sandesha.rayapa@gmail.com
Guest Faculty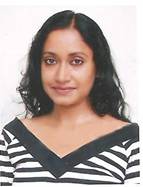 onlyshahs@yahoo.co.in
Shahnaz Samantara, a multi-faceted faculty has a PH.D (English) from Utkal University. As an educationist, she has held positions of a Lecturer, school Principal, ELT consultant and has also taught English as a second language through Indian Sign Language at IGNOU. She has also been a presenter at A.I.R and Doordarshan and has worked as Senior Project Consultant with ISLRTC, IGNOU. A guest faculty at LEC who combines English language teaching with Indian Sign Language classes, has to her credit a published book of poems which was released in JNU.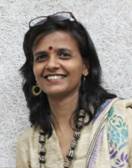 salonee_priya@yahoo.com
Salonee Priya Maithani is a PhD research scholar at the Centre for Linguistics, SLL&CS, JNU. She is currently working in the field of Testing and Assessment in ELT and developing an Academic English Test for the heterogeneous setting of Indian Universities keeping JNU as focus. She has a Bachelor's degree in English Honours from TM Bhagalpur University securing first rank at the University. She is an MA and MPhil in Linguistics from JNU. With Linguistics and English both being embedded deep in her roots, she has a penchant for teaching Communication and is an effective communicator who relates well to diverse groups of people at all levels within an organization. She has about 14 years of experience as teacher, writer, editor and researcher. Her area of interest is Language teaching and she specializes in teaching Professional Communication, Business & Technical Communication and English for Academic Purposes. She has been a guest faculty at LEC for the past three years and has been invited to deliver special lectures on Academic Writing in SSS and SIS at JNU. As an author she has 12 published articles and as an editor she has to her credit eight books. Apart from teaching, she has been actively involved in scripting and providing voice-overs to various presentations of the Armed Forces.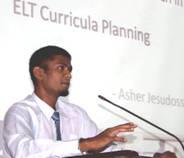 asher.jesudoss@gmail.com
Asher Jesudoss is a training professional with 10 years of experience with organizations like IBM, Moody's, Cvent, NASSCOM, Nokia, etc. in Egypt, South Korea, China, Vietnam and across India. His expertise includes ELT, Instructional Design, Content & Curriculum Development, BPO Training (E-learning, L&D, Sales, OD, Accent, Soft-skills, Facilitation, Cross-cultural communication and Business writing).
Mr. Jesudoss is a Fulbright fellow, with a B.A. in English Literature from St. Stephen's College, M.A. from Delhi University, MPhil and PhD in Linguistics (Acoustic Phonetics, Phonology, ELT, World Englishes) from JNU. He is a published author-researcher and has taught in 5 central universities, Teacher-Training Programmes, English Literature, Acoustic Phonetics, Communicative & Academic English to Indian & foreign participants from over 50 different countries, as well as to 3 members of the Afghan parliament.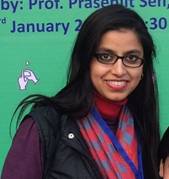 kulsummehwish@gmail.com
Kulsum Fatma Nasir graduated in Hindi Literature from the prestigious LSR College in 2008. She holds MA and MPhil degrees in Linguistics from JNU and DU respectively. Ms. Nasir cleared the renowned UGC-NET Junior Research Fellowship exam in 2010. She tutored postgraduates in Introductory Morphology at DU. In the academic year 2013-14 she represented India in California (USA) under the Fulbright Foreign Language Assistantship program. As Foreign Language Teaching Assistant for Hindi-Urdu at University of California she played an active part in planning and executing Hindi-Urdu language teaching curriculum. She has been a part of LEC and has taught various courses offered by the Cell. Currently she is teaching Basic Communication Skills at LEC.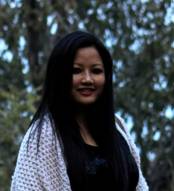 parijat.narzary@gmail.com
Parijat Narzary is a Ph.D. research scholar at Centre for Linguistics, JNU. She holds an M.A. degree in Linguistics, from North Eastern Hill University and M.Phil from Delhi University. She has her NET in Linguistics. She has worked in EILMT (English to Indian Language Machine Translation) project, funded by Ministry of Information and Communication Technology, for 3 years as a linguist. She has 3 articles published, and has also participated and presented 3 papers in conferences.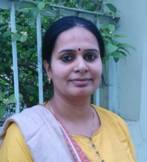 ritu0803@gmail.com
Ritu Yadav with M.A in English and Linguistics, M.Phil (Linguistics), Ph. D (Linguistics), JRF award in Linguistics and NET in English has taught Linguistics as a guest faculty to the undergraduate students of JNU for 2 years. She has 12 publications and has presented various papers in national and international conferences. Her areas of specialization are SLA, ELT, ESL, Applied Linguistics and SL and FL learning. She has been a Guest Faculty at LEC, JNU since April 2014.