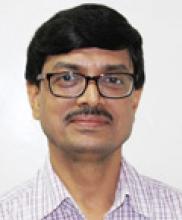 Centre/School/Special Centre:
Email:
ashis_nandi@mail.jnu.ac.in ashis_nandi@yahoo.com
Qualifications:
Ph.D. : Calcutta University, 1996 (degree awarded in 1999)
M.Sc. (Biotech): Tamil Nadu Agricultural University, Coimbatore 1992.
B.Sc. (Ag): Bidhan Chandra Krishi Viswavidyalaya, Nodia, W.B. 1988.
Areas of Interest/Specialization:
Genetic and Epigenetic Regulation of Plant Immune response 
Experience:
Post-Doctoral Research at Kansas State University, USA 1999-2004
Post-Doctoral Research at Indian Institute of Science, Bangalore 1997-1999 
Awards & Honours:
University Merit Fellowship 1984-1988; 
during B.Sc. DBT fellowship during 1989-1991; 
during M.Sc. CSIR fellowship 1992-1996; 
during Ph.D. DBT-Postdoctoral fellowship 1997-1999
Kansas State University Post doctoral fellowship 1999-2004 
International Collaboration/Consultancy:
Dr. Jyoti Shah, Professor, Department of Biological Sciences, University of North Texas, Denton, TX-76203
Dr, Corne M.J. Pieterse, Professor, Department of Biology, Utrecht University, 3584 CH Utrecht, The Netherlands 
Best Peer Reviewed Publications (upto 5):
Roy S, Gupta P, Rajabhoj MP, Maruthachalam R, Nandi AK (2018) The polycomb-group repressor MEDEA attenuates pathogen defense. Plant Physiology (Published online).
Singh N, Swain S, Singh A, Nandi AK (2018) AtOZF1 positively regulates defense against bacterial pathogens and NPR1- independent salicylic acid signaling. Mol Plant Microbe Interact 31:323-333
Giri MK, Singh N, Banday ZZ, Singh V, Ram H, Singh D, Chattopadhyay S and Nandi AK (2017). GBF1 differentially regulates CAT2 and PAD4 transcription to promote pathogen defense in Arabidopsis thaliana. The Plant Journal 91:802-815
Banday ZZ, Nandi AK (2017) Arabidopsis thaliana GLUTATHIONE-S-TRANSFERASE THETA 2 interacts with RSI1/FLD to activate systemic acquired resistance. Mol Plant Pathol. (DOI: 10.1111/mpp.12538)
Singh V, Roy S, Giri MK, Chaturvedi R, Chowdhury Z, Shah J, Nandi AK (2013) Arabidopsis thaliana FLOWERING LOCUS D is required for systemic acquired resistance. Mol Plant Microbe Interact; 26:1079-88.
Recent Peer Reviewed Journals/Books (upto 3):
Roy S, Gupta P, Rajabhoj MP, Maruthachalam R, Nandi AK (2018) The polycomb-group repressor MEDEA attenuates pathogen defense. Plant Physiology (Published online).
Singh N, Swain S, Singh A, Nandi AK (2018) AtOZF1 positively regulates defense against bacterial pathogens and NPR1- independent salicylic acid signaling. Mol Plant Microbe Interact 31:323-333
Giri MK, Gautam JK, Prasad VBR, Chattopadhyay S, Nandi AK (2017). Rice MYC2 (OsMYC2) modulates light-dependent seedling phenotype, disease defence but not ABA signalling J. Biosci 42:501-508