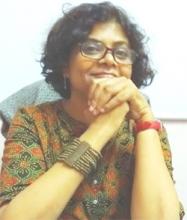 Centre/School/Special Centre:
Centre of Indian Languages
School of Language, Literature and Culture Studies
Email:
garima@mail.jnu.ac.in , drsgarima@gmail.com
Qualifications:
M.A. Hindi literature (Hindu college, D.U.) M.Phil & Ph.D. (D.U.)
Areas of Interest/Specialization:
Gynocriticism, Colonial and Post Colonial Indian Literature,  Women Autobiographical writing.Sociology of Literature, Narrative Writings
Experience:
22 years of Post Graduate Teaching in Central Universities
Professor, Center for Indian languages, JNU: since 5.02.2011
Awards & Honours:
Visiting Professor, ICCR (MEA) Chair University of Zagreb, Croatia, Eastern Europe.
DEH HI DESH-A travelogue on Croatia has got overwhelming response from the Readers and Critiques,translated in many Indian Languages
International Collaboration/Consultancy:
2014-15 for Ms LISA-Marie Reuter,University of Wuerburg on "Aspects of Gender and Politics in Early Indian Prose Fiction-funded by DAAD intiative-A new Passage to India.
Best Peer Reviewed Publications (upto 5):
1. 'Hindi upanyason me boudhik vimarsh', Sanjay Prakashan, Delhi,1999.

2. 'Bhasha aur Bhasha vigyan', Sanjay Prakashan, Delhi, 2006.

3. 'Lala Srinivasdas', Sahitya Academy, New Delhi, 2007.

4. Kishorilal Goswami, Sahitya Akademy, Delhi 2016.

5. A Very Easy Death (translation), Simone de Beauvoir, Swaraj Prakashan, New Delhi, 2012.
Recent Peer Reviewed Journals/Books (upto 3):
1. Reframing Early Hindi Conduct Novels with special reference to vama-shikhshak, Annals of Hindi Literature, MGAHVV, Wardha 2016

2. Abhishapt Atmaon ka Alaap: Malyalam Stri Atmkathayen, Tadbhav (Hindi literary journal), 28th issue. 2015

3. Navjagran, Stri Prashn aur Acharan Pustaken, Pratiman, CSDS, Delhi, December 2014
4. Seva Ka Sadan Ya Husn Ka Bazar, Tadbhav, June 2018
5. Silences and Gaps-Muslim Women Autobiography-Pratiman, CSDS, Delhi, January 2020