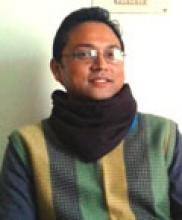 Centre/School/Special Centre:
Special Centre for the Study of North East India
Email:
mbaruah@mail.jnu.ac.in , manjeetbaruah@gmail.com
Qualifications:
Ph.D (University of Delhi) 
Areas of Interest/Specialization:
Cultural History, Study of Space and Text, Translation Studies, Study of Frontiers and Borderlands 
Best Peer Reviewed Publications (upto 5):
1. Baruah, M., "Assamese Language, Narrative and the Making of the North East Frontier of India: Beyond Regional Indian Literary Studies", Modern Asian Studies, Volume 47 / Issue 02 / March 2013, pp 652-681.
2. Baruah, M, "Space and Community between the Local and the Global: Two Examples from the Brahmaputra Valley". Asian Ethnicity, Vol. 14, No 3, June 2013.
3. Baruah, M, 2013. "Mapping Literature: Culture and Region Formation in the Brahmaputra Valley". NMML Occasional Paper, New Delhi: New Series 11. NMML.
4. Baruah, M, "An Emerging Genre of `Political` Literature in India`s Frontier", in Zama, Margaret Ch Zama (ed.), 2013. Emerging Literatures from Northeast India. SAGE: Delhi. Pp 28-36. 
5. Baruah, M, 2016. "At the Frontier of Imperial History: revisiting Edward Gait`s A History of Assam." Asian Ethnicity, DOI: 10.1080/14631369.2016.1194741. 
Recent Peer Reviewed Journals/Books (upto 3):
(Books)
1. Baruah, M, 2012. Frontier Culture: A Social History of Assamese Literature. New Delhi: Routledge, 2012.
2. Baruah, M. 2016. Remains of Spring: A Naga Village in the No Man's Land (translation with critical introduction of the Assamese novel Aoleangar Jui). New Delhi: Oxfod University Press.