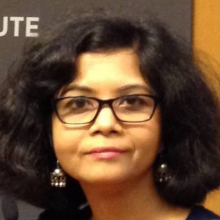 Centre/School/Special Centre:
Centre for Political Studies,
School of Social Sciences
Email:
papiasg@mail.jnu.ac.in , papia410@gmail.com
Qualifications:
MA in Political Studies, Centre for Political Studies, Sxchool of Social Sciences, JNU
M.Phil in Multiculturalism and Political Theory , CPS, JNU
Ph.D
Courses
Reading Text in Political Philosophy (MA Compulsory)
Aaproaches, Concepts and Methods in Political Analysis (M.Phil Compulsory)
Federal Polity In India (M.Phil Optional)
State Politics in India (MA Optional)
 
Contact Hours (for students to discuss research or any other issue related to course)
Wedenesday 2-4pm
Thursday 10-11 am
Friday 10-11 am
Areas of Interest/Specialization:
Language and Culture in India, Indian Politics, Political Theory, Minority Studies and Linguistic Diversity, Multicultural Politics 
Awards & Honours:
* Papia Sen Gupta (2018) Visiting faculty to Rhodes University, South Africa April-May 2018 under the ICSSR-NIHSS Joint project on Higher Education in India and South Africa: Issues of Inclusion.
* Papia Sen Gupta (2016) International Advanced Studies in Humanities- School of Social and Political Science, University of Edinburgh Visiting Research fellowship.
* Papia Sen Gupta (2015) Selected for fellowship of the School of Critical Theory, Cornell University.
* Papia Sen Gupta (2015) Brown International Advanced Research Institute Fellowship Program at the Brown University, Providence, Rhode Islands, USA.
* Papia Sen Gupta (2013) Fellowship by the International Institute of Federalism, University of Fribourg, Switzerland.
* Papia Sen Gupta (2013) Associate award by the Indian Institute of Advanced Studies, Shimla, India. (declined as did not get leave)
* Papia Sen Gupta (2012) Visiting Scholar in the Center for South Asia, University of Edinburgh.
* Papia Sen Gupta (2012) University of Delhi Travel Grant for paper presentation in Glasgow.
* Papia Sen Gupta (2012) International Institute for Social History, Netherlands, support grant for paper presentation in the Ninth European Social Science and History Conference.
* University Grants Commission Travel grant for paper presentation in International Conference Latvia 2009 
* Shastri Indo-Canadian Faculty Research Fellowship, Foreign Affairs and International Trade Canada, Queens University, Kingston, Canada 2007 
* Kanwal Nanda First rank holder Scholarship for overall securing third position in Delhi University
* Founder Members Award for Significant Contribution to College Life, Kamala Nehru College, Delhi University  
International Collaboration/Consultancy:
Administrative Work (JNU)
(2016) Co-Convener for Refresher Course in Political Science, UGC-HRDC, JNU. 22nd July 2016-20th August 2016.
International Collaboration:
(2016-18) ICSSR-NIHSS International Joint Project on Higher Education in India and South Africa:Issues of Inclusion with South African partner Prof. Louise Vincent, Rhodes University, Grahamstown, SA.
(2018) Collaborative research on Territoriality and Language Politics in India  with Dr. Wilfried Swenden, University of Edinburgh.
(2015-17) Undergoing collaborative project on "Rape Myths in India" with Prof. Ravinder Barn, Royal Holloway University of London, United Kingdom.
Consultancies:
*(2002-2004) Consultant for 'Right to Food and Women" and "Right to Development in Centre for Development and Human Rights started by Prof. Arjun Sengupta and Prof. Stephen Marks 
Best Peer Reviewed Publications (upto 5):
Papia Sen Gupta (2018) Language as Identity in Colonial India: Policies and Politics, Palgrave Macmillan. ISSN 9789811068430
Papia Sen Gupta (2017) "Justice for Groups:Multiculturalist Critique of Rawls Theory of Justice",  in M. P. Dube (ed.) Social Justice: Distributive Principles and Beyond. Rawat Publications. ISBN 9788131606803
Papia Sen Gupta (2017) "Language and the Politics of Majoritarianism in India", Economic and Political Weekly, Volume 52, No. 52. December 30th. ISSN 23498846
Papia Sen Gupta (2016) "How Effective is Inclusive Innovation Without Participation?", Geoforum, Science Direct, Volume 75, October. ISSN 00167185.
Papia Sen Gupta (2016) "Revisiting India's language policy: Need for a holistic approach", Indian Jourrnal of Political Science, Volume LXXVII, No. 1, January-March.
Recent Peer Reviewed Journals/Books (upto 3):
Papia Sen Gupta (2013) Swami Vivekananda: The Youth Icon in Changing Times, in Proceedings of 150th Birth Anniversary Celebration of Swami Vivekananda (National level Seminar) Ramakrishna Sarada Mission Vivekananda Vidyabhawan, Kolkata.
Papia Sen Gupta (2014) The Legal Protection of Bio-cultural Diversity in India, in The Legal Protection of Bio-cultural Diversity: A Comparative Perspective on Brazil, Canada and India (ed.) Pier Luigi Petrillio, Unitelma Sapienza di Roma, forthcoming.
Papia Sen Gupta (2014) Accommodating Linguistic Minority(s) in India: Constitutional-Legal Framework, Droit et Cultures, Special edition on India, 'Cultures meet the Law', also co-editor of the special edition. Volume 67 No.1.
Papia Sen Gupta (2014) Whither Equality and Justice: Rawls Theory of Justice and Violence against Women in India, Social Action, Volume 64, No.2, 112-122, April-June.
Patents (if any):
Awards
Papia Sen Gupta awarded Distinguished Teacher of Delhi University 2009 by Former President of India Dr. A.P.J. Abdul Kalam