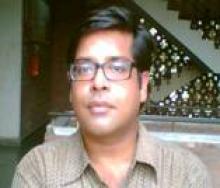 Centre/School/Special Centre:
Centre for Political Studies,
School of Social Sciences
Email:
rajarshi@mail.jnu.ac.in , rajarshibabu@gmail.com
Qualifications:
D.Phil (Oxford)
M.Phil (CPS/JNU)
M.A. (CPS/JNU)
B.A. Honours (Presidency College, Calcutta University) 
Areas of Interest/Specialization:
Marxism, Biopolitics, Refugee histories, Urbanization and Development 
Experience:
Worked as Fellow in Political Science at the Centre for Studies in Social Sciences Calcutta, between 2004-2008. 
Currently teaching at the Centre for Political Studies in JNU since 2008.  
Awards & Honours:
Awarded Felix Scholarship to pursue D. Phil at Oxford University in 1997.
Awarded the Radhakrishnan Memorial Bequest Trust Grant in 2000.
Awarded the Frere Exhibition Prize for Indian Studies at Oxford University in 2001.
Awarded Grants by the Beit Trust, The Queen's College and the Charles Wallace India Trust in 2002 and 2003. 
International Collaboration/Consultancy:
Currently involved in a research collaboration with Prof. Shubhra Gururani, York University, on 'Peri-urbanization in India', focusing on West Bengal and the National Capital Region.  
Best Peer Reviewed Publications (upto 5):
'Ethics and Politics' in Pradip Kumar Datta and Sanjay Palshikar eds.., Indian Political Thought, Political Science Volume 3 in ICSSR Research Surveys and Explorations (General Editor Achin Vanaik), 2013, Oxford University Press, pp. 230-259.

'The CPI(M) "Machinery" in West Bengal: Two Village Narratives from Kochbihar and Malda', Economic & Political Weekly, February 28, 2009, vol xliv no 9.

'Rhyming Revolution: Marxism and Culture in Colonial Bengal' in Studies in History, Volume 21:1, Jan-June 2005, pp. 79-98. 
Recent Peer Reviewed Journals/Books (upto 3):
'The Ascetic Modality: A Critique of Communist Self-fashioning' in Nivedita Menon, Aditya Nigam and Sanjay Palshikar eds., Critical Studies in Politics: Exploring Sites, Selves, Power, IIAS and Orient Blackswan, 2014, pp. 67-87.

'The People in People's Art and People's War' in Gargi Chakrabarty ed., P.C. Joshi, The People's Warrior, P.C. Joshi Archives and Tulika, March 2014, pp. 443-456.

Introduction, co-authored with Gargi Chakrabarty in Chakrabarty ed., P.C. Joshi, The People's Warrior, P.C. Joshi Archives and Tulika, March 2014, pp. ix-xxi.