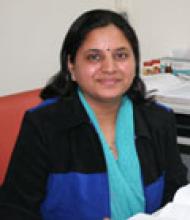 Centre/School/Special Centre:
Email:
ranjanaa@mail.jnu.ac.in , arya.ranjana24@gmail.com
Areas of Interest/Specialization:
Cell Biology of Rare genetic disorders
Experience:
2008-present Assistant Professor, School of Biotechnology, JNU, New Delhi
2004-2008 Senior Research Scientist, Ranbaxy Research Laboratories, Gurgaon
2002-2004 Post Doctoral Associate, Carolina Cardiovascular Center, University of North Carolina, Chapel Hill, USA
2001-2002 Post Doctoral Fellow, Division of Rheumatology, Immunology & Allergy, Brigham & Women's Hospital, Harvard Medical School, Boston, USA 
Awards & Honours:
GRANTS
• Arya R.: Functional analysis of UDP-N-acetylGlucosamine 2-epimerase/N-acetyl Mannosamine kinase (GNE) in cytoskeletal organization" SERB, DST, File No. EMR/2015/001798 dated: 27-4-2016.
• Arya,R.Structural and functional characterization of UDP N-acetylglucosamine 2-epimerase/N-acetyl mannosamine kinase (GNE). DST PURSE II, PAC-JNU-DST-PURSE-462 (Phase II)
• Arya, R. Effect of altering sialic acid metabolism on cell function. Project. UPOE II. ID: 16, dated:7th oct.2014-2019
• Arya, R. 'Manipulation of sialic acid biosynthetic pathway using GNE and its effect on cytoskeletal organization' CSIR, Extramural Research Division, 1-1-12 to 1-1-15. Sanction order No. 37(1512)/11/EMR-II
• Arya R. Possible role of key sialic acid biosynthetic enzyme (UDP-N-acetylglucosamine 2-epimerase/Mannosamine kinase) in apoptosis. ICMR. Sanction order No. 80/5/2010-BMS RFC No. BMS/adhoc/109/2011-12 dated 29-3-12
• Fast Track Scheme for Young Scientist from Department of Science and Technology for research project entitled' Expression and characterization of bifunctional enzyme UDP-N-acetylglucosamine 2-epimerase/N-acetylmannosamine kinase in Dictyostelium discoideum. Sanction order No. SR/FT/LS-146/2008 dated Sept.22, 2009.
Oral Presentation
• Ranjana Arya, Vishram Kedar, Jae Roung Hwang, Holly McDonough, Hui-Hua Li, Joan Taylor and Cam Patterson. Muscle Ring Finger Protein, MURF1, Inhibits Cardiac Muscle Hypertrophy Through PKC Mediated Signaling Pathway. American Heart Association Scientific Sessions, 2004, New Orleans, USA (Oral Presentation). Source: CIRCULATION Volume: 110 Issue: 17 Pages: 160-160 Supplement: Suppl. S Meeting Abstract: 762 Published: OCT 26 2004
Award/Honour
• Young Scientist travel fellowship Award to attend 18th International Congress of Biochemistry and Molecular Biology held in Birmingham, England, 2000.
• Junior research fellowship award to pursue doctoral studies and Lecturership (1995) from Council of Scientific and Industrial Research, India.
• GATE qualified with a score of 97.34, India. (1996) 
Best Peer Reviewed Publications (upto 5):
Singh, R. , Choudhary, P and Arya, R*.  IGF-1 rescues cell death of HEK 293 based model cells for GNE myopathy, 2018, Scientific Reports  doi. 10.1038/s41598-018-25510-9
Chanana, P, Padhy, G, Bhargava, K and Arya, R*. Mutation in GNE downregulates Peroxiredoxin IV altering  ER redox homeostasis, Neuromolecular Medicine (2017) doi 10.1007/s12017-017-8467-5
Singh, R and Arya, R*. GNE myopathy and cell apoptosis: a comparative mutation analysis. Mol. Neurobio., 2015, doi 10.1007/s12035-015-9191-5 PMID:25976366
Grover S, Aslam S, Sharma V & Arya R* (2014) Expression and secretion of GNE and its mutants in Dictyostelium discoideum. CNS and neurological disorders-DT (2014), 13:7, 1263-1272 (I.F. 3.77)
Grover, S and Arya R*. Role of UDP- N -Acetylglucosamine2-Epimerase/ N -Acetylmannosamine Kinase (GNE) in ß1-Integrin-Mediated Cell Adhesion. Molecular Neurobiology, 2014, 50(2); 257-273 (IF-5.47)
Recent Peer Reviewed Journals/Books (upto 3):
1. Grover, S and Arya R. Role of UDP- N -Acetylglucosamine2-Epimerase/ N -Acetylmannosamine Kinase (GNE) in ß1-Integrin-Mediated Cell Adhesion. Mol. Neurobiol. DOI: 10.1007/s12035-013-8604-6. (IF-5.7)
2. Tu, C, Ortega-Cava,C.F., Winograd, P., Stantona, M.J., Reddi, A.L., Dodge, I., Arya, R., Dimri, M., Clubba, R.J., Naramura, M., Wagnera, K., Band,V. ,and Band, H. Endosomal sorting complex required for transport (ESCRT) pathway-dependent late endosome/lysosome traffic regulates the localization of active Src at focal adhesions. Proc. Natl. Acad. Sci. USA, 2010, 107 (37), 16107-12 (I.F-9.68)
3. Singh, D, Rani, R., Rajendran, R., Kaur NJ., Pandey, A., Chopra, P., Jain, T., Jain, M., Grover, S., Arya, R. and Saini, KS. Human spleen tyrosine kinase, Syk, recombinant expression system for high throughput assays. Biotechnol. J., 2010, 5 (2), 201-212 (I.F.-3.44) 
Patents (if any):
Patent: Arya, R., Bhattacharya, A., Aslam, S., Bora, R.S., Gupta, S. and Saini, K.S.
Production of purified recombinant human phosphodiesterase in Dictyostelium discoideum
Arya R, Bhattacharya A, Aslam S, Bora RS, Gupta S, Saini KS
Ref. No: IN200701779-I1, Year: 08/2007
Patent: Malik, R., Bora, R.S., Arya, R., Gupta, D., Singh, V. and Saini, K.S.
A reporter gene assay for identifying a compound as selective inhibitor of PDE 4 subtype.
Malik R, Bora RS, Arya R, Gupta D, Singh V, Saini KS
Ref. No: IN200602547-I1, Year: 01/2006