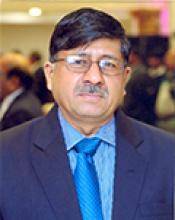 Centre/School/Special Centre:
Centre for European Studies,
School of International Studies
Qualifications:
Ph.D. (West European Studies), School of International Studies, Jawaharlal Nehru University, New Delhi, 1985. 
M.Phil. (International Politics), School of International Studies, JNU, 1978
M.A. (Politics), School of International Studies, JNU, New Delhi, 1977 
Areas of Interest/Specialization:
European Union Politics and External Relations, EU-Asia, EU-South Asia - EU-India, EU-Pakistan; Comparative Regional Integration - EU, SAARC, ASEM; India-Europe, EU Perceptions, Indian Foreign Policy, Asian Regionalism, Conflict Resolution 
Experience:
On the JNU faculty for 27 years 
1977-1986: Assistant Professor, University of Delhi 
Awards & Honours:
2010-2015: Jean Monnet Chair in European Integration and International Relations 
2010-2015: Adjunct Professor (Research), Monash European and EU Studies Centre, Monash University, Melbourne.
Jan 2010: Visiting Professor, Asia-Europe Institute, University of Malaya, Kuala Lumpur 
2009: Visiting International Fellow, Monash Europe and EU Centre, Melbourne
2009-2010: President of the European Union Studies Association–Asia Pacific (EUSA-Asia Pacific)
Jun-Jul 1995: Visiting Fellow, Foundation for Science and Politics, Ebenhausen, Germany 
Sep-Dec 1993: Visiting Fellow, School of Slavonic and East European Studies, University of London
Visiting Humboldt Foundation Professor at Constance, Freiburg, Leipzig, Tuebingen Universities
Visiting Professor, Fondation Maison des Sciences de l'Homme (MSH), Paris, May-June 2005; May-June 2008; June-July 2010, May 2013 
International Collaboration/Consultancy:
Jury Member, United Nations Alliance for Civilizations and BMW Award for Intercultural Innovation, 2011 
Jury Member, BMW Award for Intercultural Understanding, 2010.
"The European Union and Democracy Building in South Asia," Stockholm: International Institute for Democracy and Electoral Assistance (October 2009), 19 pages.
"The Pale Continent," in Culture Report Progress Europe edited by Institut fuer Auslandsbeziehungen (Stuttgart) and the Robert Bosch Foundation (Paris) with the collaboration of the British Council, Swiss Foundation for the Promotion of Swiss Culture and the Foundation for German-Polish Cooperation, 2007), pp. 39-42. (also published in French, German and Polish) 
Best Peer Reviewed Publications (upto 5):
"The Public Attitudes and Images of the European Union in India," India Quarterly, 68(4), October-December 2012, pp. 331-343. (co-author)
"From Idealism to Pragmatism: India and Asian Regional Integration," Japanese Journal of Political Science, 11(2), July 2011, pp. 213-231.
"India`s Relations with the European Union," in David Scott, ed., Handbook of India`s International Relations, London: Routledge, 2011, pp. 223-232.
"Engaging the European Superpower: India and the European Union," in Bart Gaens, Juha Jokela, and Eija Limnell, eds., The Role of the European Union in Asia: China and India as Strategic Partners, Aldershot: Ashgate, 2009, pp. 173-188.
"The European Union and China: Indian Perceptions and Perspectives," in Georg Wiessala, John Wilson and Pradeep Taneja, eds., The European Union and China: Interests and Dilemmas, Amsterdam/New York: Rodopi, 2009, pp. 139-150. 
Recent Peer Reviewed Journals/Books (upto 3):
India and the European Union: Building a Strategic Partnership (New Delhi: Radiant Publishers, 2007) (editor).
India, Europe and South Asia (New Delhi: Radiant Publishers, 2007). (editor)
"The European Union and the Rise of China and India," in Jose Luis de Sales Marques, Reimund Seidelmann and Andreas Vasilache, eds.,Asia and Europe: Dynamics of Inter- and Intra-Regional Dialogues (Baden-Baden: Nomos, 2009), pp. 277-290.