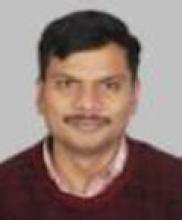 Centre/School/Special Centre
School of Biotechnology
Email
skateriya@jnu.ac.in
Areas of Interest/Specialization
Optogenetics, photoreceptor, channelopathies,C iliopathies
Awards & Honours
Indian Science Congress Young Scientist Award in New Biology Section for 2009
Indian Biophysical Society Ratna Phadke Young Scientist Award for 2010
Association of Microbiologist of India Young Scientist Award for 2011
International Collaboration/Consultancy
Functional characterization of new photoreceptor proteins and ion channels in the microalga Chlamydomonas reinhardtii using functional genomics methods. DST-India-RFBR-Russia (2014-16).- International Development of new light-sensitive protein tools for neuroscience applications- Funded by DBT, under Joint collaborative project Indo-German collaboration in biotechnology scheme (2009-2012)-International.
Best Peer Reviewed Publications
1. Luck, M., Mathes, T., Bruun, S., Fudim, R., Hagedorn, R., Nguyen, T. M. T., Kateriya, S., Kennis, J. T., Hildebrandt, P., and Hegemann, P. (2012) A photochromic histidine kinase rhodopsin (HKR1) that is bimodally switched by ultraviolet and blue light. Journal of Biological Chemistry 287, 40083-40090
2. Veetil, S. K., Mittal, C., Ranjan, P., and Kateriya, S. (2011) A conserved isoleucine in the LOV1 domain of a novel phototropin from the marine alga Ostreococcus tauri modulates the dark state recovery of the domain. Biochimica et Biophysica Acta (BBA)-General Subjects 1810, 675-682
3. Schröder-Lang, S., Schwärzel, M., Seifert, R., Strünker, T., Kateriya, S., Looser, J., Watanabe, M., Kaupp, U. B., Hegemann, P., and Nagel, G. (2007) Fast manipulation of cellular cAMP level by light in vivo. Nature methods 4, 39-42.
4. Nagel, G., Szellas, T., Huhn, W., Kateriya, S., Adeishvili, N., Berthold, P., Ollig, D., Hegemann, P., and Bamberg, E. (2003) Channelrhodopsin-2, a directly light-gated cation-selective membrane channel. Proceedings of the National Academy of Sciences 100, 13940-13945
5. Nagel, G., Ollig, D., Fuhrmann, M., Kateriya, S., Musti, A. M., Bamberg, E., and Hegemann, P. (2002) Channelrhodopsin-1: a light-gated proton channel in green algae. Science 296, 2395-2398
Recent Peer Reviewed Journals/Books
1. Ranjan, P., Kashyap, RS., Goel, M., Veetil, SK., and Kateriya, S. (2014) Cellular Organelles Facilitate Dimerization of a Newly Identified Arf from Chlamydomonas reinhardtii. Journal of Phycology 50, 1137-1145.
2. Sizova, I., Greiner, A., Awasthi, M., Kateriya, S., and Hegemann, P. (2013) Nuclear gene targeting in Chlamydomonas using engineered zinc finger nucleases. The Plant Journal 73, 873-882
3. Trippens, J., Greiner, A., Schellwat, J., Neukam, M., Rottmann, T., Lu, Y., Kateriya, S., Hegemann, P., and Kreimer, G. (2012) Phototropin influence on eyespot development and regulation of phototactic behavior in Chlamydomonas reinhardtii. The Plant Cell Online 24, 4687-4702