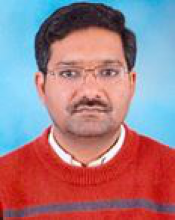 Centre/School/Special Centre:
School of Environmental Sciences
Email:
syadav@mail.jnu.ac.in , sudesh27@hotmail.com
Qualifications:
Ph. D. 2004 Environmental Sciences, JNU, New Delhi [Topic: Aerosol Geochemistry in Rajasthan and Delhi regions and its environmental Implications. Mentor: Prof. V. Rajamani]
M. Phil. 1999 Environmental Sciences, (JNU, New Delhi) [Geochemistry of Particulate Matter in Delhi Air. Mentor: Prof. V. Rajamani]
M. Sc.  1996 Inorganic Chemistry (MDU, Rohtak, Haryana)
B. Sc. 1994 CBZ (MDU Rohtak, Haryana)
Have all through first Class academic carrier
Areas of Interest/Specialization:
 Environmental Chemistry
Aerosol Geochemistry, Air quality and Air pollution, Fog and Dew Water Chemistry, Soil pollution and remediation, E-waste, Persistent Organic Pollutants, Metals in Environment, Analytical Chemistry
Experience:
Since 19th Oct 2006—continuing as Assistant professor at SES, JNU, New Delhi
24-08- 2004 to 19-10-2006: Lecture at D. Govt College, Gurugram, Haryana
Awards & Honours:
DST fast Track Young Scientist project (2004-2008)
DST-PAC best young scientist presentation award in 2003 at BHU, Varanasi, Best presentation Young scientist award in International conference on environment at Bhopal
CSIT NET examination in Chemical Sciences
Best Peer Reviewed Publications (upto 5):
Kumar S., Nath, S., Bhatti, M.S. Yadav, S. (2018) Chemical Characteristics of fine and coarse particles during winter time over two urban cities in north India" Aerosol and Air Quality Research (accepted).
Kumar, P., Kumar S., Yadav S. (2018) Seasonal variations in size distribution, water-soluble ions, and carbon content of size-segregated aerosols over New Delhi. Environmental Science and Pollution Research 25 (6), 6061-6078.
Nath, S., Yadav, S. (2018) A comparative study on fog and dew water chemistry at New Delhi, India. Aerosol and Air Quality Research. 18 (1), 26-36.
Hira, M., Yadav S., Morthekai P., Linda A., Kumar S. and Sharma A. (2018) Mobile Phones − an asset or a liability: a study based on characterization and assessment of metals in waste mobile phone components using leaching tests. Journal of Hazardous Materials 15 (342), 29-40.
Atri, R.K., Yadav, S. (2016) Morphology of Coal Ash: Constraints on Fly Ash Dispersion and Air Pollution. Journal of Applied Geochemistry 18 (4), 490.