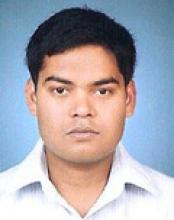 Centre/School/Special Centre:
Centre of Russian Studies,
School of Language, Literature and Culture Studies
Email:
vkambedkar@mail.jnu.ac.in , vinay.ambedkar@gmail.com
Qualifications:
M.Phil in Russian from JNU in year 2010
Ph.D. in Russian from JNU (Submitted) 
Areas of Interest/Specialization:
Comparative Literature, XIXth Century Russian Literature, Contemporary Russian Literature, Contemporary Russian theatre, Literary Criticism and Literary Space.
Experience:
Temporary Assistant Professor (under UGC XIth Plan) at Shivaji University, Kolhapur , 2010-2012
Assistant Professor, Centre of Russian Studies, SLL&CS, JNU, 2012 - till date 
Awards & Honours:
Elected Member of Executive Council for Assistant Professor (from Feb 2016 to Oct 2016)
Lifetime Member of Comparative Literature Association of India. 
International Collaboration/Consultancy:
Member of the editorial board of the journal of Centre of Russian Studies 'Critic' of Special Issue no.15, ISSN: 2229-7146, in year 2018.
Convener of editorial board of "CRS Through The Decades (1965-2015)" – A  booklet of CRS
Best Peer Reviewed Publications (upto 5):
1. Urban Space in V. Shukshin`s Chudik and D. Batohi`s Shahar, in Assonance: A Journal of Russian & Comparative Literary Studies, University of Calicut, Kerala, Volume no 18 (Jan 2018) ISSN 2394-7853 (Page no. 118-128).
 2. `Space` in Post-Soviet War shot-stories, in CRITIC: A journal of CRS, SLL&CS-I JNU, no. 14, 2017-18 (Page no. 52-56).
3. "New Realism in Roman Senchin`s Minus" in CRITIC: A journal of CRS no. 12(Vol. II), 2014 (Page no. 70)
4. Tema `Romantichnosti` i `Lishnosti` v obrazakh "Eugenia Onegina" i "Devdasa" in the journal 'Russian philology - a publication of the school of Russian studies', Volume No 33(2014) -34(2015) by School of Russian Studies, EFL University, Hyderabad (ISSN No. 2231-1564) 
Recent Peer Reviewed Journals/Books (upto 3):
Romashka – A Textbook of Text Analysis (in Russian), published by Langers International Pvt. Ltd., New Delhi, (2019), total no. of pages 192, ISBN No. 9789385478918.
 Space in Nikolai Koliada's Play Murlin Moorlo, in Assonance: A Journal of Russian & Comparative Literary Studies, University of Calicut, Kerala, Volume no 17 (Jan 2017) ISSN 2394-7853.
Co-translated a Russian short-story by A. Khurgin "Tara aur bindu" in the journal 'Saar Sansaar', Volume No- 85 (Jan- Mar 2017, vol:1), New Delhi.
`Space` in the Hindi translation of Alexander Khurgin`s Short-stories, in "Materials II International Scientific and Practical Conference", Simferopol, Ch. ed. M.V. Norets, Simferopol, Russian Federation, published by IT "ARIAL", in April 2018, ISBN 978-5-907032-50-7 (Page no.679)