​
AREA III (Environmental Chemistry) explores the influence of chemicals on the atmosphere, hydrosphere, and lithosphere, and their repercussions on both the environment and human well-being. Environmental chemists frequently find themselves in a more visible role, as their research plays a crucial part in shaping decisions that impact the entire population. This interdisciplinary Area III resides at the intersection of key scientific disciplines, with a central focus on air, water and soil. In 2015, all UN member states adopted the 2030 Agenda for Sustainable Development, a 15-year plan aimed at achieving its goals. Many of these goals align with the research activities of Area III, especially Goal 6: Clean Water and Sanitation; Goal 13: Climate Action; and Goal 2: Zero Hunger. Several others are also interconnected, including Goal 3: Good Health and Well-being, Goal 7: Affordable and Clean Energy and Goal 11: Sustainable cities and communities. AREA III research endeavors are actively contributing to various national programs including Namami Gange, Make in India, Swastha Bharat, Skill India, Smart Cities, Unnat Bharat, AatmaNirbhar Bharat, and Swachh Bharat.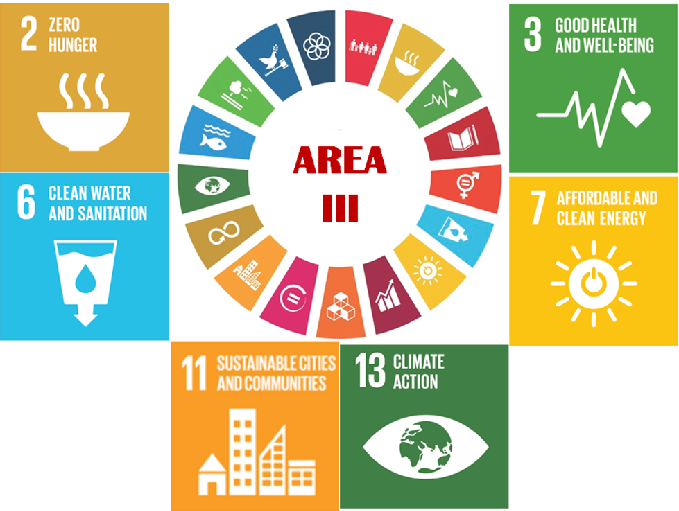 ​
Currently, there are ongoing efforts to study and research the monitoring, assessment, and modeling of emerging (organic and inorganic) contaminants in various environments including groundwater, surface water (lakes, rivers, wetlands, reservoirs, and streams), industrial effluents, wastewater treatment plants (influents and effluents), as well as soils and sludges. The central focus of this domain revolves around the development of sustainable technologies for remediating aquatic contaminants, including arsenic, fluoride, nitrate, pesticides, oils, pharmaceuticals, oxyanion species, Per-/Polyfluoro Alkyl Substances (PFAS) "Forever" Chemicals, and microplastics. Additionally, it explores sustainable methods, such as employing biochar to immobilize contaminants in soil, enhance soil fertility (food security), and contribute to climate change mitigation through carbon sequestration. Continual research encompasses a diverse range of studies pertaining to the utilization of biochar-based constructed wetlands for the contaminant removal from wastewater.
Furthermore, ongoing research spans a wide spectrum of sustainable management strategies and technologies in the realms of solid waste and electronic waste (E-waste).
Research in the chemical aspects of air pollution, aerosols, their geochemistry, and their implications for climate change is being conducted with a focus on their potential benefits for mitigating air pollution and addressing climate change in the South Asian region. Expert faculty members are investigating emerging topics including reactive nitrogen, tropospheric ozone, gas to particle conversion, transport of pollutant, chemistry of rainwater, fog, and dew, the development of analytical methods for trace species, the speciation of metals in surface dust, acid rain, eutrophication, interactions between air pollutants and the atmosphere-biosphere, biomonitoring, bioaerosols, metal aerosols, carbonaceous aerosols, atmospheric mercury, and clean energy alternatives.
Studies are being conducted on persistent organic pollutants and their detrimental impacts on human health, as well as the presence and ecotoxicological consequences of microplastics in aquatic and terrestrial environments.
Studies of the Earth's materials and processes to understand geological and environmental changes from the Precambrian to the Anthropocene time are being conducted. Mineralogy and geochemistry, including REE and isotopes, are used as major proxies to understand paleoclimate, weathering processes, and sediment generation in the Earth's Critical Zone. Significant studies have been completed, and some are ongoing, on the Indo-Gangetic Plains, lakes of Gujarat and Himalaya, Thar desert sediments; weathering processes operating on Western Ghats, Bundelkhand Craton, and Deccan Traps.
The state of art facilities are available for carrying out the research. In most cases, research findings substantially contribute to the formulation of policies and the development of research and academic programs.
Area III Faculty
Prof. Dinesh Mohan (Convener)