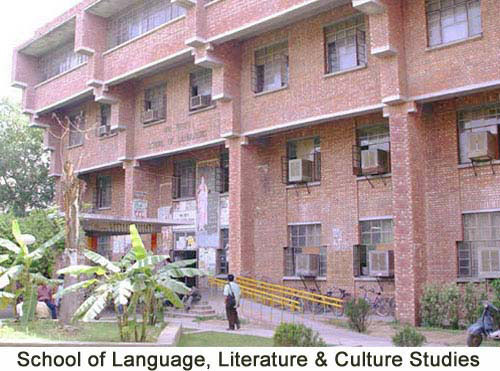 List of Optional and Tool Courses offered for BA (H) in Monsoon Semester 2023
Established in 1969, and thus one of the founding blocks of the University, the School of Language, Literature and Culture Studies (SLL&CS) is one of the premier institutions in the country in the field of learning languages and pursuing higher studies and research in linguistics, literatures in various languages, and culture studies. Its global reputation has earned it place as one of the five degree-awarding partners of the prestigious Erasmus Mundus Joint Doctorate in "Cultural Studies in Literary Interzones" of the European Union, and one of its constituents, the Centre for English Studies, has been repeatedly adjudged as one of the top 100 departments of literary studies in the world. Furthermore, all the Centres of the School, and the School itself, have active international collaborations with leading universities of the world through AoC-s and MoU-s.

SLL&CS has twelve centres: Centre of Arabic and African Studies (CAAS), Centre for Chinese and South-East Asian Studies (CCSEAS), Centre for English Studies (CES), Centre for French and Francophone Studies (CFFS), Centre of German Studies (CGS), Centre of Indian Languages (CIL), Centre for Japanese Studies (CJS), Centre for Korean Studies (CKS), Centre for Linguistics (CL), Centre of Persian and Central Asian Studies (CPCAS), Centre of Russian Studies (CRS), and Centre of Spanish, Portuguese, Italian and Latin American Studies (CSPILAS). Besides, the School also has a well-equipped Language Labs and Multimedia Complex (LLC).

The different units of the School offer a variety of programmes in diverse subjects. There are Certificate, Diploma, and Advanced Diploma of Proficiency programmes in foreign languages like Bahasa Indonesia, Italian (currently not on offer), Mongolian, Portuguese and Pushtu, and also in Urdu language and Mass Media in Urdu. The School offers BA (Hons.), MA and MPhil/PhD programmes in foreign languages like Arabic, Chinese, French, German, Japanese, Korean, Persian, Russian and Spanish. The School also offers MA and MPhil/PhD programmes in English, Hindi and Urdu literature, and in Linguistics. Apart from these, SLL&CS offers MPhil in Portuguese, and MPhil/PhD in Hindi Translation, and in Tamil. Besides, the School also offers optional courses in Greek, Hebrew and Turkish languages.

Over and above these existing programmes, the School has a Kannada Chair, and currently vacant professorial positions in Bengali, Assamese and Marathi, and there are concrete developments towards establishing a Chair of Oriya. Besides these formal programmes, a variety of Tool/Optional courses are offered within the School, which promote interdisciplinarity. The School also is at the spearhead of the highly successful Remedial Course in English under the Linguistic Empowerment Cell to all students of the University who need to increase their competence in the language for academic purposes.

Besides teaching and research activities, the School also publishes its own journal, Journal of the School of Languages (JSL), which started publication in the seventies and has over the years published significant research on literatures, languages, culture studies, comparative studies, and translation that cut across language boundaries. Besides, some constituent units of the School have their own publications, like the CRS has its journal Critic, and the CSPILAS has its journal Hispanic Horizon.

SLL&CS produces the very best scholars in the fields of language teaching, linguistics, literature and culture studies, as well as internationally acclaimed translators and interpreters. Members of the School, while providing directions and visions to their respective Centres and the School in general, have also distinguished themselves nationally and internationally by the quality and range of their individual research, publications and other achievements.
Dean
Prof. Shoba Sivasankaran
Centre for French and Francophone Studies
School of Language, Literature and Culture Studies
Jawaharlal Nehru University
New Delhi-110067
Email: sshobha@mail.jnu.ac.in