JNU Library
Towering above all academic complexes in university serene element, sitting on the confluences of the premises of school building is our great and time-honored central library. Its ground floor has a geographical spread of approx. 50000 Sq. ft. and the column of nine-storey building has a floor stretching itself in 6000 Sq. ft. The library is one of the largest repositories of books in the country shelving 5 lakh books and more than 50000 volumes.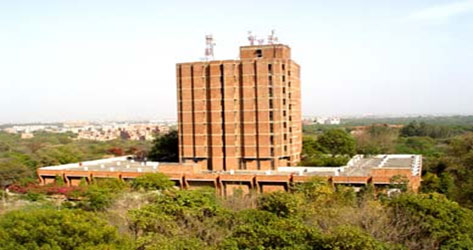 It is adding 10000 books on an average per year through the agency of suggestions from faculties and students from different disciplines. It keeps on replicating the volumes of books as per requirements.
The Library also subscribes around 1000 journals, around 1000 serial the real Mc-coy, to quench the thirst of knowledge of its contemporary research scholars from international and national arena. Besides fertilizing the talents of university through physical study materials, it provides the virtual study material in the form of floppy, CD-ROM of books and internet.
The library is in mailing list of nearly all leading Newspapers of the world, all publications of Government of India as well as International agencies like WHO, UNESCO etc.
The library has an exchange relation with many Indian and International agencies and National Libraries throughout the world. The library has its own Local Network connected with a strong server with 48 terminals inside the library. Open Public Access Catalogue of the Library has databases of Books, Serials and other material. It is a member of Delhi Library Network and INFLIBNET. The Library is a part of JNU Wide Area Network and its databases can be accessed from all nodes of Network.
The Library acquires electronic collections mainly via consortia. Library subscribes to online journals related to computer science through INDEST Consortia like Association for Computing Machinery (ACM) and Institute of Electrical and Electronics Engineers (IEEE) digital library. The online digital library provides the complete collection of IEEE and ACM journals, conference proceedings and newsletter articles.