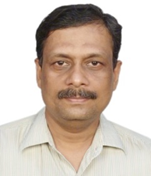 Centre/School/Special Centre
School of Environmental Sciences
Email
a_srivastava@mail.jnu.ac.in , srivastava02@hotmail.com
Qualifications
Ph. D. (Environmental Science) – SES, JNU, New Delhi
M. Phil. (Environmental Science) – SES, JNU, New Delhi
M. Sc. (Applied Geology) – University of Allahabad, Allahabad
B. Sc. (Physics, Math, Chemistry) – Purvanchal University, Jaunpur
Areas of Interest/Specialization
Chemistry and microphysics of size segregated aerosols, Optical properties of aerosol, Bioaerosols, Source identification of urban aerosols, Indoor air pollution, Radiative forcing due to aerosols, Health and climate implication due to air pollution.
Experience
School of Environmental Science (SES), JNU, New Delhi
Institute for Methodologies in Environmental Analysis (IMAA), Council for National Research (CNR), Tito Scalo, Potenza, Italy
Department of Environmental Science and Energy Research (ESER), Weizmann Institute of Science, Rehovot, Israel.
Centre for Atmospheric Science, IIT Delhi, New Delhi
Adjunct Faculty:
Associated faculty at Atal Bihari Vajpayee School of Management and Entrepreneurship, JNU, New Delhi.
Concurrent faculty at Special Centre for E-Learning, JNU, New Delhi.
Adjunct faculty at the School of Engineering (SoE), JNU, New Delhi
Awards & Honours
Global Initiative for Academic Network (GIAN) under UGC-MHRD scheme.
Young Scientist Project under DST's Fast Track Scheme in Earth and Atmospheric Sciences.
National Level Eligibility Test of Council and Scientific and Industrial Research (CSIR) in Earth Sciences.
International Collaboration/Consultancy
Final report of UGC project Name "Characterization of Bioaerosols in different size ranges over Delhi"
Member:
Air and Waste management Association (AWMA), United States
Indian Aerosol Science and Technology Association, BARC, Mumbai, India.
Bureau of Indian Standards (BIS) sectional committee on Air Purifiers and Air Pollution Standards CHD35.
Desk Editor: Journal of Atmospheric and Earth Sciences
Guest Editor: Frontiers in Environmental Sciences
Projects:
Assessment of Mycotoxins, Endotoxins and Microbial VOCs levels in the Ambient Environment of Delhi, UPoE, UGC, New Delhi (2018-2021).
Characterization of Bio-Aerosols in Different Size Ranges over Delhi, University Grant Commission, New Delhi, India (2013-2017)
Application of Aerosol Optical Depths (ground and satellite based) for the estimation of size segregated Suspended Particulate Matters (SPM) in Delhi, University Grant Commission, New Delhi, India (2008-2011).
Physical and Chemical Characterization of Aerosols over Delhi in Different Size Ranges, Department of Science and Technology, New Delhi, India (2005-2008)
Workshops and Symposia Organised:
Organised GIAN (Global Initiatives of Academic Networks) course on "A hybrid approach to develop time space resolved estimates of air quality" during 18-22 June 2018 at SES, JNU, with Dr. Naresh Kumar, Miller School of Medicine, University of Miami, Florida.
Successfully organised one day National Conference (NEISS-22) in SES, JNU, New Delhi on 22nd April 2022
Best Peer Reviewed Publications
Arun Srivastava, Swati Tyagi, Characterization of size segregated fungal bioaerosols in and around a Sugar Mill of Western Uttar Pradesh, India, Aerobiologia (under revision) (2023).
Arun Srivastava, Richa Verma, Dudun Mehta, Characterization of bioaerosols in and around a landfill site in Delhi, Aerobiologia, 37, 585–596 (2021).
Arun Srivastava, COVID-19 and air pollution and meteorology-an intricate relationship: A review, Chemosphere 263, 128297 (2021).
Akash Kumar Singh, Naba Hazarika, Ujjwal Kumar, Arun Srivastava, Assessment of size distribution of aerosols at indoor environments in Delhi, India, Urban Climate, 37, 100819 (2020).
Akash Kumar Singh, Arun Srivastava, Seasonal Trends of Organic and Elemental Carbon in PM1 Measured Over an Industrial Area of Delhi, India, Aerosols Science and Engineering (2021), https://doi.org/10.1007/s41810-020-00088-w.
Akash Kumar Singh, Arun Srivastava, Seasonal Variation of Carbonaceous Species in PM1 Measured Over Residential Area of Delhi, India, SN Applied Sciences, 2, 1998, (2020).
Akash Kumar Singh, Arun Srivastava, The Impact of Fireworks Emissions on Air Quality in Delhi, India, Environmental Claims Journal, 32 (4), 289-309 (2020).
Sunita Maharia, Arun Srivastava, Seasonal effects in Endotoxin concentration at different sections of a Sewage Treatment Plant, Delhi, Aerobiologia, 36, 449–458 (2020).
Dudun Mehta, Naba Hazarika, Arun Srivastava, Diurnal variation of BTEX at road-traffic intersection points in Delhi, India: Source, ozone formation potential and health risk assessment, Environmental Science & Pollution Research, 27, 11093–11104 (2020).
Naba Hazarika, Arunangshu Das, Vikas Kamal, Khalid Anwar, Arun Srivastava, V. K. Jain, Particle phase PAHs in the atmosphere of Delhi-NCR: With spatial distribution, source characterisation and risk approximation, Atmospheric Environment, 200, 329–342 (2019).
Recent Peer Reviewed Journals/Books
Reviewer for Journals:
Journal of Hazardous Materials, Indoor Air, Aerosol and Air Quality Research, Science of Total Environment, Atmospheric Research, Environmental Science and Technology, Aerobiologia, Journal of Environmental Management, Environmental Analytical Chemistry, Chemosphere, Atmospheric Environment, Transportation Research, Journal of Human and Ecological Risk Assessment, World Applied Science Journal, African Journal of Biotechnology, National Academy of Science Letter, Nature Communication etc.
Reviewer for Book:
1. McGraw Hill Publishing Company
2. Pearson Books Pvt. Ltd.