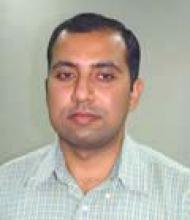 Centre/School/Special Centre:
Centre for Inner Asian Studies,
School of International Studies
Qualifications:
MA (Geography)
PhD (South-Central Asia Geopolitics)
Areas of Interest/Specialization:
Geopolitics, Afghanistan, Geoeconomics, GIS, South Asia and Central Asia
Experience:
19 years of teaching experience 
Awards & Honours:
First ICSSR (India Chair) Visiting Professor to Fudan University, 2012.
Best Peer Reviewed Publications (upto 5):
 Dhaka, Ambrish. Afghanistan: 'Geoeconomic Watershed' of South and Central Asia, Economic & Political Weekly, 2004

 Dhaka, Ambrish. Mackinder's Heartland and the Location of the Geopolitical Tetrahedron, Central Asia and the Caucasus, 46-57, 2005

 Dhaka, Ambrish. The geopolitics of energy security and the response to its challenges by India and Germany, Geopolitics 14 (2), 278-299, 2009
 Dhaka, Ambrish. Factoring Central Asia into China's Afghanistan policy, Journal of Eurasian Studies, 5(1), January 2014, Pages 97-106.
Dhaka, Ambrish. Reading the Af-Pak Narrative, from the US Disengagement to Russian Re-Engagement, Comparative Politics Russia (also СРАВНИТЕЛЬНАЯ ПОЛИТИКА), 8(4), 2017, pp. 60-72.
Recent Peer Reviewed Journals/Books (upto 3):
South Asia and Central Asia: Geopolitical Dynamics, Mangal Deep Publications, 2005