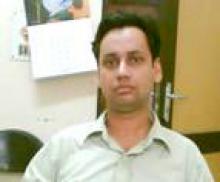 Centre/School/Special Centre:
Centre for Political Studies,
School of Social Sciences
Email:
amirali@mail.jnu.ac.in amirali.jnu@gmail.com
Areas of Interest/Specialization:
Political Theory, Multiculturalism, Group Rights 
Awards & Honours:
Awarded Best PhD award for 2005-06 by the Centre for Political Studies 
International Collaboration/Consultancy:
Agatha Harrison Memorial Visiting Fellow, St. Antony's College, Oxford 2012-14 
Best Peer Reviewed Publications (upto 5):
1. "Evolution of Public Sphere in India", Economic and Political Weekly, Vol. XXXV, Nos. 28&29, June 30, 2001. 

2. "The Hindutva Gameplan to Checkmate Muslims" in Mushirul Hasan (ed.) Living With Secularism: The Destiny of Indian Muslims, Manohar, Delhi 2006. 

3. "The Sachar Committee Report and Multiculturalism in India: Questions of Group Equality and the Public Sphere" in Gurpreet Mahajan and Surinder S. Jodhka (eds), Religion,Communities,and Development: Changing Contours of Politics and Policy in India, Routledge, Delhi 2010.

4. Terrorism and Genocide: Making sense of senselessness, Economic and Political Weekly, Vol. XXXIX, No. 6, February 6, 2004.
Recent Peer Reviewed Journals/Books (upto 3):
South Asian Islam and British Multiculturalism, Routledge, New Delhi, 2016