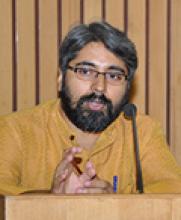 Centre/School/Special Centre:
Centre for Informal Sector & Labour Studies,
School of Social Sciences
Email:
avinashkumar@mail.jnu.ac.in avinashmishra.jnu@gmail.com
Areas of Interest/Specialization:
Land, Labour and Caste; politics of marginalization and informality; discrimination and exclusion, movements of the marginalized; labour market and Indian political economy.
International Collaboration/Consultancy:
"Political Economy of Cross Class Alliances in India" in collaboration with the University of Denver, USA.
Best Peer Reviewed Publications (upto 5):
Criminalisation of Politics: Caste, Land and the State, Rawat, Jaipur, 2015.

Revisiting 1956: B R Ambedkar and States Reorganisation, (with Sudha Pai), Orient Blackswan, New Delhi, 2014.

The Indian Parliament: A Critical Appraisal (co-edited with Sudha Pai), Orient Blackswan, New Delhi, 2014.  
Recent Peer Reviewed Journals/Books (upto 3):
Land Acquisition for SEZs: Contrasting Case Studies from the National Capital Region (with Sudha Pai) in Rob Jenkins, Partha Mukhopadhyay and Loraine Kennedy (Eds.) Power, Policy, and Protest: The Politics of India's Special Economic Zones, Oxford University Press, 2015.

"The Battle for Land- Unaddressed Issues" Economic and Political Weekly, June 18, 2011, 20-23.

"Fallacy of the State in Bihar", Economic and Political Weekly, November 3, 2012, Vol. XLVII, No 44, 23-25.