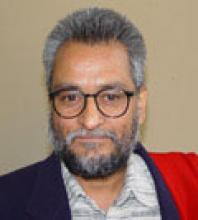 Centre/School/Special Centre:
Centre for the Study of Regional Development,
School of Social Sciences
Email:
bsbutola@mail.jnu.ac.in butola.bs@gmail.com
Qualifications:
M.A., J.N.U., 1980
M.Phill., J.N.U., 1983
Ph.D., J.N.U., 1990 
Areas of Interest/Specialization:
Regional Development and Planning, Political Geography
International Collaboration/Consultancy:
Visiting Professor King's College University, London
Best Peer Reviewed Publications (upto 5):
1: "Spatial Distribution of Crimes Against Women in India A Study in Crime Geography" The Deccan Geographer Vol. 42 No.2, December 2004, pp.25-34.

2. "Antinomies of Social Exclusion" Journal of Social Sciences, A journal of Banaras Hindu University, Vol. 11, No. 1, January-June 2009, pp.1-26.

3. Understanding Bhotia society and its women population through the analytical study of proverbs- The emblem of Oral historiography Chittaranjan Dah & B.S.Butola (2008): Man in India, an International Journal of Anthropology, October-December, Vol. 88 No. 4, pp. 653-664.

4. "Time as a Mode of Bio-Politics", Human Geography, Vol. 4, No. 2, 2011, pp.61-75.

5. Census as an Instrument of Political Technology in the Age of Bio-Politics Human Geography, Vol. 5, No. 1, 2012, pp. 42.62  
Recent Peer Reviewed Journals/Books (upto 3):
1. Unilateralism and Development Dynamics of Inclusive Exclusion and Exclusive Inclusion of the Himalayas: Globalisation and Cultural Practices in Mountain Areas: Dynamics, Dimensions and implications (ed.) M.P.Lama, Sikkim University Press, Gangtok & Indus Publishing Company New Delhi 2012, pp.277-302.

2. Women as Frontiers: Crime Against Women or Ontology of War? Gender and Human Development in Central and south Asia, (ed.) Mondira Dutta, Pentagon Press, New Delhi, 2013, pp.183- 202.

3. Shifting Paradigms: Shifting Goal Posts in Political Geography, Paradigm Shift in Geography, (ed.) M.H.Qureshi, Manak publications Pvt. Ltd. New Delhi, pp. 62- 125.