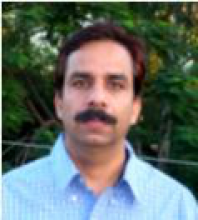 Centre/School/Special Centre:
School of Environmental Sciences
Email:
dmohan@mail.jnu.ac.in , dm_1967@hotmail.com
Qualifications:
M.Sc. ; Ph.D. (Chemistry) Indian Institute of Technology Roorkee* (* Formerly known as University of Roorkee)
Areas of Interest/Specialization:
* Environmental/Analytical/Aquatic/Surface Chemistry
* Remediation and Encapsulation of Priority Pollutants from water
* Development of low cost adsorbents/magnetic adsorbents/magnetic nanosorbents
* Water Quality Monitoring, Modeling, Assessment and Remediation
* Assessment and Remediation of Arsenic, Fluoride, Nitrate and Iron from water
* Biorenewable Resources: Bio-oils
* Biorefineries
* Environmentally benign wood preservatives
Awards & Honours:
* Hiyoshi Environmental Award 2009 given by Hiyoshi Corporation Japan for outstanding contribution in doing fundamental research for Environmental Conservation and Protection.
* Scopus Young Scientist Award in Environmental Sciences in 2007 given by Elsevier. This award recognizes Dr. Mohan internationally for his outstanding research achievements/ contributions in the areas of remediation and encapsulation of priority pollutants from water/wastewater, tailoring of activated carbons and/or environmentally benign sorbents, biomass pyrolysis for the development of bio-fuels (bio-oils), development of environmentally friendly wood preservatives and biorefineries.
* Nominated Member, Editorial Board of Journal of Hazardous Materials published by Elsevier(2006 onward)
* Post Doctoral Fellowship for Two year to work in the Chemistry Department at Mississippi State University Mississippi State MS 39762, USA (Jan 2005 to Jan 2007)
* Post Doctoral Fellowship for Two years to work at Penn State University, University Park, USA (Sep 1997-July 1999)
* Awarded Research funding under prestigious Young Scientist Scheme of Department of Science and Technology, Government of India in 2003.
* Life member of ? Indian Network for soil Contamination Research?
* Life member of ?Indian Society of Analytical Scientists?
* Selected for 7th and 8th Edition of WHO?s WHO in Science and Engineering
* Included/Selected for Whos Who in America, 2009 Edition  
International Collaboration/Consultancy:
Collaboration has been established with several Laboratories around the world and various research activities were carried out or in progress. Some of these included:
1. Department of Chemistry, Mississippi State University, USA.
2. Department of Chemical Engineering, Mississippi State University, USA.
3. Forest Products Lab, Mississippi State University, USA.
4. Penn State University, USA (Material research Lab and GeoEnvironmental Engineering)
5. Departamento de Química Orgánica e Inorgánica, Universidad de Extremadura, Avda. de Elvas s/n, 06071 Badajoz, Spain 
Best Peer Reviewed Publications (upto 5):
1. Sorption of arsenic, cadmium and lead by chars produced from fast pyrolysis of wood and bark during bio-oil production
Dinesh Mohan, Charles U. Pittman Jr., Mark Bricka, Fran Smith, Ben Yancey, Javeed Mohammad, Philip H. Steele, Maria F. Alexandre-Franco, Vicente Gómez-Serrano and Henry Gong
Journal of Colloids and Interface Science, 310(1), 57-73, 2007
[Impact Factor: 3.066 ; Times Cited: 70]
2. Arsenic removal from water/wastewater using adsorbents- a critical review
Dinesh Mohan, Charles U. Pittman, Jr.
Journal of Hazardous Materials (Elsevier), 142(1-2), 1-53, 2007
[Impact Factor:3.723 ; Times Cited: 275]
3. Pyrolysis of wood/biomass for bio-oil: a critical review
Dinesh Mohan, Charles U. Pittman, Jr. and Philip H. Steele
Energy and Fuels (ACS), 20(3), 848-889, 2006
[Impact Factor:2.444 ; Times Cited: 454]
4. Multivariate statistical techniques for the evaluation of spatial and temporal variation in water quality of Gomti River (India)- A case study
Kunwar P. Singh, Amrita Malik, Dinesh Mohan and Sarita Sinha
Water Research (Elsevier), 38, 3980-3992, 2004
[Impact Factor: 4.546 ; Times Cited: 156]
5. Single and multicomponent adsorption of zinc and cadmium from wastewater using activated carbon derived from bagasse-an agricultural waste material
Dinesh Mohan and Kunwar P. Singh
Water Research (Elsevier), 36( 9), 2302-2316, 2002
[Impact Factor:4.546 ; Times Cited: 280] 
Recent Peer Reviewed Journals/Books (upto 3):
1. Development of magnetic activated carbon from almond shells for trinitrophenol removal from water
Dinesh Mohan, Ankur Sarswat, Vinod K. Singh, María Alexandre-Franco, Charles U. Pittman Jr
Chemical Engineering Journal, (Elsevier), In Press, Available online, June 2011
2. Modeling and evaluation of chromium remediation from water using low cost bio-char, a green adsorbent
Dinesh Mohan, Shalini Rajput, Vinod K. Singh, Philip H. Steele and Charles U. Pittman Jr.
Journal of Hazardous Materials (Elsevier), 188(1-3), 319-333, 2011
3. Groundwater Quality Assessment in Village Lutfullapur Nawada, Loni, District Ghaziabad, Uttar Pradesh, India
Vinod K. Singh, Devendra Singh Bikundia, Ankur Sarswat and Dinesh Mohan
Environmental Monitoring and Assessment (Springer), Accepted, 2011 
Patents (if any):
Low cost Technology for Arsenic Removal for Point-of-Use (POU) Household Application (Patent No. 0121NF2008)