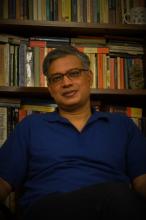 Centre/School/Special Centre:
Centre for Political Studies,
School of Social Sciences
Email:
dwai22[AT]gmail.com; dwaipayan[AT]mail.jnu.ac.in
Qualifications:
PhD (University of Cambridge)
Areas of Interest/Specialization:
Indian politics, Left politics, analysis of power and institutions, and social hierarchies
Experience:
Taught full time in JNU (1994-2002) and the Centre for Studies in Social Sciences, Calcutta (2002-2015), and intermittently in several other institutes/universities in India and abroad.
Awards & Honours:
Nehru Trust for Cambridge University Fellowship
Fulbright Fellowship (Scholar-in-Residence)
British Chevening Fellowship
International Collaboration/Consultancy:
2016 onward: Member, the International Centre for Advanced Studies 'Metamorphoses of the Political' (ICAS:MP), a consortium of seven Indian and German partners, funded by the German Ministry of Education and Research (BMBF).
2012-13: 'Understanding Political Changes in Rural West Bengal', with Indian Statistical Institute, Kolkata and Boston University, USA.
2008-09: 'Embedding Poor People's Voices in Local Governance', with University of Sheffield, United Kingdom and Centre for Development Studies, Kerala.
2005: 'Strengthening Rural Decentralization in West Bengal', DFID UK.
2005: 'Political Ethnography of West Bengal Villages', with Indian Statistical Institute, Kolkata and Boston University, USA.
1996-99: 'Democracy and Social Capital in Segmented Societies', SIDA and Uppsala University, Sweden.
Best Peer Reviewed Publications (upto 5):
Government as Practice: Democratic Left in a Transforming India (New Delhi: Cambridge University Press) 2016.
'Left in the Lurch: The Demise of the World's Longest Elected Regime? (with an Epilogue)', in Sudha Pai (ed.) Handbook of Politics in Indian States: Region, Parties and Economic Reforms, (New Delhi: Oxford University Press), 2013.
'Party-society, its Consolidation and Crisis: Understanding Political Change in West Bengal', in Anjan Ghosh, Tapati Guha-Thakurta and Janaki Nair (ed.), Theorizing the Present: Essays for Partha Chatterjee (New Delhi: Oxford University Press), 2011, 226- 250.
'West Bengal: Permanent Incumbency and Political Stability' in Sandeep Shastri, K C Suri and Yogendra Yadav (ed.), Electoral Politics in Indian States: Lok Sabha Elections in 2004 and Beyond (New Delhi: Oxford University Press), 2009, 326-45.
'Politics of middleness: the changing character of the Communist Party of India (Marxist) in Rural West Bengal (1977-1990)' in Sugata Bose, Barbara Harriss, Ben Rogaly (eds), Sonar Bangla? Agricultural Growth and Agrarian Change in West Bengal and Bangladesh (New Delhi: Sage),1999.
Recent Peer Reviewed Journals/Books (upto 3):
'How to Govern the Poor? The Role of Social Policies in Economic Transformation', in Nandini Gooptu and Jonathan Parry (ed.s), Persistence of Poverty in India, Social Science Press, New Delhi, 2014, 370-431.
'Performing Participatory Citizenship: Politics and Power in Kerala's Kudumbashree Programme', (co-written) Journal of Development Studies, August 2011, pp. 1-20
'Of Control and Factions: The Changing "Party-Society" in Rural West Bengal', Economic and Political Weekly, 44, 9, February 28 – March 6, 2009: 59-69.