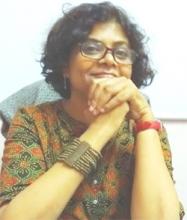 Centre/School/Special Centre:
Centre of Indian Languages
School of Language, Literature and Culture Studies
Email:
garima@mail.jnu.ac.in drsgarima@gmail.com
Qualifications:
M.A. Hindi literature (Hindu college, D.U.) M.Phil & Ph.D. (D.U.)
Areas of Interest/Specialization:
Gynocriticism, Colonial and Post Colonial Indian Literature,  Women Autobiographical writing.Sociology of Literature, Narrative Writings
Experience:
20 years
Professor, Centre for Indian languages, JNU: since 30.10.2015
 
Awards & Honours:
Visiting Professor, ICCR (MEA) Chair University of Zagreb, Croatia, Eastern Europe. 
International Collaboration/Consultancy:
2014-15 for Ms LISA-Marie Reuter,University of Wuerburg on "Aspects of Gender and Politics in Early Indian Prose Fiction-funded by DAAD intiative-A new Passage to India.
Best Peer Reviewed Publications (upto 5):
1. 'Hindi upanyason me boudhik vimarsh', Sanjay Prakashan, Delhi,1999.

2. 'Bhasha aur Bhasha vigyan' , Sanjay Prakashan, Delhi,2006 .

3. 'Lala Srinivasdas', Sahitya Academy, New Delhi, 2007.

4. Kishorilal Goswami, Sahitya Akademy, Delhi 2016.

5. A Very Easy Death(translation),Simone de Beauvoir, Swaraj Prakashan, New Delhi,2012.
Recent Peer Reviewed Journals/Books (upto 3):
1. Reframing Early Hindi Conduct Novels with special reference to vama-shikhshak, Annals of Hindi Literature,MGAHVV,Wardha 2016

2. Abhishapt Atmaon ka Alaap:Malyalam Stri Atmkathayen, Tadbhav (Hindi literary journal),28th issue.2015.

3. Navjagran, Stri Prashn aur Acharan Pustaken, Pratiman, CSDS,Delhi, December 2014.