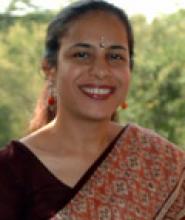 Centre/School/Special Centre:
Centre for Chinese and South East Asian Studies,
School of Language Literature and Culture Studies
Email:
geeta@mail.jnu.ac.in jidujnu@gmail.com
Areas of Interest/Specialization:
Urbanization and Development Processes in China, Spatial Restructuring and Demographic Changes, and Understanding Chinese Society
Experience:
Assistant Professor, Chinese, JNU, 01 March 2006 – till date
Awards & Honours:
) 2015: Awarded one-month ICSSR-CASS Bilateral Programme to undertake a project on "A Comparative Study on Chinese and Indian Urbanization".

2) Sept. 2010-June 2011: Awarded nine-month long ASIA Fellows Award 2010-2011 under Asian Scholarship Foundation Fellowship Programme to undertake research project on "Population Mobility in China: 'Villages in Cities'".

3) June 1998-Sept. 2000: "Junior Research Fellowship" & National Eligibility Test (JRF-NET) for Lectureship in Chinese conducted by University Grants Commission, New Delhi, India.

4) 1998: Nehru Memorial Award for MA topper in Chinese, Nehru Memorial, New Delhi.

5) Sept.1995-July 1997: "India-China Bilateral Cultural Exchange Scholarship" granted by Ministry of HRD, Government of India for advance studies in China.
Best Peer Reviewed Publications (upto 5):
1) Geeta Kochhar, "China`s Policy Towards India: Cooperative Linkages or Distant Neighbours?" in Annpurna Nautiyal and Chintamani Mahapatra (eds.) India-China Relations in the Contemporary Era: Opportunities, Obstacles, and Outlooks (New Delhi: Kalpaz Publications, 2015).

2) Geeta Kochhar, "China's Social Policy: Issues for the 18th Party Congress" in C V Ranganathan and Sanjeev Kumar (eds.) The 18th National Congress of the Communist Party of China: A Major Turning Point for China (New Delhi: Pentagon Press, 2013).

3) Geeta Kochhar, "Globalization and China's Urbanization: Effect on Cities and Migrant Population" in Ning Yuemin (ed.) China Urban Studies, Volume 3, The Commercial Press, 2010.

4) Geeta Kochhar, "India, Nepal and China: Interplay of Trilateral Relationship", Sablok Magazine, Vol. 6, No. 7, July 2014, pp. 31-33.

5) Geeta Kochhar, "Market & Migrants: Redefining China's Urban Social Welfare System", China: An International Journal, Vol. 8, No. 2, Sept. 2010, pp. 193-219.
Recent Peer Reviewed Journals/Books (upto 3):
1) Geeta Kochhar and Pramod Jaiswal (eds.) Unique Asian Triangle: India, China, and Nepal

2) Pramod Jaiswal and Geeta Kochhar (eds.) India-China-Nepal: Decoding Trilateralism

3) Geeta Kochhar, Discussion Paper on China's Urban Poor: An Expanding Social Stratum in China Policy Institute, University of Nottingham, October 2008.