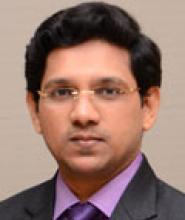 Centre/School/Special Centre:
Centre for West Asian Studies,
School of International Studies
Email:
vrushal_jnu@yahoo.co.in, ghoble@mail.jnu.ac.in
Areas of Interest/Specialization:
Middle East (West Asia): Socio - Political aspects; Asia - Middle East (West Asia) relations; Energy Security and International Relations; Oil and Gas issues and Environment; Corporate Social Responsibility; Maritime energy security; Oil Multinationals.
Best Peer Reviewed Publications (upto 5):
"Geopolitics of the Lebanese Crisis: Economic and Energy Perspectives", E-International Relations (E-IR) (Open Access), Peer - Reviewed, February 7, 2018. Available at, http://www.e-ir.info/2018/02/07/geopolitics-of-the-lebanese-crisis-economic-and-energy-perspectives/
"Iran's Prospects of Return to the Gas Market and Other Stakeholders", Asian Journal of Middle Eastern and Islamic Studies, Special Issue: 'Belt and Road Initiative and the Middle East Economy', Peer - Reviewed, Volume 11, Number 3, September 2017, pp. 80 - 89. Available at, http://mideast.shisu.edu.cn/73/70/c3982a95088/page.htm
"Making of Syrian Crisis: The Energy Factor", International Studies, Peer - Reviewed, Volume 52, Issue 1 - 4, January - October 2015, pp. 38 - 52.
"Investment Climate and Rising Insurance Premiums in the Energy Industry", Discovery - The International Daily Journal [Multi - / Inter - Disciplinary Peer - Reviewed Open - Access Online Journal], Volume 21, Number 69, 1st July 2014, pp. 140 -  144. Available at, http://citeseerx.ist.psu.edu/viewdoc/download?doi=10.1.1.588.2392&rep=rep1&type=pdf
"Global Energy Consumption Paradigm: Future Trends and Trajectory", International Conference on Applied Life Sciences (ICALS 2012), Farhad Nejadkoorki (Ed.), Reviewed, Conference Proceedings, InTech Press: Croatia, September 2012, pp. 45 – 49. Available at, http://www.intechopen.com/books/international-conference-on-applied-life-sciences/global-energy-consumption-paradigm-future-trends-and-trajectory
"International Oil Market, Business Ethics and Sustainable Development", Petroleum and Sustainable Development, in Yang Dan (Ed.), Reviewed, International Proceedings of Chemical, Biological & Environmental Engineering, Volume 26, IACSIT Press: Singapore, December 2011, pp. 57 – 60. Available at, http://www.ipcbee.com/vol26/12-ICPSD2011-P1007.pdf
"The Economics of Natural Gas: Its Geopolitical Contestations", World Affairs - The Journal of International Issues, Volume 17, Number 2, Summer April – June 2013, pp. 108 - 123.
"Oil Business with a Human Face", Africa Quarterly, Volume 49, Number 4, November 2009 – January 2010, pp. 40 - 49.