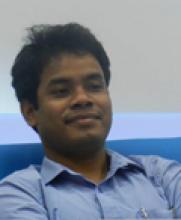 Centre/School/Special Centre:
School of Language, Literature and Culture Studies
Email:
hmray@mail.jnu.ac.in , harijnu@gmail.com
Areas of Interest/Specialization:
Construction Grammar, Morphology, Phonology, Field Linguistics, Folklore & Literature 
Experience:
Assistant Professor in CL, SLL&CS, since March 2007 
Conducted fieldwork on different Indo-Aryan languages namely Rajbanshi, Kumaoni, Awadhi, Shekhawati and Dhundhari. 
In 2010, as part of Mother Tongue Survey of India (MTSI) project, fieldwork were conducted on different varieties of Hindi and Hariyanvi spoken in Delhi and Haryana respectively.  
Awards & Honours:
"Nabin Shikhshabid" (Young Teacher) award conferred upon by Panchanan Sangha Sitai, Coochbehar, West Bengal Reg. No. S /1/ L/21359. 
International Collaboration/Consultancy:
Best Peer Reviewed Publications (upto 5):
Ray, Hari Madhab. 2016. Riddles and Leisure Time Riddling in Rajbanshi. In Lokratna Vol. IX. Folklore Foundation India. ISSN No. 2347-6427. Pp-109-120. 

Topics in Kashmiri Linguistics, Omkar N. Koul & Kashi Wali, New Delhi: Creatve. South Asian Language Review, Vol..XV. No.2. June-2005. (Book review) 
Recent Peer Reviewed Journals/Books (upto 3):
Ray, Hari Madhab. 2016. Dhuplung Dhaplang '?????? ??????' (A Collection of Rajbanshi Short Stories). Upajanbhui Publishers. Mathabhanga, Coochbehar. ISBN-978-93-85823-05-3. (book)