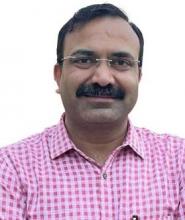 Centre/School/Special Centre
School of Biotechnology
Email
kashyapdubey@mail.jnu.ac.in
Areas of Interest/Specialization
Awards & Honours
Member: The National Academy of Sciences, India Prayagraj, Uttar Pradesh (MNASc)
Visiting Researcher under TKIC program at DoChE at IIT Kanpur
International Collaboration/Consultancy
Catholic University of Louvain, Belgium iBET, Portugal IHE, Water Institute-Netherland National Research Tomsk Polytechnic University East China University of Technology
Best Peer Reviewed Publications
Kashyap Kumar Dubey

, Deepanshi Rajput, Anshu Baldia, Akshay Kumar, Vinod Kumar, Ankush Yadav, Shikha Rao, Yogendra Kumar Mishra, Current scenario and challenges in recycling of human urine generated at source in rail coaches as resource, Current Opinion in Green and Sustainable Chemistry, Volume 43, 2023, 100854, ISSN 2452-2236

Deepanshi Rajput, Anshu Baldia, Akshay Kumar, Vinod Kumar, Gunda Mohanakrishna, Kashyap Kumar Dubey, Applications of autotrophic ammonia oxidizers in bio-geochemical cycles, Chemical Engineering Journal, Volume 471, 2023, 144318, ISSN 1385-8947
Khushboo, M., Thakur, M., Kumar, P., Rajput, D., Yadav, V., Dhaka, N., ... & Dubey, K. K. (2023). Genome-guided approaches and evaluation of the strategies to influence bioprocessing assisted morphological engineering of Streptomyces cell factories. Bioresource Technology, 376.

Akshay Kumar, Anshu Baldia, Deepanshi Rajput, Suneel Kateriya, Vikash Babu, Kashyap Kumar Dubey, Multiomics and optobiotechnological approaches for the development of microalgal strain for production of aviation biofuel and biorefinery, Bioresource Technology, Volume 369, 2023, 128457, ISSN 0960-8524
Yadav, Ankush, Eldon R. Rene, Mrinal Kanti Mandal, and Kashyap Kumar Dubey. (2021) Biodegradation of cyclophosphamide and etoposide by white rot fungi and their degradation kinetics. Bioresource Technology: 126355.
Recent Peer Reviewed Journals/Books
Manisha Sharma, Deepanshi Rajput, Vinod Kumar, Indu Jatain, Tejraj M. Aminabhavi, Gunda Mohanakrishna, Ravi Kumar, Kashyap Kumar Dubey, Photocatalytic degradation of four emerging antibiotic contaminants and toxicity assessment in wastewater: A comprehensive study, Environmental Research, Volume 231, Part 2, 2023, 116132, ISSN 0013-9351

Shikha Jyoti Borah, Monika, Rishi Ram, Vinod Kumar, Kashyap Kumar Dubey, Leakage of surfactants in greywater: Environmental impact, mitigation, and their circular economy, Journal of Environmental Chemical Engineering, Volume 11, Issue 5, 2023, 110715, ISSN 2213-3437

Karuna Yadav, Anshu Baldia, and Kashyap Kumar Dubey, Combinatorial Approach for Sustainable CoQ10 Production in Microbes: Possible Strategies and Challenges. Industrial Biotechnology, Volume 09, Aug 2023. 218-228

Mony Thakur, Khushboo, Yatin Kumar, Vinod Yadav, Avijit Pramanik, Kashyap Kumar Dubey, Understanding resistance acquisition by Pseudomonas aeruginosa and possible pharmacological approaches in palliating its pathogenesis, Biochemical Pharmacology, Volume 215, 2023, 115689, ISSN 0006-2952