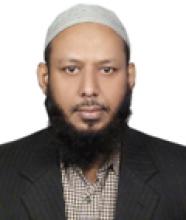 Centre/School/Special Centre:
Centre of Arabic and African studies,
School of Language Literature and Culture Studies
Email:
khurshid@mail.jnu.ac.in , khurshidimam@gmail.com
Areas of Interest/Specialization:
Hebrew Language and Culture, Hebrew Studies, Semitic Languages, Culture and Identity, West Asian Studies 
Experience:
Teaching Hebrew in different capacity for over 10 years
Awards & Honours:
The State of Israel Scholarship 1998-99

Golda Meir Scholarship 1999-2000 
Best Peer Reviewed Publications (upto 5):
• Understanding Jewish Identity through Hebrew Language, in "Alternative Voices: (Re)searching Language, Culture,Identity.." ed. S. Imtiaz Hasnain et.al. Cambridge Scholars Publication. 2013.

• India-GCC Relations: Emerging Trends and Prospects, South Asian Journal of Diplomacy, Vol. II, 2011.

• India's 'Look West' Policy and Its Impact on India-GCC Relations, International Politics, Vol. 3, N. VI, Summer & Autumn 2010. 
Recent Peer Reviewed Journals/Books (upto 3):
Modern Hebrew: Book One, Hind-Asian Publications, New Delhi, 2011.

Translated "Sehra ka Seb" a Hebrew story into Urdu, Jahan-e-Urdu, Darbhanga, December, 2011. (ISSN 2278-3474)