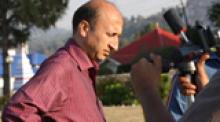 Centre/School/Special Centre:
School of Environmental Sciences
Email:
krishan_kumar@mail.jnu.ac.in
Areas of Interest/Specialization:
Remote Sensing Applications in Urban Climate & Air Quality, Air and Noise Pollution 
Experience:
Teaching & research as faculty in Environmental Science at PG level since January 1994 
International Collaboration/Consultancy:
Visiting Fellow, University of Technology, Sydney 
Best Peer Reviewed Publications (upto 5):
1) Pandey, A. K., Kumar, D., Singh, S., Pandey, P., Prakash, A., Berwal, S., Lodhi, N., Maithani, S., Jain, V. K. and Kumar, K. (2014). Spatio - temporal variations of Urban Heat Island over Delhi. Urban Climate, 10, 119-133.
2) Lodhi, N. K., Beegum, S. N., Singh, S. and Kumar, K. (2013). Aerosol climatology at Delhi in the western Indo-Gangetic Plain:Microphysics, long-term trends, and source strengths. Journal of Geophysical Research: Atmospheres, 118, 1–15, doi:10.1002/ jgrd. 50165, 2013
3) Prakash A., Kumar U., Kumar K. and Jain V. K. (2011). A Wavelet-based Neural Network Model to Predict Ambient Air Pollutants' Concentration. Environ Model Assess,16:503–517.
4) Tyagi, V., Kumar, K. and Jain, V. K. (2006), "A study of the spectral characterisitics of traffic noise attenuation by vegetation belts in Delhi", Applied Acoustics, 67, p.926-935.
5) Yadav, A.K., Kumar, K., Kasim, A.M. B. H. A., Singh, M. P., Parida, S.K., and Sharan, M. (2003), "Visibility and Incidence of Respiratory Diseases during the 1998 Haze Episode in Brunei Darussalam", Pure and Applied Geophysics (ISSN: 0033- 4553), 160, p. 265-277