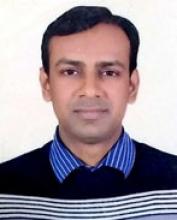 Centre/School/Special Centre:
Special Centre for Nanoscience
Email:
kumarv@mail.jnu.ac.in ; vinod7674@gmail.com
Qualifications:
Ph.D. (Materials Chemistry) University of Delhi
M.Sc. (Chemistry) University of Delhi
B.Sc. (Hons) Chemistry, Kirori Mal College, University of Delhi
Areas of Interest/Specialization:
Functionalized Nanomaterials, Crystallography, Water Splitting, Optical Property, Dilute Magnetic Oxides, Degradation of Toxic Organic Pollutants, Electrode Materials of Li-Ion Batteries, Water Purification, Solid Waste Management
Experience:
Worked as Quality Assurance Office in Asian Paints Lmt, Kasna, Greater Noida, UP July 2008 to January 2009
Assistant Professor, Department of Chemistry, Kirori Mal College, University of Delhi (24.07.2013 – 16.12.2019)
Assistant Professor SCNS, JNU, New Delhi (16.12.2019 - till date)
 Research Project
SERB Start-Up Research Grant (Young Scientists) 2015-2018 "Designation and Strategies of Metal Oxides Nanocrystals for Photocatalytic Water Splitting"
UGC Startup Grant (2015-2017) "Exploration of Nanocrystalline Metal Oxides for Photocatalytic Degradation of Organic Pollutants"
Awards & Honours:
UGC-Junior Research Fellowship
C.S.I.R. Senior Research Fellowship
Best Peer Reviewed Publications (upto 5):
"Investigation of cation (Sn2+) and anion (N3−) substitution in favor of visible light photocatalytic activity in the layered perovskite K2La2Ti3O10" J. Hazard. Mater. 2011, 511, 502-508.                                                 
"Optical and Photo catalytic properties of heavily F- -doped SnO2 nanoparticles by a novel single source precursor approach" Inorg. Chem. 2011, 50, 5637–5645.                                                                                                 
"Novel Lithium-Containing Honeycomb Structures" Inorg. Chem. 2012, 51, 10471−10473.                    
"Nanotechnology: Nanomedicine, Nanotoxicity and Future Challenges" Nanoscience and Nanotechnology-Asia, 2019, 26, 1-15.
"Facile synthesis of  Ce doped SnO2 nanoparticles: A promising photocatalyst for hydrogen evolution and dyes degradation" ChemistrySelect, 2019, 4, 3722 –3729.
Recent Peer Reviewed Journals/Books (upto 3):
Impact of Nanotechnology in the Development of Smart Cities, Book: Smart Cities—Opportunities and Challenges, Springer Nature Singapore Pte Ltd., DOI , 10.1007/978-981-15-2545-2, 2020.
Challenges for assessing toxicity of nanomaterials, Book: Biochemical Toxicology - Heavy Metals and Nanomaterials. Intechopen Science, 2019.