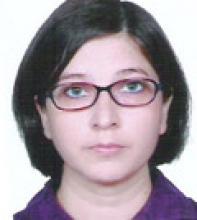 Centre/School/Special Centre:
Centre of Russian Studies,
School of Language, Literature and Culture Studies
Email:
meenub@mail.jnu.ac.in , meenu_bhatnagar@hotmail.com
Qualifications:
Ph.D from the Centre of Russian Studies, JNU
Areas of Interest/Specialization:
Modern Russian Language, Lexicology, Films & Culture Studies, Translation
Experience:
Assistant Professor, Centre of Russian Studies, SLL&CS, JNU since 18.08.2006
Lecturer (temporary), Jamia Millia Islamia, Delhi, 2003-2006
Guest Faculty, Centre of Russian Studies, SLL&CS, JNU Academic Year 2005-2006
Teaching Assistant, formerly Department of Russian, Ch. Charan Singh University, Meerut, Academic year 2002-2003
Best Peer Reviewed Publications (upto 5):
Bhatnagar Meenu, "Новые междометия в русском языке" (New interjections in Russian language), Teaching of Russian as Foreign language in Higher Educational Institutes: Experiences and Perspectives, A collection of Research articles, edited by Belyakov M.B and Afanaseva N.D., pp 23-27 , MGIMO University, 2018, Moscow (ISBN 978-5-9228-1842-1)
Bhatnagar Meenu, "An Overview of Open Educational Resources in Foreign Languages in India", Development and Implementation of OERs for Foreign Languages in Indian Context, proceedings, edited by Prof J. Prabhakar Rao and Ranjeeva Ranjan, New Delhi, 2017, pp  68-82, (ISBN 978-81-86845-40-2)
Bhatnagar Meenu, Understanding Russia's past and present through Russian Films in George Poulos & Stavroula Varella (eds) Explorations in World Literature, from Ancient to Contemporary. Athens, 235-246, ISBN: 978-960-9549-36-3
Bhatnagar Meenu, Foreign language teaching in changing classroom scenario. Eclipsed in Foreign Language Education, Istanbul, 2011, Pg.106-113, ISBN:978-605-4348-22-0
Bhatnagar Meenu, Russian Neologisms at the end of the 20th century from the point of view of pedagogical linguistics, published in a journal 'Pushkinskiye Chiteniya' in Moscow,  2001. 
Recent Peer Reviewed Journals/Books (upto 3):
Co-authored a textbook of Russian 'Berioza', Published by Goyal Publishers Pvt. Ltd, New Delhi, 2018