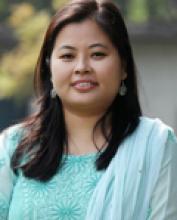 Centre/School/Special Centre:
Centre of Social Medicine and Community Health,
School of Social Sciences
Email:
nguite@mail.jnu.ac.in ; guitemahal@gmail.com
Qualifications:
M.A (Social Work) DU
M.Phil (Social Medicine), JNU
PhD (Social Medicine), JNU
Areas of Interest/Specialization:
Public Health and Medical Pluralism
Global Discourses on Indigenous Medicine
Indigenous Healing Systems
Health Care Social Work Practice
Social Groups and Social Networks
Experience:
Associate Professor, Centre of Social Medicine and Community Health, Jawaharlal Nehru University, 25th July 2016 to till date
Assistant Professor, Department of Social Work, University of Delhi, March 2005 to 24th July, 2016
Awards & Honours:
Shastri Mobility Programme Grant Awardee, for research on "Indigenous Medicine, Health Care Practices and Public Health in Canada: Drawing Inferences for India", with Waakebiness-Bryce Institute for Indigenous Health, Dalla Lana School of Public Health, University of Toronto, Ontario, Canada, 1st December to 21st December 2018.
Awarded the Fulbright Nehru Post Doctoral Fellowship in Public Health (2016-2017) (Forego).
Awarded the University of Hong Kong Young Scholar Award for Outstanding Abstract in the 2010 Joint World Conference on Social Work and Social Development: The Agenda, held from 10-14 June 2010 in Hong Kong Convention and Exhibition Centre, Hong Kong Special Administrative Region, China.
Awarded the UGC Junior Research Fellowship in 2003 for pursuing Doctoral studies.
Received a citation for being the 5th position holder in 10+2 exams conducted by the Council of Higher Education, Manipur, 1996.
International Collaboration/Consultancy:
* Topic: Strengthening Women Farmers in Sustainable Low Cost Vegetable Production Project in Shahjahanpur and Pilibhit: An Evaluation, sponsored by Oxfam India. (Duration: January to April 2014)
* Topic: Social Action Research on Tribal Governance: A study of Kuki village self-governance in Churachandpur district, Manipur, sponsored by Indo Global Social Service Society (IGSSS) (Duration: December 2014 to February 2015)
* Topic: Literature review and secondary data analysis of the project on "Synthesizing evidence on urban maternal and new-born health models in India", sponsored by Save the Children, New Delhi through THOT Consultants (Duration: November 2014 to April 2015).
*Topic: Traditional Healing Practices and Health care Utilization Among Mother and Children: A study of four Northeastern States, funded by ICSSR (Ministry of Human Resource Development), New Delhi. (Duration: May 2018 to August 2019)
*Expert Consultant of IGPP (Institute for Governance, Policies and Politics) project on Baseline Survey to Assess Implementation of Home-Based Care for Young Children funded by Alive and Thriving Foundation.
Best Peer Reviewed Publications (upto 5):
1. "Tribal Local Self-Governance (2019): A Study of Kuki Village Council in Churachandpur, Manipur", Journal of Rural Development, National Institute of Rural Development and Panchayati Raj, Hyderabad, India (in Archives for publication).
2. "Addressing Issues of Malnutrition in Children through Public Nutrition using Local Resources of Agriculture and Land Use: Evidence from the Field Based Evaluation Study in Uttar Pradesh" in Indian Journal of Community Health, Vol. 26, Supp. 02, December, 2014, Pp. 234-244. ISSN PRINT: 0971-7587; ISSN ONLINE: 2248-9509
3. "Awareness and Preparedness Regarding Disasters among Residents of An Urban Slum in Delhi", Research and Reviews: A Journal of Medicine, Special Issue, 2013, pp. 63-66 ISSN: 2249 – 8648.
4. "International Protocol and Indigenous Knowledge on Medicine and Health care: An Overview", The Asian Man – An International Journal, Volume 4, Issue 1 (January-June), 2010, Pp. 1-12. ISSN PRINT: 0974-6366; ISSN ONLINE: 0975-6884
5. "Indigenous Medicinal Substances and Health Care: A study among the Paite Tribe of Manipur", Studies of Tribes and Tribal Societies, Vol. 4, No.2, 2006. pp. 99-108. ISSN PRINT: 0972-639X.
Recent Peer Reviewed Journals/Books (upto 3):
1. Guite Nemthianngai. 2014. Global Discourse and Local Realities towards Indigenous Medicine, Scholar's Press, OmniScriptum GmbH&Co.KG, Germany. ISBN: 978-3-639-71823-2
2. Guite Nemthianngai. 2011. Indigenous Medicine and Health Care, Concept Publishing Company, New Delhi, India. ISBN-13-978-81-8069-732-6